It's no secret: organizations that prioritize employee training reap significant benefits. From higher staff retention rates to increased sales, training works wonders for a business. It's also a deal breaker for most workers, with 76% of millennials considering professional development opportunities one of the most crucial aspects of company culture. 
And what does every great corporate training program need? That's right! Top-notch employee training software.
Whether you're looking for your first LMS for employee training or shopping around for best in class, I've got you covered. I tested 10 of the best online learning management systems on the market, so you don't have to. But first, I'll break down what employee training software is, and the key features you'll want to look for.
What Is Employee Training Software? 
As the name suggests, employee training software is a platform for creating, managing, and tracking all staff learning in an organization. Typically managed by HR and L&D teams, it's a staple corporate training tool that employees can access from their computers and mobile devices.
Types of Employee Training Software
There are several different types of online training software out there:
Learning Management Systems (LMSs)

– for managing the entire training process, from creation to results tracking

Digital Adoption Platforms (DAPs)

– for making guided content directly within an app or software, e.g., interactive walkthroughs and product training demos

Knowledge Management Systems

– for building an employee database of company policies, processes, and important documentation
I've decided to focus on LMSs with this list, mainly because it's the most popular and multi-purpose employee training platform. If you have a big budget, you may want to add a DAP to your shopping cart, but a high-powered LMS platform actually covers all your bases. 
Key Features of Employee Training Software 
Before I dive into the learning management software that really blew my socks off, I should probably clarify the criteria I was using. 
Here's a quick overview of the key LMS features every great employee training software should have:
A user-friendly interface that learners can master with minimal onboarding

Robust LMS analytics and reporting for monitoring training performance

Personalized learning tracks for learners

A built-in course maker for creating custom training materials within the LMS

Mobile learning features

Social learning capabilities, such as Ask the Expert and discussion forums

Gamification tools like points, badges, and leaderboards to amp up engagement

Integrations with other key corporate tools like video conferencing and HR platforms

Customization abilities for aligning the platform with your brand and organizational structure
Best Employee Training Software and Platforms for Online Learning
And now, the moment we've all been waiting for – the software comparison. Here's my rundown of the 10 best platforms for employee training, tried and tested by yours truly.
1. Docebo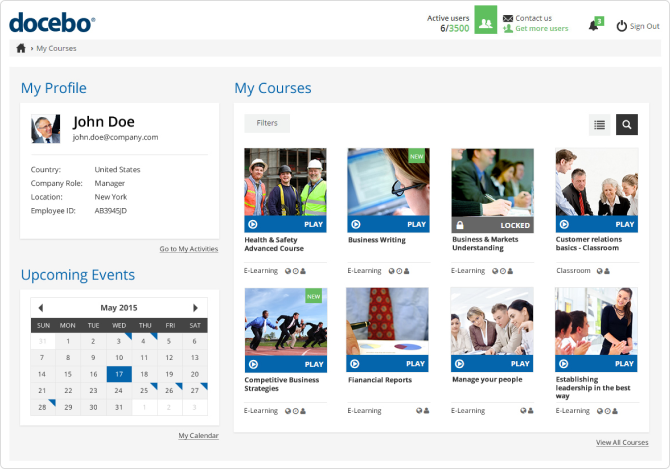 Nabbing the second place on my list is Docebo LMS. With some cool elements and a rapidly growing list of new features, Docebo is the software for online training that's on the rise.
Features
Comprehensive reporting.

Like most of the top LMS platforms, Docebo has strong reporting capabilities with a good selection of custom reports and a learner dashboard. 

Clean interface.

I found Docebo's interface to be clean (although not the most intuitive on the list). From a learner's perspective (which I guess is the most important), it's pretty user-friendly. However, as an admin, there seemed to be a few duplicate buttons and less than clear workflows. 

Effective user management.

Docebo comes with

plenty of personalization features for users (learning tracks, white labeling, etc.). The mobile app is user-friendly, and has a seriously impressive list of integrations. 

Interesting AI capabilities.

I'll be honest, what excites me most about Docebo is the AI. All training content uploaded to the LMS is tagged by the software's AI, making it easy to search for content on the platform. I'd say this is especially handy if you're using the Marketplace with ready-made eLearning courses.

Skills management.

After a little more investigating, I discovered I could input the skills that I want to improve and found a page of curated third-party content customized to help me hone those skills. Although the content is hit or miss, I think it's a nice touch.

In-built survey maker.

There's also an option to build assessments and surveys within the LMS. However, I would probably continue using an authoring tool or quiz maker for convenience and speed.
Pricing 
Prices are available on request.
The bottom line
I have to admit; I find Docebo exciting as an LMS. It's AI-powered and seems to be a platform that's consistently adding new features. 
I found it pretty easy to navigate, although it did take me a minute to figure out where certain tools were. Fortunately, the knowledge base has the answers to the most common questions. A more streamlined experience for admins would make Docebo unstoppable.
2. iSpring Learn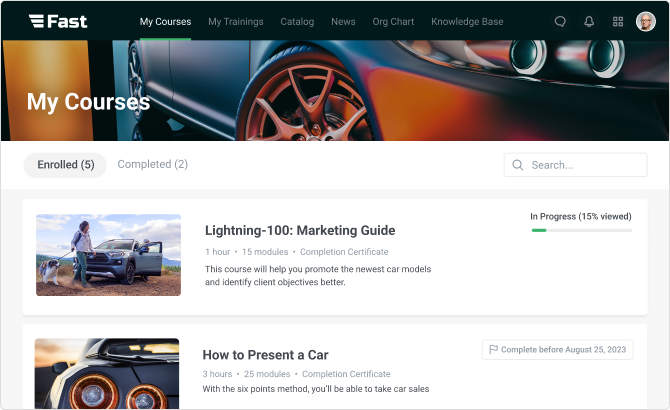 Topping my list of the best learning management solutions for employee training is the sleek yet powerful iSpring Learn LMS. It provides learners with a great learning experience and helps trainers manage the entire training cycle, from creating eLearning content to evaluating results.
Features 
Top-class UX.

I'm a big fan of LMSs that keep it simple when it comes to UX, and iSpring hits the mark here. I was able to dive into the platform immediately, with smooth navigation and an intuitive interface. With next to no learning curve, I can see iSpring being an especially tasty choice for companies that need to roll out training in short order.

Rich user management features.

iSpring Learn has everything an organization needs to create, manage, and monitor workplace training. I'm talking about certification and great customization options to integrate your brand with the LMS and personalize user experience (personalized learning paths, custom user roles, etc.).

Smart looking mobile app.

If you ask me, not having a mobile app is a deal breaker. iSpring's mobile app is next to none. It's sleek and intuitive to use and allows for offline learning, which is a must for some industries or job roles where a strong Wi-Fi connection isn't always guaranteed. 

Powerful analytics and reporting.

Reporting capabilities are comprehensive and cover a range of report types. 

360-degree performance appraisal module.

One of my favorite features is the recently added 360-degree performance appraisal tool. Built into the LMS, it allows you to see if employees' skill sets match their job requirements and identify skills gaps. I see several really valuable functions for this tool – identifying a talent pool for promotion, aligning staff skills with their roles, gathering (honest) 360-degree feedback, and laying out a development plan. In true iSpring style, it was super easy to use. 

Award-winning course authoring tool.

After some playing around, I quickly created a simple training course right in the browser. This is perfect for creating content that needs to be delivered immediately. That said, I would probably splash out on the integrated authoring toolkit,

iSpring Suite

, to access a whole set of tools for creating professional courses. 

Excellent customer support.

I always like to look at reviews to get a feel for a vendor's customer service, and I must say, I was blown away by iSpring's reviews. Customers seem to rave about its customer support (the support team resolves 83% of cases within 2 hours). 
Pricing
iSpring offers two types of subscription – Start and Business, with Business coming with more advanced features. The price depends on the subscription you choose and the number of learners who enter the platform during a month. For example, the plan for 100 learners/month (Start subscription) costs $2.87 per learner.
The bottom line
All in all, I got the hang of iSpring Learn right off the bat and found it had everything I'd need to manage employee training. It ticks all of my boxes and has some exciting extra features (like the 360-degree employee feedback module or supervisor dashboard) that just make sense. 
You can tell from the second you start using it that it was engineered with users in mind – from the user-friendly interface to the range of built-in tools. Plus, it blows the competition out of the water when it comes to customer support. And that matters.
3. TalentLMS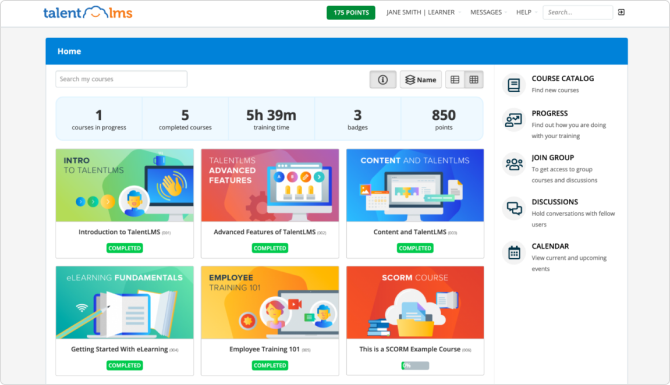 It's clear from the get-go that TalentLMS was designed with employee training in mind. That's exactly how it landed in the third spot on my list. From the initial setup to the great branding options, this LMS has a lot to offer.
Features
Easy implementation and setup

. The onboarding experience was solid and seamless. 

User-friendly UI.

In my humble opinion, all LMSs should have a drag-and-drop interface like TalentLMS. It makes the setup time so much shorter and creates a pretty awesome user experience for both learners and admin. 

Solid user management features.

TalentLMS is mobile friendly, and it has decent customization features to personalize the interface and user experience (white labeling, personalized learning tracks, custom user roles, etc.). 

Impressive integrations.

I took a quick browse of the third-party integration lists, and they looked comprehensive too. 

Good reporting options.

The reporting options are quite basic, but they cover the main training metrics you need. 

Branching options.

I think my favorite feature was the branching options. It allows you to split your account into different branches, with different branding for each one. That's golden if your organization has multiple brands under its umbrella or you do internal and external training. 

Comprehensive content catalog.

There's also a library of off-the-shelf training courses that users can buy in the LMS (available with the paid plan). 
Pricing 
Pricing starts at $69/mo for up to 40 users.
The bottom line
In all honesty, TalentLMS ticks almost every box when it comes to employee training. It has a really usable drag-and-drop interface and an impressive range of rich features that add value for both learners and admin. That said, I would love to see more advanced reporting capabilities and customization features. 
Also read: 4 Best TalentLMS Alternatives and Competitors
4. Adobe Learning Manager (formerly Captivate Prime)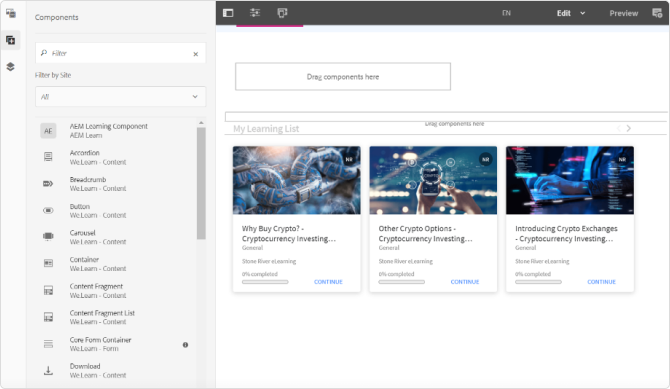 When I think of Adobe, I think of a high-quality, trusted brand. And Adobe Learning Manager doesn't disappoint. This LMS earned the fourth spot on my list thanks to its beautiful design and outside-the-box social learning features.
Features
Great UX and customization options.

Let's face it, the interface looks incredible. There's a plethora of customization features to help you personalize both the interface and the learner experience. I especially like that you can set up recurrent training, which is perfect for

employee onboarding

or continuous training programs.

Visually appealing reporting.

The reports are also like works of art. They are customizable and hugely visual, which I can see being very useful for stakeholder meetings. 

Tools for managing internal and external learners.

After a bit of playing around, I discovered that you could create and manage external learners. This is a massive time-saver if your organization offers a lot of partner or customer training. 

Powerful mobile app.

Not only does it have its own mobile app, but it also gives customers the possibility of creating their own app using Prime API.
Pricing 
Prices are available on request.
The bottom line 
It's a potent employee learning platform with a lot of cool features. Seriously, I was like a kid in a candy store, road-testing the social learning features (some of the best around). That said, it's also missing some key components for me (no authoring tool, limited personalization of user roles, and no way to organize user groups hierarchically). 
The learning curve is steep with this one, and there's no onboarding. It appears that customer support is outsourced too. With great power comes a longer onboarding time, so this is not an LMS that can be used straight out of the box. However, it has everything you need to build, manage, and track employee training activities, including mobile learning and an excellent selection of integrations. I'd say if your business is already using Adobe products, this is definitely worth a look.
5. LearnUpon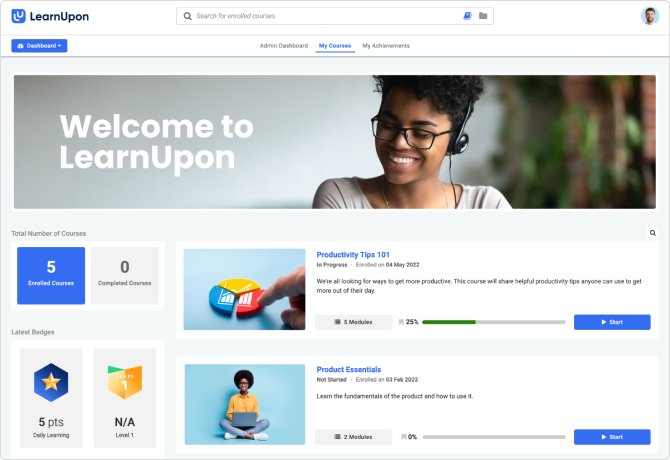 There's a reason why Learn Upon LMS nabs a spot on most lists of the top LMS platforms. The first thing I noticed about it was the sheer range of rich features it offers. There's a full suite of tools for creating, managing, and monitoring employee learning and development at scale.
Features
Quick setup.

For an LMS with such a vast range of features, I was shocked at how simple the setup was. I was up and running in next to no time.

Excellent suite of user management features.

LearnUpon LMS has all the usual LMS features you would expect: robust reporting, gamification, custom user roles, etc. But it also has some interesting extras that add value, such as the LIVE Chat Option and learner uploads.

Nice mobile app.

I think the mobile app looks great. It's intuitive, clean, and efficient. My only gripe is that there's no offline learning option.

Detailed reporting.

I'm always keen to test-drive the reporting capabilities of an LMS, and I have no complaints about LearnUpon's. They're both detailed and visually appealing, which is a big plus for those dreaded stakeholder meetings. There is a downside, though, in that the reporting isn't transactional. 

Internal knowledge bases and wikis.

I particularly like that you can create internal knowledge bases and wikis for employees. This is a seriously handy feature for large organizations with tons of policies, procedures, and documentation.

Custom Learning portals.

As I explored the LMS, I happened upon another exciting feature: learning portals. I was able to create and customize a learning portal for a specific audience. I can see that being incredibly useful for training both internal and external learners.
Pricing 
Pricing starts at $699/mo for up to 50 users.
The bottom line
I'll be honest, there's not much to dislike about LearnUpon LMS. It's extremely powerful. That said, I don't see small businesses of inexperienced teams being able to make the most of its full range of features. Budget-wise, it's a big investment and isn't suitable for newbies. 
For me, there are a couple of areas that I think LearnUpon can improve in. For instance, I'd love to see more flexible user roles (so a manager can also be an instructor, for instance), a feature to make edits to published courses, and a more reliable reporting system.
6. Absorb LMS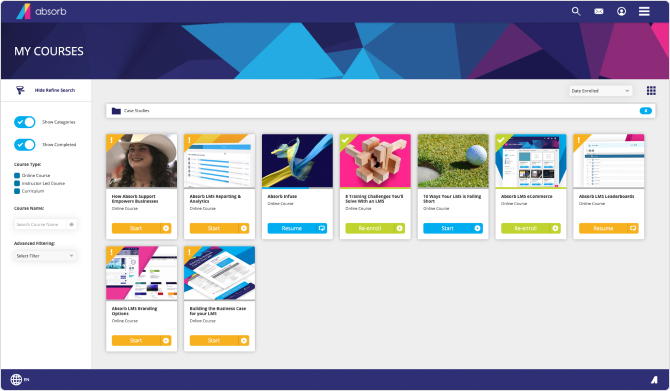 Absorb LMS is a heavy hitter when it comes to staff training software. Although the price tag and setup are hefty, it offers some seriously impressive features (advanced reporting, mobile learning, social learning, and a long list of integrations).
Features
Built-in authoring tool.

I was pleased to find that Absorb comes with a built-in authoring tool for creating your own bespoke courses directly in the LMS. It's straightforward to use and comprehensive enough to cover a full range of employee training scenarios.

Extensive course library.

If you don't fancy creating your own courses, you can purchase pre-made ones. The LMS has integrations with third-party course libraries (BIZLIBRARY, Skillsoft, and LinkedIn Learning)

Exciting user management features.

As I poked around in the LMS, I came across a plethora of customization tools for creating personalized learning experiences for different audiences and making admin's lives easier. One of the standout features for me is the skills tracker, which allowed me to input my current skills and find content geared toward honing them. 

Intuitive mobile app.

Absorb's mobile app was as high quality as I expected. It was easy to use, sleek, and fully functional. Absolutely no complaints there.

eCommerce capabilities

. I was thoroughly impressed with the range of integrations and plug-ins available for organizations looking to monetize their training courses.

Round-the-clock customer support.

Absorb offers 24/7/365 customer support, which is convenient if your organization works in a variety of time zones.
Pricing 
Prices are available on request.
The bottom line 
Is Absorb the easiest-to-use LMS on this list? No. Is it an extremely well-made employee training tool for blue-chip companies? Absolutely. 
With slower response times from the support team and an almost overwhelming array of features, this is not an LMS for the fainthearted. As a result, tasks such as customizing the LMS dashboard and course page layouts can be time-consuming for newbies. 
I'd like to see a more streamlined setup time and more insightful reporting from Absorb. Having said that, it's a powerful employee training software for large enterprises looking to scale up their training initiatives. 
7. Canvas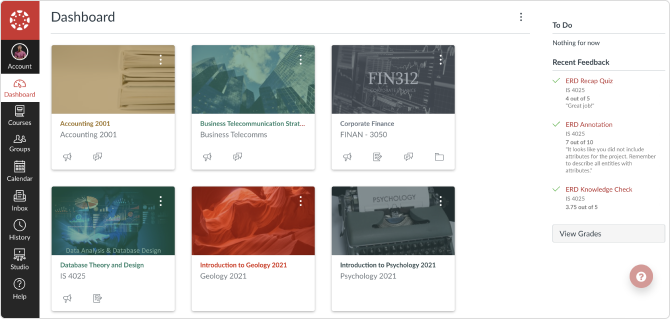 When I think of Canvas LMS, I typically think of academic institutions. After all, it was the original and best learning management system for education. With that in mind, I was intrigued by how Canvas would work as software for employee training.
Features
Strong social learning capabilities.

There's no doubt this is one of the areas where Canvas shines. I give really high marks for its social learning features, especially the course discussions and live chat. In particular, I see these being valuable for companies that run a lot of ILT sessions in their employee training program 

Impressive integrations.

After some playing around in Canvas, I found that it integrates with a huge collection of external applications. This is great news for organizations that use a lot of corporate tools or software.

Practical mobile app

. Sure, it may not look as fancy as some of the other mobile apps on this list, but I was still impressed with the mobile learning app. It's tried and tested and makes it easy for learners to access training content wherever they are. The only drawback is that there's no option for offline learning.

ILT management.

Thanks to its roots, the best features are the broad selection of learning management tools. It has a lot of well-oiled features to manage classroom sessions, submit assignments, and grade work. For this reason, I can see that Canvas is a great tool for managing ILT training sessions (I'm a fan of the calendar feature). 

Robust built-in authoring tool.

When looking for an LMS, I'm always on the hunt for one with a built-in authoring tool and quiz builder. It's just smoother (and cost-effective). And Canvas delivers just that. The authoring tool can create a range of training materials and courses for different scenarios. 
Pricing 
Prices are available on request. There's also a Freemium option.
The bottom line
Canvas has a lot to offer the right type of organization. Although some of its best features are more oriented toward education and ILT sessions, I almost wish more corporate LMSs would incorporate some of these ideas as they definitely add a lot of value.
But, as expected, it does fall short on a couple of basic necessities for employee training. A quick glance at the reporting capabilities and the lack of certification options made it pretty clear that it's not the right LMS for compliance training or employee onboarding. There's also no option for creating personalized learning paths, making it less than ideal for creating personal development plans.
8. Moodle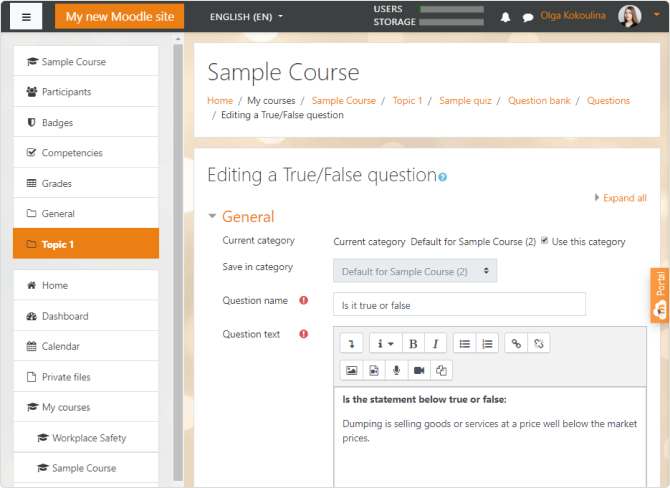 I'll just say it straight out: I think Moodle LMS is one of, if not the best open-source training management software you can find. I'll start by saying that there are 2 plans; a free self-hosted version and a SaaS version with a monthly payment plan.  
Features
Formidable social learning capabilities.

Like Canvas, Moodle made its debut as a learning platform for education. And, thanks to that, it has some enviable social learning features, including forums and chats. 

Built-in quiz maker.

It may not have a fully fledged authoring tool, but Moodle does boast both a built-in quiz maker and integration with H5P, so you can create your own interactive content. Not a bad alternative in the right hands.

Top training management features.

As you can imagine, Moodle also offers fantastic training management features for online, blended, and ILT training programs. There's mobile learning, video conferencing, plagiarism detection, and advanced ILT training session management tools.

Crazy customization capabilities.

Excuse the alliteration, but now on to where Moodle really shines. It's super customizable and comes with a fantastic selection of plug-ins and graphic themes, so you can totally revamp the platform. However, you'll have to sign up for the self-hosted version to enjoy these features.
Pricing
Pricing starts at $120/year. There's also an open-source option. 
The bottom line
I was pleasantly surprised with how user-friendly the interface was. I was able to find my way around the platform in next to no time. I would say, however, that the UI isn't amazing (although, for a free tool, it's still pretty decent). 
Despite finding Moodle enjoyable to use, it soon becomes clear that it lacks key employee training management features, like certification, custom reporting, and personalized learner tracks. It's also a lengthy set-up with no technical support or onboarding. In a nutshell, it will take time to crack this LMS.
9. Litmos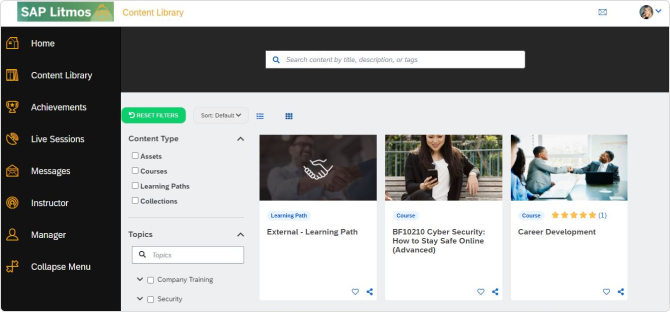 Litmos LMS comes with a higher price point than other top LMSs on this list. So, naturally, I was intrigued – is it worth the extra expense?
Features
Well-planned onboarding process.

Like a well-oiled machine, the onboarding process was quick, simple, and effective. This is great news for organizations that want to roll out employee training software without delay.

Custom reporting.

As expected for a high-end LMS, Litmos offers a good range of custom reports that cover the main employee training metrics.

Polished mobile app.

The mobile app is nice, and there's an extensive array of monetization features that would certainly come in handy if you plan to sell online courses. This includes top-of-the-range custom-branding features and security tools for companies in data-sensitive industries. 

Large selection of integrations.

I nosed around in the platform and found that Litmos boasts a solid list of integrations with corporate tools (BambooHR, Google, SAML, Zoom, Webex, Zendesk, etc.) and monetization tools like PayPal and Stripe. The absence of the same is a deal breaker for many large organizations.

Built-in authoring capabilities.

As I mentioned, I like it when an LMS has its own content authoring features, and Litmos does this well. I was able to create surveys, quizzes, and basic courses within the platform with a minimum of fuss. 

Exciting user management features.

As well as the basic LMS features and a mobile app, it has some juicy extras, such as e-signature (great for compliance) and noticeboards.

Best of all, I discovered that learners can record and upload their own videos on the LMS. These can then be assessed using the system AI or by instructors. This is a big win for organizations looking to focus on informal knowledge sharing. 

Course Library.

After a quick scroll through Litmos Heros, I found a comprehensive course catalog with a host of video-based training courses on a range of employee training topics. This is only available on the higher pricing plan, but it's definitely a nice perk as you build your own library of custom courses. 
Pricing
Prices are available on request.
The bottom line
My first impression was that the interface seemed a little less modern than some other players (I'm looking at you, iSpring and Adobe). But, once I played around a bit, I started to get the feel of Litmos. The more I explored, the more I liked the LMS (despite the clunkiness).
With some interesting features that work well in both corporate and academic settings, Litmos is a well-thought-out learning platform. 
10. Tovuti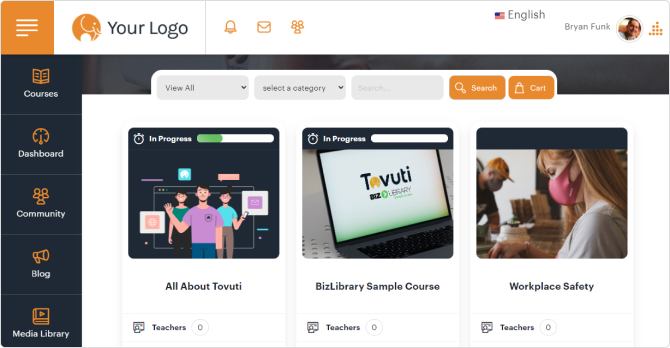 Not all online employee training is created equal. If yours is centered around virtual classrooms, then Tovuti LMS could be right up your alley.
Features
Excellent user management features.

It has all the fundamentals that a top employee training system should have: certification, custom user roles, white labeling, and an eCommerce marketplace. It doesn't have mobile learning, though, which wouldn't work for some organizations.

Built-in course builder.

I've used a fair number of authoring tools in my day, and I would categorize Tovuti's as quite basic. So, while it works fine if you're looking to build simple courses, experienced instructional designers may find it too rudimentary. 

Virtual classroom tools.

As I looked around in the Tovuti platform, I noticed that it focuses on virtual classroom sessions. My personal favorite features include hand-raising, survey tools, whiteboards, and participation controls. I also think the Milestones and Checklist features are smart ways to encourage employees to stay motivated and take charge of their learning.

Extra features for event management.

Features such as self-registration, wait-listing, and charging for events make it a top pick for fundraising and event hosting.

Good reporting capabilities.

The reporting and analytics capabilities are sound and include a solid range of custom options.

Great customer support.

Judging from the reviews, the support team is next to none. 

Off-the-shelf content library.

Last but not least, Tovuti has a well-stocked library of third-party training courses. We all know by now that bite-sized learning chunks work best, so I was pleased to see that the catalog was packed with micro-learning courses. 
Pricing 
Pricing starts at $775/month.
The bottom line
Straight out of the gate, this LMS impressed me with a professional looking design and a sizable list of features. However, there is a steep learning curve with Tovuti if you're a new user. 
I'd love to see an easier setup, clearer navigation (especially for admins), and a wider range of integrations. What's more, I personally think that to really get the most out of the vast array of features, you need to have advanced knowledge.
For this reason, I would suggest more flexible plans so that users who aren't making use of the full range of features don't have to pay for them.
Also read: Best LMS Vendors for Every Purpose and Need
Looking for the best employee training software? I've got you covered!
I have to say, I rate all of the employee training solutions that made it onto this list highly. They're robust and boast rich features that will kick your employee training program into high gear. So, it really boils down to this: What's the best LMS for your organization's needs? I'm talking budget, level of expertise, training strategy, etc. 
If I had to choose one overall winner, I'd put my money on iSpring LMS purely because it's the best all-rounder of the bunch. It's sleek, intuitive, and surprisingly powerful, with a vast array of value-adding features, making it the best LMS software for businesses. Plus, its pricing plans are affordable and customizable, which is great for SMEs, startups, and those with budget restraints. 
Still not sure which LMS is best for your business? Don't just take my word for it. Take your favorites from the list for a test drive with a demo and see for yourselves.