In this review, I'll take a look at Litmos LMS, a training platform for business that includes an LMS and a vast course catalog. Let's find out how well it performs.
Here's a quick overview of the platform by the vendor:
And here's what I'll cover in this review:
Litmos LMS Features
For this review, I've placed Litmos LMSs features into five categories: Administration, Content, User management, User experience, and Customization, as well as showing some features it lacks:
✔
✘
Administration – ease of getting started with and administering the platform
Helpful onboarding video
Automation bundle that helps you manage course enrollments needs to be bought separately
Calendar of events for ILT (instructor-led training)
Two-factor authentication with email
E-commerce with PayPal, Stripe, and the option of enabling Google Analytics
Competencies management with skill mapping
Scheduled reports
Custom reports
Content – authoring capabilities, supported formats, and the option of combining separate modules into learning paths
Supports AVI, WMV, MPG, MOV, FLV, M4V, MP4, PPT, PPTX, PDF, MP3, ZIP, DOC, DOCX, SWF, SCORM 1.2/2004, xAPI, and AICC
Only 5 question types are available for quizzes
Supports 360-degree video
Litmos Heroes content library is a subscription separate from the LMS
Allows the creation of quizzes and surveys
PowerPoint upload size limit 30 MB; SCORM – 500 MB; Video – 1GB
Course catalog with ready-to-use content available for purchase with the LMS
User management – adding and managing users, creating and assigning roles
Self-registration
Custom user roles can't be created
Bulk user import via CSV
Limited editing capabilities for existing user roles
Users can be organized in tree-like hierarchies using Teams
User experience and Social learning – using the platform to study on a desktop or mobile, notifications for due activities, discussion forums
Gamification – points, badges, leaderboards
Missing real discussion forums where users can exchange their opinions and provide help for one another
Possible to add learning records from external sources
Learners can request "Time off" from ILTs from the UI
Customizable certificates of completion
Discussion forums
Easy to provide feedback to admins during the course
Customization and Integrations – changing the design and integrating the platform with third-party applications
Customizable email notifications for users
Mobile app with downloadable courses and offline SCORM
Multiple brands with custom design can be created within a single account
Many ready-to-use integrations with popular services like Salesforce
API for more integrations
Litmos Detailed Overview
Let's delve deeper with a detailed overview of Litmos and see what kind of experience it offers.
Learning the ropes, ease of use
As I started my free trial of Litmos, the first screen I encountered was the learner view: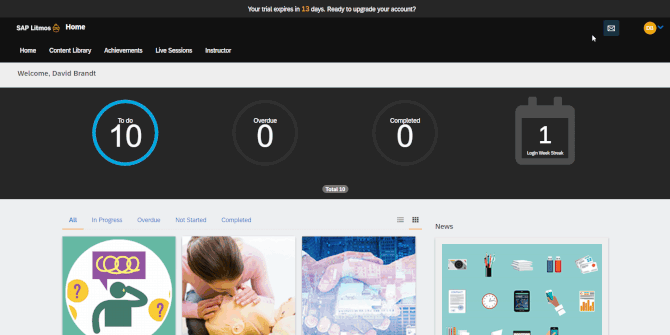 I appreciate it when an LMS doesn't shy away from the learner mode and lets you feel what it's like to study on the platform right off the bat.
After briefly exploring the learner interface and finding it straightforward, I launched one of the courses that came with my trial version: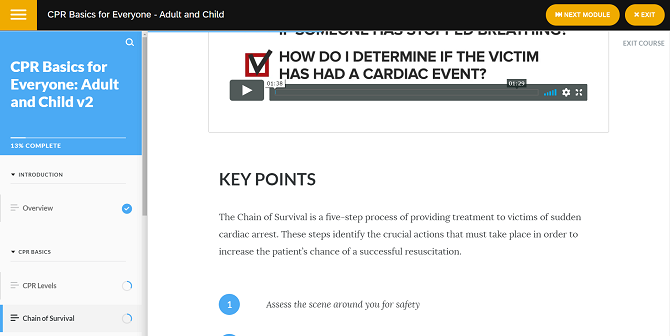 The navigation from course to course (yellow buttons on the screenshot above) was on point and I had no problem getting the hang of it.
Then I wanted to switch to the admin view and the corresponding button was easy to find: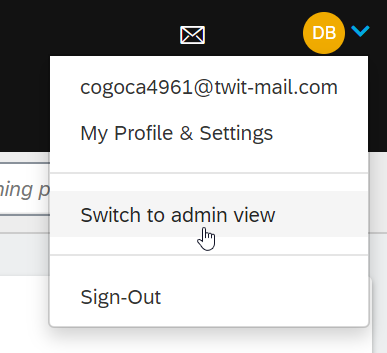 The admin view is not really different from the learner view in terms of design and menu placement, so I didn't have to start from scratch and learn an entirely new menu layout just to get started as an administrator: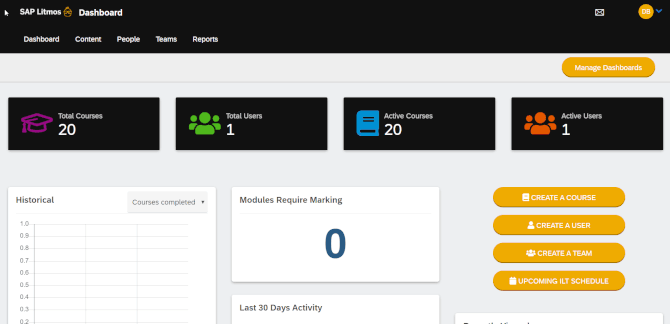 Then I found the Litmos Dojo, which is an onboarding content catalog for folks like me who had just started their journey with the platform.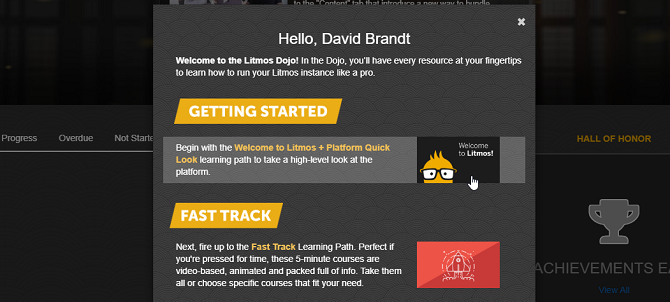 There are many courses and learning paths on various aspects of working with the LMS, providing something to learn for any skill level.
I'm sure the onboarding course in this section has lots of helpful information on getting started and is probably a crucial piece of the puzzle for mastering Litmos, but I couldn't stand another 30 minutes of loud repetitive business music in every video of the course. Sorry, Litmos folks, it's probably just me and the number of new products I review that want to cheer me up with some business tunes on a weekly basis.
To conclude this chapter of my review, I'll mention that the quality of the Knowledge Base that the Litmos staff maintains is well written and concise.
Managing users and user roles
New users can be added one by one through the platform interface and in bulk via CSV import (the trial version doesn't include that). I found the former to be easy and quick, so I suspect that one wouldn't experience any difficulties with the latter.
If you go to Account settings – Litmos Features, it's possible to enable Self Sign Up, which will allow learners to register with the portal. You can generate a bunch of codes that users can enter when they register to get access to a specific course or a certain group of users.
Portal hierarchy is built using Teams that you can create in the UI or import in bulk via CSV. Each team can include an unlimited number of users and one user can be in multiple teams at once, which lets you create multiple hierarchies within your account at the same time. For example, you can create one based on workers' locations and one based on their position and area of work.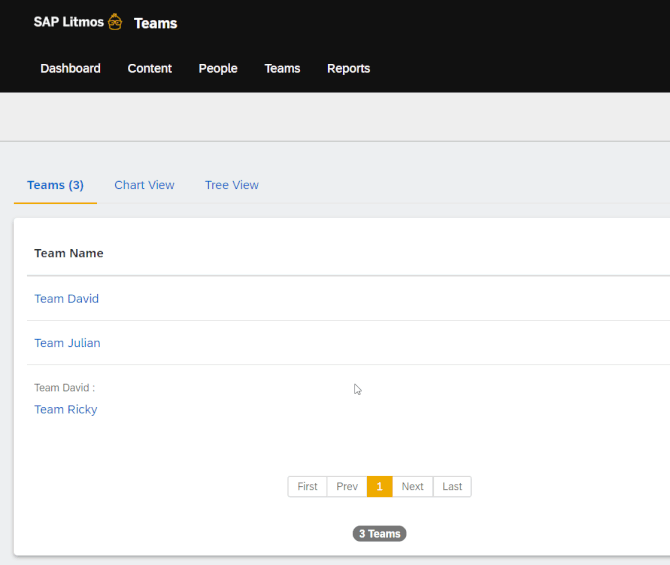 In order to free up some of your time, you can delegate management inside the teams. To do so, you can designate Team Leaders – they will have permission to monitor learner progress within their team and add new users to it.
Permissions of the Team Leader and Team Admin's roles can be customized in your Account Settings:

The rest of the roles' permissions can't be changed, which feels limiting compared to other LMSs like TalentLMS or iSpring Learn that let you create your own roles and select from an array of different "rights" that can be assigned to them.
To sum this section up, managing users in Litmos is convenient, but the team organization side of it could be made more user friendly by making it possible to drag and drop teams onto the hierarchy tree, for example. As it is, you have to go to each team and select a parent team from its settings to organize your account's hierarchy.
Adding and managing content
To add content to Litmos, you need to create a course and upload your files as modules. Or you can use the platform's Quiz Editor and Survey Editor to create something from scratch: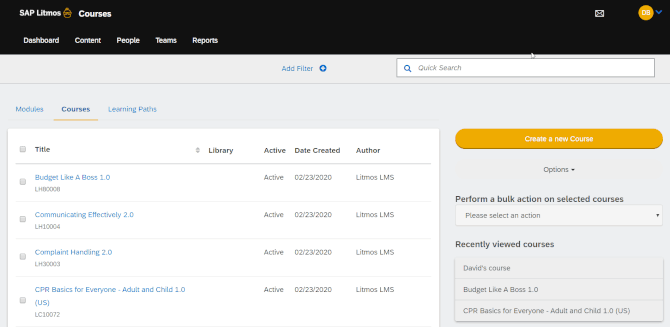 Courses can then be combined into Learning Paths and you can set flexible due dates for either: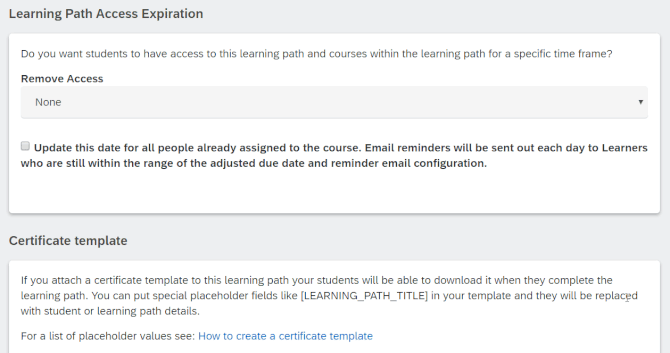 Compliance settings are simple and convenient – select a number of days in which compliance for this course expires and select when to automatically re-assign it with a notification:

Aside from quizzes and surveys, you can create simple text pages with information, ILT sessions, embed content from other websites or add a learner upload that will allow users to upload their own content on the platform which you will then have to grade.
ILT can be a classroom-based training or a webinar, and creating a recurrent training session is easy: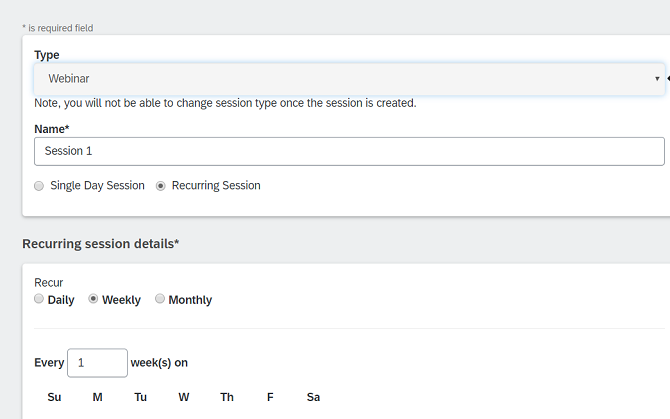 One feature that I found interesting is e-signature, which you can add as a module to any of your courses – it can be used to ask learners to acknowledge the terms of your training. It can't be considered a legally binding signature but is a useful little feature that I would like to see more vendors implement: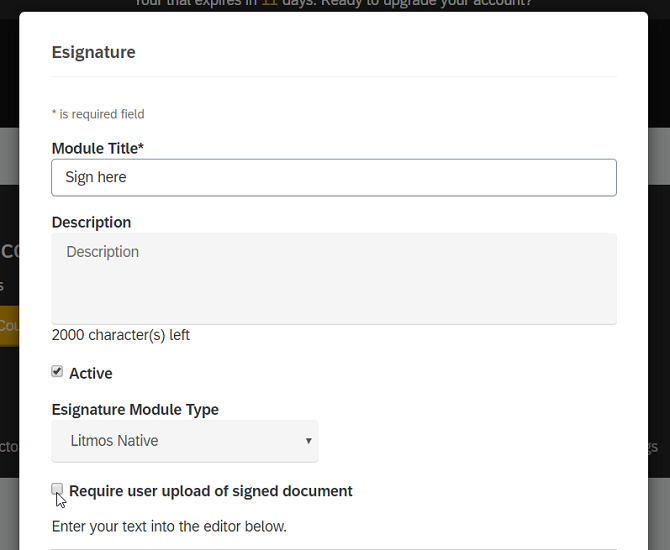 Every course and learning path has its own Noticeboard where you can post updates to the curriculum that learners will see. Also, any type of file can be attached to a course as a reference that users can download when taking the course.
Then there's Litmos Heroes – it's what the vendor refers to as the best off-the-shelf content library in the universe. They have courses on Customer Service, Leadership and Management, Human Resources, and almost anything you can imagine being useful for a business. Access to the entire library of courses is included with the more expensive Pro+ Courses pricing plan. It should be interesting for companies that haven't built their own course library yet.
It's important to mention that there are many other Litmos features like Litmos Boost or Video Assessments that didn't make it into this review because they were not available in the trial version of the LMS.
To sum this section up, I wish Litmos interface was a bit better thought out at times but, overall, it shows solid performance in the content management section.
Reporting
Litmos doesn't amaze with its reporting – you get all your usual stats for courses and learning paths. Reports can be generated either for content or team/user. The interface feels somewhat sloppy and could use some polishing: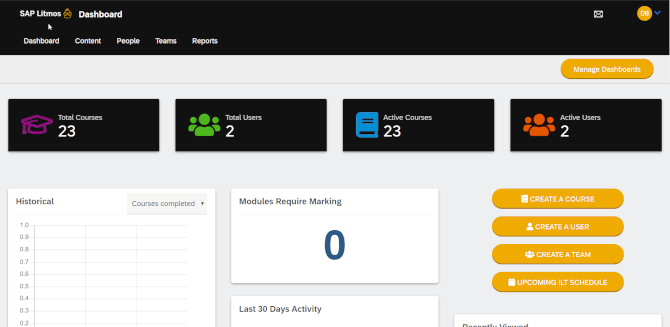 All reports can be downloaded and scheduled for automated export to a specified email address as CSV or PDF documents: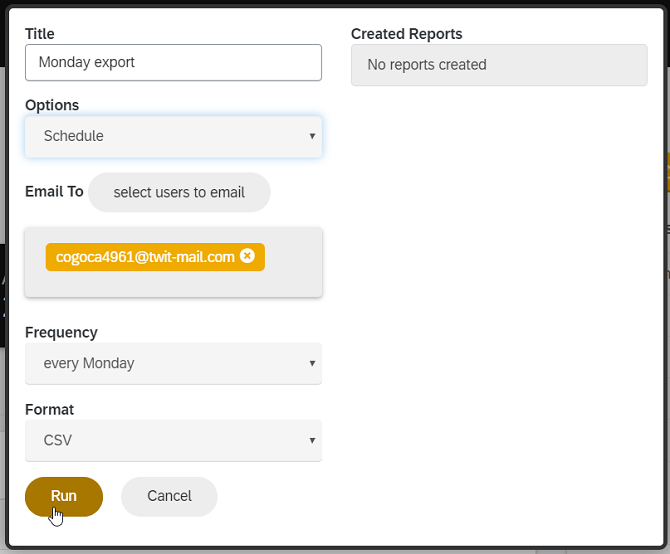 There are some additional reports like Compliance Summary and Login Analytics that will show you how compliance training is going or when and where learners entered your learning portal from, including a chart that shows what devices they were using to study: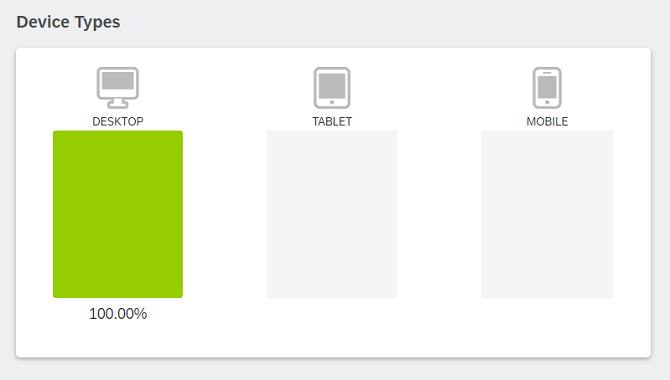 You might ask, "Okay, we've got canned reports, but what about custom ones?" and I'd respond that Litmos does have a custom report creation mechanism. From what I saw, they're the same canned reports, but with more customization. And you can ditch the info that you don't need: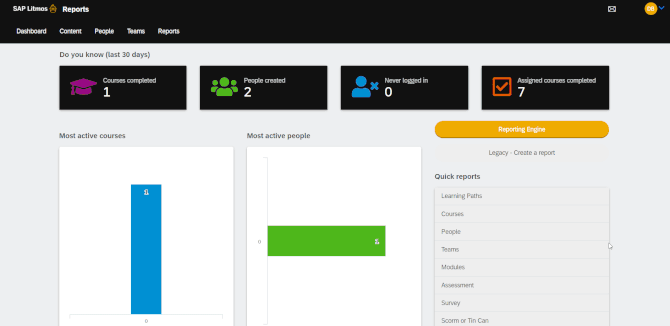 Reporting in Litmos is neither very neat nor terribly visual, but it does the job and has some nifty tricks up its sleeve.
Branding, integrations, and security
In terms of branding the learner portal, Litmos offers the usual logo, background image, and color customization, plus the possibility of inserting a Metrics banner, custom CSS and custom header/footer HTML. It's cool that you can choose which widgets your learners will see on their dashboards: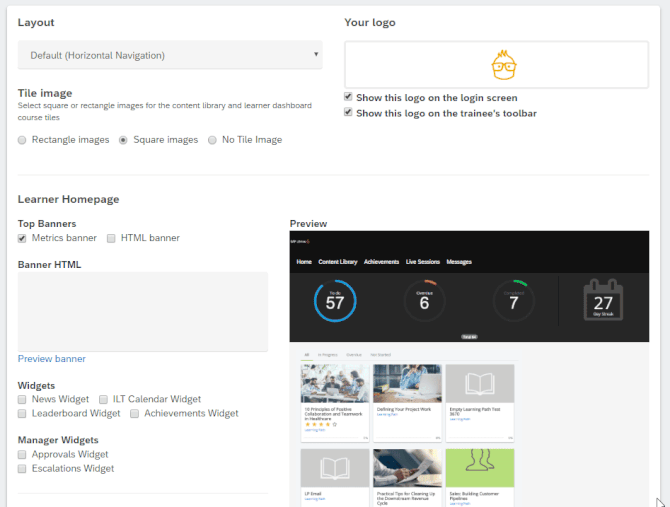 You can create multiple Brands inside your portal that feature their own unique learner portal design.
Now let's talk about integrations, because there's a lot to unravel about this function in Litmos. You get a couple of ways to set up single sign-ons (Google, SAML), a few webinar platforms to integrate with (Zoom, Webex, GoToTraining), and several optional connections with products like Zendesk or BambooHR: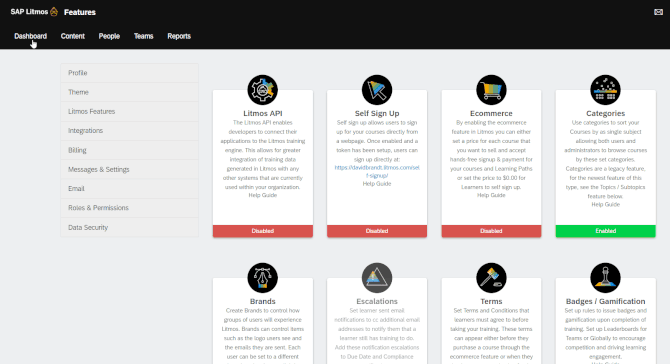 There is also an API that you can use to integrate the platform with pretty much any other web app. I checked out the list of API hooks that Litmos provides and they're good – gamification, ILT, and pretty much any function you can find in the UI is available in the API.
In terms of security, Litmos doesn't offer much – HTTPS, strong passwords, and automatic log off after a certain amount of time you set. There's also a feature that lets the platform automatically delete the data of learners that are inactive for over six months and this time span can be customized.
That's it regarding Customization, Integrations, and Security.
Learning experience and mobile device support
When you begin your Litmos experience as a learner, you'll encounter this welcome screen for setting up a password and entering profile information: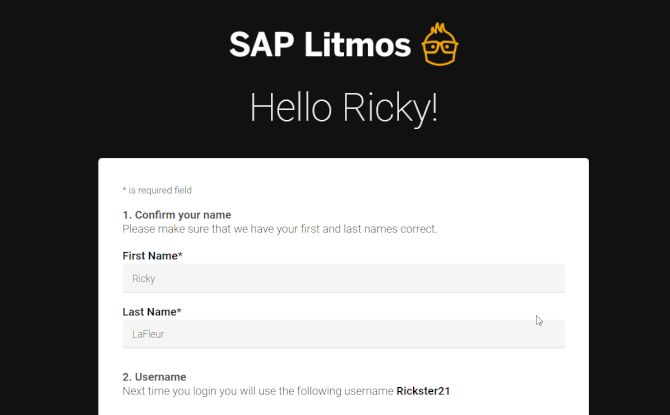 The learner dashboard looks simple enough, and I didn't have to hunt around to find courses I'm enrolled in: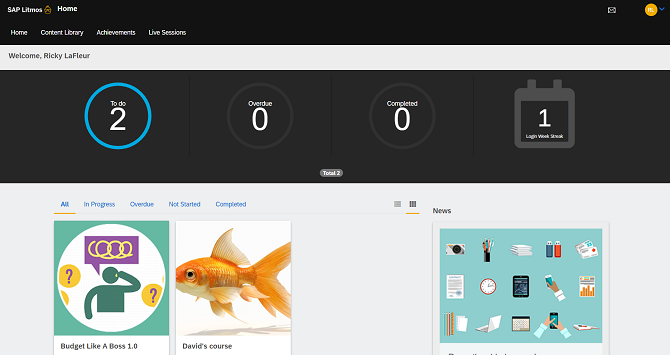 The mobile app is also simple, providing access to the same features that the browser version gives you access to: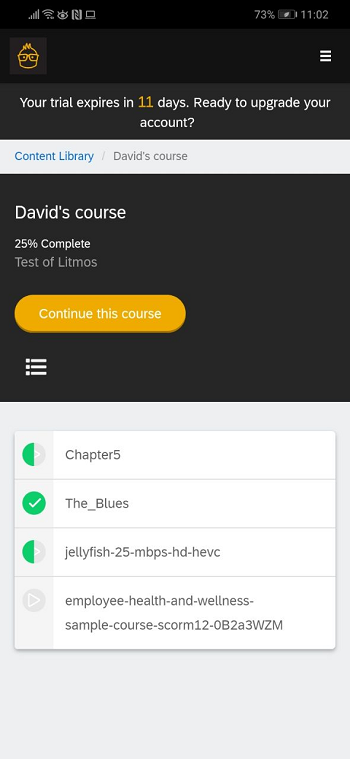 Litmos is available for Android and iOS, can launch SCORM packages and do so offline. In other words, it can store your stats on your mobile device until you reconnect to the web to transfer them to the Litmos database.
Discussion forums that are available in the desktop version, as well as the mobile app, are conducted in the form of simple comments to which any user or manager taking the same course can reply. There are also Direct Messages that learners and other roles can send to each other.
There's a gamification element that awards badges and points for completing certain courses. It also enables learners to compete for a higher ranking on the leaderboard. In other words, it's all the usual gamification stuff that LMSs offer these days; nothing fancy.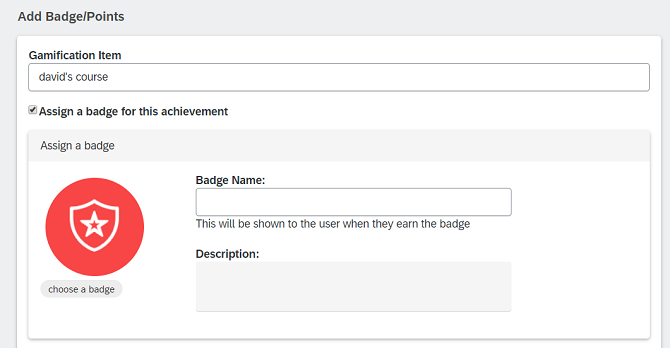 After you complete a module as a learner, you can not only get a badge but also a custom certificate of completion, which admins can upload as a Microsoft Word document.
To wrap up this detailed review, I can say that I liked what Litmos has to offer in terms of user experience – a neat mobile app with all the features that its desktop version offers, a good workflow when it comes to taking courses on a desktop, and a straightforward gamification system that will work for e-learning adopters out there.
Litmos Pros and Cons
Pros:
Easy to begin, good onboarding courses
Simple UX-driven design in both admin and learner roles
Off-the-shelf content with Litmos Heroes subscription
Many integrations and add-ons that can expand the functionality of your Litmos platform and provide a greater means for tailoring it according to your taste
Cons:
Only two customizable user roles, very limited customization capabilities for roles
Some actions on the admin side need revamping as they take too many steps and could be simplified
PRO plan without the Content Library is only available with 150+ learners
Some additional perks like Automation Bundle that help you manage the platform and keep the learning process going need to be purchased separately
Some clients complained about the quality of the Litmos support service
Pricing higher than the industry average
Litmos Business Use Cases
Ideal for:
Continuous employee training for companies with over 150 learners/month: It's a fine choice for an organization's learning platform as it has everything you might want from a system like that.
Employee onboarding: With a simple user interface and a mobile app, this LMS is a good choice when you need to launch an onboarding course for your company's new employees. It helps that it's also pretty simple for an admin to begin using.
Suitable for:
E-commerce: Litmos has integrations with PayPal and Stripe and lets you run your own open course catalog on the Web, although it's more focused on business learning.
Academic: The platform allows organizing a few branches with different designs and languages, while also providing a way to organize your students into a hierarchy tree, so it will be a good fit for academic use. One factor that might drive you away is the higher-than-average pricing.
Won't work for:
Small companies: If your e-learning project is smaller than 150 learners/month, Litmos can get costly. In this case, I recommend looking at other platforms.
Litmos Pricing
Two plans with different pricing and features are available, PRO and PRO + Courses. Here's what they offer:
Pro – support, reporting, learning paths, custom branding, and scorm player
Pro + Courses – everything that comes with the Pro plan, plus the course library (Litmos Heroes)
The pricing is for an annual payment and depends on the number of learners that study on your portal each month. You need to calculate an approximate average and stay within that limit during any given month, because if you have a plan for 300 learners, you won't be able to let the 301st user in for the rest of the month.
Here's what they cost:
| | | |
| --- | --- | --- |
| Users per month | Pro Courses | Pro + Courses |
| 50-150 | N/A | $15/user |
| 150-500 | $6/user | $9/user |
| 500-1000 | $4/user | $6/user |
Summary
We've taken a look at Litmos, a cloud-based LMS that can provide you with a library of courses you can use if you don't have your own. It has all the features that one might need from an LMS and my overall impression of the system was good. Too bad that some of these features that can make your life easier, like the automation bundle, need to be bought separately..
In addition, there are some quirky parts that could use tweaking here and there and I wish certain admin routines were simpler but, aside from that, it's a solid product and you'll get your money's worth.