Learning management systems have revolutionized the way people train and develop their skills. Most of the platforms available today include a mobile-friendly (or mobile-first) design or a dedicated LMS app that you can use on the go. That aspect, as research points out, is going to be critical to user experience. As such, 58% of all global website traffic generated in Q1 of 2023 came from mobile devices (tablets not included).
Mobile devices have become the go-to resource for many users, and they expect the eLearning tools they use to be readily available. The best mobile LMSs aren't just "mobile friendly" — rather than adapting the content for mobile, these LMSs are deliberately created for a mobile user experience.
In the guide below, we'll look at the top-rated mobile LMS platforms out there today. First, though, let's discuss the features of a "good" mobile LMS.
Must-Have Features for a Mobile Learning LMS
As mentioned, the best mobile LMSs aren't merely mobile-friendly but are designed, in one way or another, specifically for mobile use. This can include:
Mobile-first design (in-browser use)
Dedicated mobile apps
There are other key features that are must-haves with mobile LMS software.
Mobile App
A dedicated native app that functions on both iOS and Android is essential. Apps are more convenient than having to access and navigate with a browser. They're also more stable than a browser connection and can be accessed even when offline. This provides you with a single knowledge repository for training and education.
Apps are engaging, cost-effective, and increase knowledge retention when compared to standard training programs.
Offline Viewing
The benefit of using mobile devices is that you can potentially learn anytime and anywhere. They can access content even when you're not within range of a Wi-Fi signal to download content, so you're not using data to view it. Offline learning allows users to download content to their devices and learn at their own pace. All tests, quizzes, and scores will be added to the system once the connection is restored.
So, it's wise to choose a platform that is accessible offline and can sync the training data as soon as the device is back online.
Customization/White Labeling
You can find white-label platforms to help you launch a more customized solution. Most platforms come with an app these days, but they're usually vendor branded. This might be alright for some level of internal use, but being able to take ownership of your app will allow you to reinforce your brand and your reputation. Invest in customization and white-label LMS tools that allow you to create your own branded solution.
The good news is that there is no shortage of options out there today, including the platforms that we'll discuss below. Make sure that being able to custom-brand your mobile LMS is high on your list of priorities.
Reminders and Notifications
Another great way to benefit from your mobile LMS app is to set up reminders and offer push notifications to users. Push notifications are the notices that pop up on your mobile device, such as those from your email inbox, text message service, or in this case, your learning and development app.
You can also offer people the chance to sign up for email reminders and other notifications that can help them stay on track. With the right mobile LMS, you'll be able to create all types of reminders and communication tools.
Course and User Management
A high-quality LMS provides robust management features for both users and course authors/owners. It should be easy to create, organize, modify, and assign courses. This includes sharing and uploading materials, and customizing structures and layouts.
You should also look for robust user management features. This includes the management of user profiles, enrollments, and features like assignment grouping. You want to make sure that the user experience is as dynamic and simplified as possible. If there aren't enough user management features, you're missing out on valuable organizational tools.
Assessments and Testing
The top mobile LMS platforms have built-in tools to help you create and administer exams, quizzes, and other assessments. This allows you to streamline testing and provide instant feedback to your learners or trainees. It also enables educators to assess the learning outcomes more accurately.
Analytics and Progress Tracking
Progress tracking should be available for both trainers/educators and trainees/learners. For educators and owners, it's an easy way to identify who's on track and where improvements might need to be made.
With regard to students, it makes it simple to track their learning process. It also allows them to see their strengths and weaknesses and have an overall view of their progress. Some tools even allow them to set their own goals and milestones in addition to the ones you create.
These are the must-have features of any LMS, and especially a mobile LMS app or platform. Now, let's look at the best LMSs for mobile use out there today.
The Best Mobile LMSs: The Apps You Need to Know About
iSpring Learn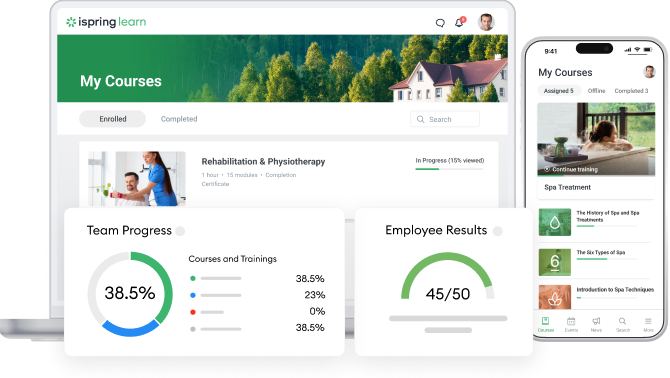 iSpring Learn is a corporate training and eLearning platform that is used by clients in 172 countries. This mobile-friendly LMS comes optionally bundled with iSpring Suite for content authoring that's simple, straightforward, and easy to customize. You can build custom learning tracks, control users and courses, and more.
Gamification is built into the iSpring Learn platform, allowing you to encourage training in a fun way. Learners can earn badges and points for completing various courses or assignments, and then track their progress against others on the leaderboard. You'll also enjoy access to discussion boards and a powerful selection of customization tools and options.
This smart LMS helps access courses anywhere, at any time. Users can start a course on their smartphone and continue taking it on a desktop computer, resuming exactly where they left off. Instead of waiting until a certain point or requiring manual syncing, iSpring Learn syncs all data automatically, in real time.
Key Features of iSpring Learn
Offline learning
Automatic data synchronization
Learning tracks
Progress tracking
A built-in course creation tool
Pros
Available right out of the box or as a customized LMS platform
iOS and Android apps are free
Lots of integrations
Automatic data syncing means more productivity and convenience
24/7 access to courses
Pay-per-active-user pricing
Cons
Designed for businesses and larger operations; may not be suited for startups
The Verdict
iSpring Learn offers everything that you might need from a mobile LMS for corporate training. It includes resources for everything from onboarding to compliance and sales training, customer and partner training, and more. With smart management features and automated data syncing, your LMS will run itself. Book a live demo or check out a free trial of iSpring Learn now.
LearnWorlds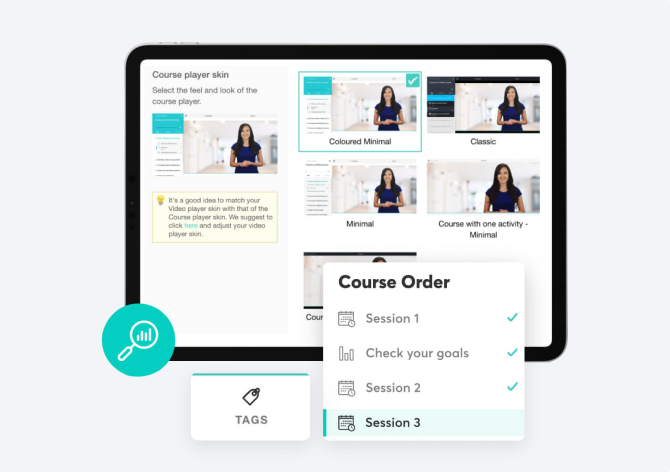 LearnWorlds is another popular LMS that's cloud based. This mobile platform includes dynamic website builders and course creation tools, along with a white-label mobile app for complete customization. You'll also find its eCommerce feature helpful for those who want to monetize their training courses.
LearnWorlds integrates with tons of different platforms and includes API, Webhooks, and other features. You'll find support for unlimited users and courses, as well as unlimited data storage. The mobile app builder makes it easy to create your own branded app.
You can customize push notifications, get detailed analytics, and even set up learning reminders and other features for your users. Offline mode allows users to learn at their convenience, while integrations with Facebook Business SDK and Google Firebase are ready to monitor your mobile marketing performance if you go that route.
Key Features of LearnWorlds
Offline video mode allows learners to watch videos and customize how they download them
Biometric authentication available for fingerprint and face ID
White-label app
eCommerce tools in place
Transparent, affordable pricing
Pros
Offline learning
Progress tracking
Seamless user experience on the front and back end
Variety of plans, pricing, and packages
No storage or bandwidth fees
Cons
Offline mode requires manual content syncing when the connection is restored
Some say the app has a slight learning curve
The Verdict
LearnWorlds is one of the most dynamic mobile LMS options out there today. It offers so many features that it beats many competitors when it comes to comprehensiveness. Its interactive learning and high-quality assessment builder make training and education a breeze. Plus, there are packages for everyone, from small startups to corporate organizations and beyond.
Docebo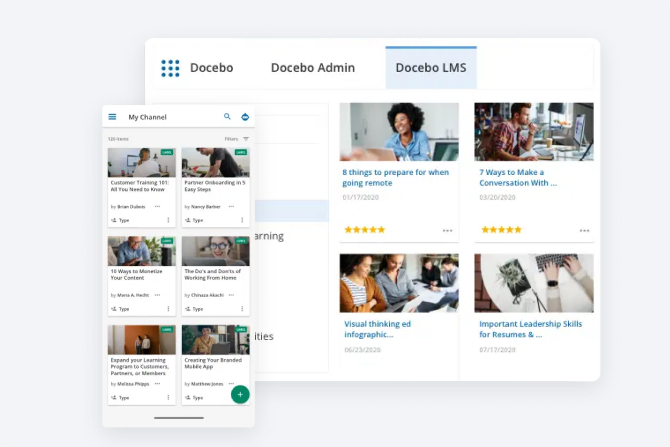 Docebo offers two solutions that make it a strong contender: the Go.Learn native mobile LMS and Mobile App Publisher, which allows users to create and upload their own content. Courses can be created easily with drag-and-drop functionality.
Docebo is fully customizable, allowing you to white-label a mobile LMS for your specific needs. It's ideal for organizations that have 300+ employees, offering impressive AI that can personalize experiences and streamline course creation. It comes with a library of off-the-shelf content that can be incorporated into any workflow or training module.
This platform offers over 400 integrations and comes ready for eCommerce. One of those is a native Salesforce integration. The app also offers features like biometric authentication, self-enrollment, and offline access. Content sharing is available, as are push notifications.
Key Features of Docebo
Comes with a content library
White-label mobile LMS app
Powered by AI
Social learning and gamification
Pros
Full customization of the mobile app
Offline learning
Personalized learning paths
Robust, feature-rich LMS
Cons
Complex platform with a steep learning curve
No reminders built into the app
Expensive for startups/SMBs
Some feel having to reach out for custom pricing is a drawback
The Verdict
Docebo offers a dynamic option for a mobile LMS if you have a larger organization. Even with custom pricing, it's still easy to reach out and they're very "no pressure" about helping you conceptualize and price a solution. With personalized learning paths and AI to help make things simpler on both ends, it really offers something for every need. It may be too complex and costly for smaller organizations, but large companies find it very advantageous.
Litmos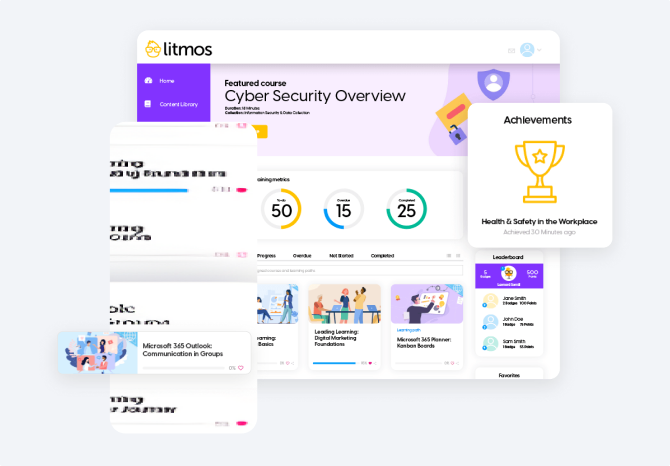 Litmos LMS is another feature-rich platform that connects learning through gamification and social engagement. This app has a large user database and makes many of the top LMS mobile app lists for a variety of reasons. Like Docebo, it comes with a content library and contains material that caters the needs of many different industries.
Litmos also comes with customizable branding and an entirely personalized user interface. It comes with a prepackaged eCommerce solution, too, integrating with Shopify so you're ready to sell from day one if you monetize courses.
Litmos comes with a dedicated training app for Android and iOS. Users enjoy offline viewing and downloadable content, but you can't create reminders for learning modules or training. There's also no white-label option for the app. However, it's a great tool for what it offers.
Key Features of Litmos
Comes with a dedicated iOS and Android app
Includes a robust content library
Built-in eCommerce capabilities
Social learning and gamification make learning fun
Pros
Offline learning mode available
Apps available for learning on the go
Gamification and social learning
Content authoring is easy
Cons
UI is complex for new users
No white-labeling of the app
No reminders available
The Verdict
Since Litmos offers a 14-day trial, it's a great way to test the platform and see how it works for you. There are three packages available, but pricing information is not readily offered. It has a robust offering even without the white-label option, making it a solid choice for anyone who needs a reliable mobile LMS.
Blackboard Learn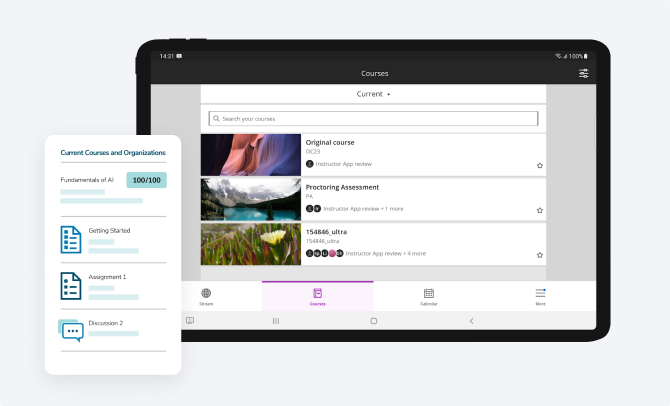 Blackboard has been around since the early days of digital learning. It was originally created for government and education courses, but it has started offering solutions for business training as well. It does integrate with a lot of HR software, but Blackboard Learn will not integrate with AI, nor does it offer those features.
There is a dedicated app for users that includes in-app messaging and access to downloadable content, assessments, and grades. Push notifications can be delivered in real time and information syncs once you reconnect.
Blackboard Learn is a bit outdated compared to other tools on the list. However, its versatility and longstanding reputation make it popular with many organizations. There are better, more modern tools out there for corporate training, but the familiarity of Blackboard often keeps people coming back.
Key Features of Blackboard Learn
Integrates with HR software
One of the oldest LMS platforms
Reliable online and offline features
The Blackboard Learn app makes learning on the go a breeze
Pros
Versatile platform for several industries and uses
Extensive collaboration and learning features
Notification options make reminders easy
Cons
No AI integration or optimization
Outdated, interface that's difficult to use
No white labeling available for the mobile app
The Verdict
For those who have always used it, Blackboard Learn continues to deliver. It comes with a 30-day trial so you can check it out, but it might not be the right fit for everyone. Smaller organizations will probably find that this tool is a little too outdated and unfriendly, and pricing information isn't readily available. The bottom line? It could be a good choice, but it might not compare to other options here.
Absorb LMS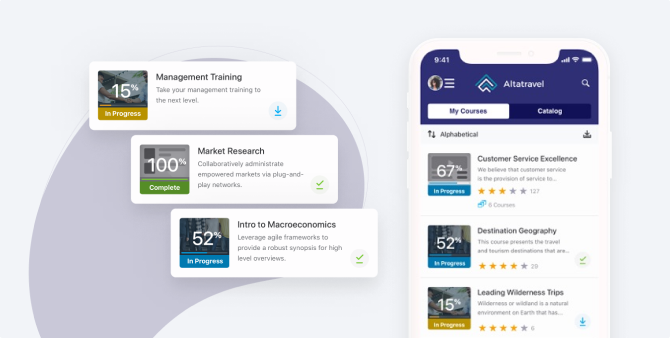 Absorb is on many "top LMS" lists, and for good reason. First, it offers online and offline accessibility, which is critical. It also has an easy-to-use interface that makes course creation and completion easy. The mobile app includes custom branding that is automatically downloaded.
Absorb LMS also has a responsive web interface, which means you can access it on desktop and mobile devices alike. It's a more expensive solution, which makes it best for large organizations. However, it comes with robust AI features and delivers personalized learning experiences.
This platform also includes mobile apps for iOS and Android. You can sync information offline, too, so people can learn anywhere. There are separate portals for learners and authors/admins, and the site and app design are focused on delivering the best experience.
Key Features of Absorb LMS
Intuitive interface for easy navigation on any device
Automatic allocation of coursework
Self-paced learning supported
Dedicated portals for users and authors
Pros
Offline accessibility
Easy course creation
AI makes personalization easy
Impressive site design
Cons
High cost compared to other options
Setup and configuration might be complex
Users need to re-enroll every time a course is modified
The Verdict
Absorb LMS is a powerful learning tool indeed. However, because it's priced at $14,500 per year, it may be limited to larger organizations and companies. The platform includes AI and all the features you could ever want, along with the option to create a totally engaging, personalized learning experience for each user. If you've got the budget, this mobile LMS could be the right fit.
Sakai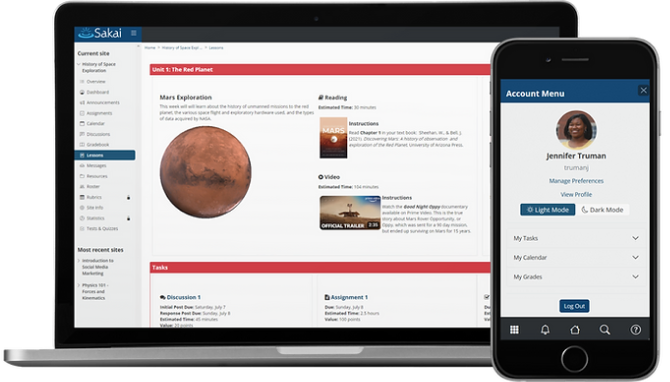 Sakai LMS is a feature-rich LMS that comes with all the resources you need for collaboration and learning. The open-source software is continuously improved and developed, making it easy to scale with your organization as you grow. The platform has been around since the early days of learning management systems, giving it staying power when compared to newer names in the industry.
The Sakai platform is flexible, so you can create your own learning architecture. It has a simple design that offers user-friendliness for learners. Navigation is a bit clunky compared with other tools, but you can sort things into files and create a file system to track your courses.
Sakai doesn't integrate with all tools, nor does it offer a lot of AI when compared to other platforms on this list. It works through root navigation (think Windows Explorer), but customization makes it easier to navigate.
Key Features of Sakai
Open-source platform
Reliable service and support
Automatic roster additions
Highly customizable and easily automated
Pros
Specifically designed for higher education
Open-source platform offers full customization
An active development and improvement community
Integrates with other educational tools and solutions
Cons
Slightly larger learning curve due to its academic focus
May perform slower than other LMS platforms
Technical sophistication may be a bit outdated
The Verdict
Sakai is a great choice for those who need a straightforward open-source LMS. It's popular because its nature gives students and course authors more control over how the platform is developed. Some of the tools and navigation features could be updated, and the price is right (open source = free).
Moodle LMS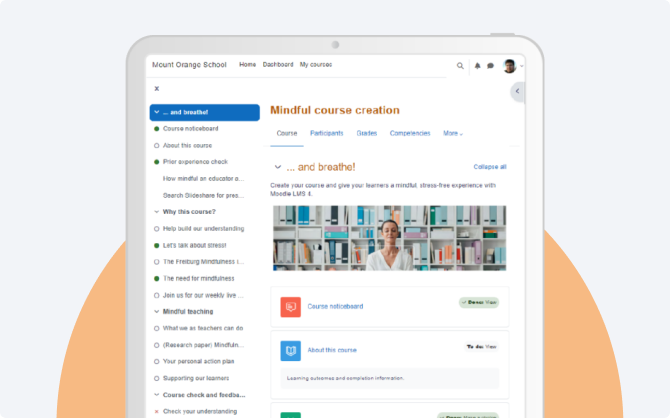 We can't finish this list without mentioning Moodle. It's another LMS with a mobile app that's designed to deliver accessible, comprehensive learning. It includes tons of customization options and makes it easy for users to learn on the go. Moodle's app can be downloaded on iOS and Android and it's an open-source platform as well, which means you can customize and scale it to your heart's content.
Moodle comes with a vast library of themes and plug-ins to allow you to create unique learning experiences for users. It also has a large community of users and supporters who continually offer development and resources. It has a steeper learning curve because it's so customizable, but it's worth a look if you like the idea of open-source platforms.
Moodle prides itself on data security and privacy. The UI is a bit outdated, but it's still fairly simple and straightforward. Notifications are available in real time and you can even use the web conferencing feature for meetings, live training, and more.
Key Features of Moodle
Partner integrations make content creation a breeze
Multi-device support makes it accessible from any device
Meets compliance standards for open-source software
1,600+ plug-ins for total customization of learning modules and training
Pros
Plenty of notifications
Offline learning opportunities
Open-source means the price is right
Supports LTI (Learning Tools Interoperability) for integration with education tools
Tons of customization and scaling options
Cons
Limited reporting features
Course tracking and schedule management are lacking
The outdated UI is a bit clunky
The Verdict
If open-source is the name of the game, Moodle gets the job done. This robust platform is a great competitor for other open-source tools and even gives other LMS apps a run for their money. Although the reporting is a bit simple and there is room for improvement, there's also a dedicated community constantly making those improvements. It's free for basic use and paid plans offer even more customization, making it worth a look.
Final Thoughts: Which Mobile Learning LMS Is the Best?
As you can see, there are a lot of top-rated options for a mobile-friendly LMS nowadays. Depending on the features you most want and what kind of learning you're creating, any of the products on this list would do well. Remember to look for a platform that includes the features that matter to you.
Take advantage of demos and trials to see how things work firsthand. Ultimately, you should have no trouble finding the perfect solution, whether it's on this list of the best mobile LMSs or elsewhere.