If you are reading this article, chances are that you need to create an e-learning course and do it quickly. Mastering a new authoring tool (that's what instructional designers use to build learning content) can be challenging, especially if you're working against the clock or, rather, the clock is working against you.
But, what if you take an existing piece of content, like a PowerPoint deck, that already has the information you're trying to convey, and convert your PPT to SCORM in a couple of clicks? Sounds great, doesn't it?
Why SCORM?
The advantage of this method is that it will enable you to upload the resulting content into a learning management system (LMS) and let you track your learners' progress through the module. Plus, you can enhance your presentation with all sorts of things like quizzes that will help you eliminate the boring PowerPoint and go interactive. And, last but not least, your learners will be able to view your module online on any device, be it desktop or mobile.
Of course, you can turn your PowerPoint into a video or upload the slides straight to an LMS but, in both cases, you will not get serious reporting. A huge advantage of this "PowerPoint to e-learning" approach is that you can control how your slides are viewed, in what order, and whether it's possible to skip them or not. That's something that only authoring tools with SCORM support can do.
Today we'll look at three software tools that can convert PowerPoint presentations to SCORM-compliant e-learning.
PowerPoint to SCORM Converters
1. iSpring Suite Max
iSpring Suite is a tool that started as a PPT to Flash converter in 2005 and has evolved to an all-round authoring solution with HTML5 support. It can be as simple as a PowerPoint to SCORM converter or help you augment your presentations with quizzes, interactivities and all sorts of engaging content. When I saw it for the first time, I was shocked at how easy it is to get started and the conversion quality it provides.
Here's how to use it:
Make sure you have PowerPoint installed.
Download the free trial of iSpring Suite Max and install it. Now it should show up as a new tab in your PowerPoint.
Open your presentation in PowerPoint and go to the iSpring Suite tab → Click Publish.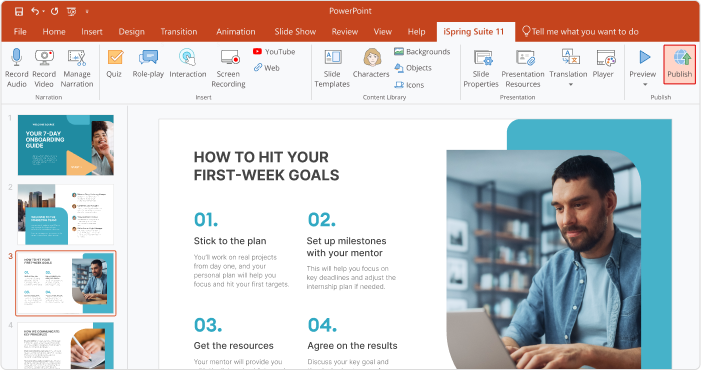 Select LMS and choose a SCORM version that your LMS supports.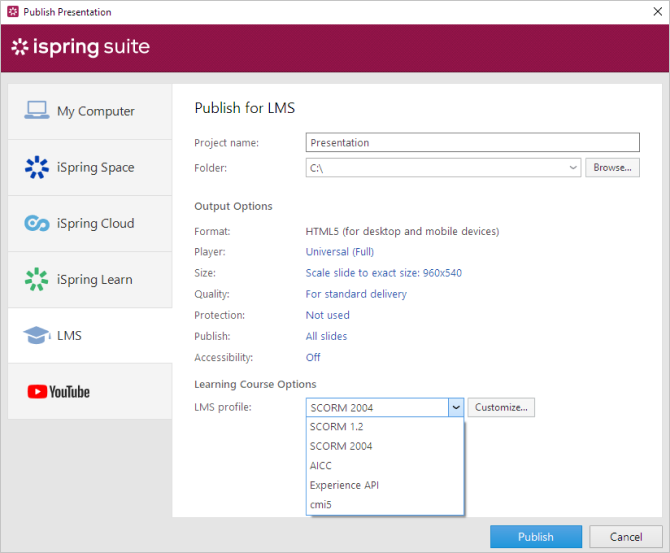 Click Publish.
When the conversion is finished, click on Open and there you have it – your ex-PowerPoint, now-SCORM presentation in a ZIP file.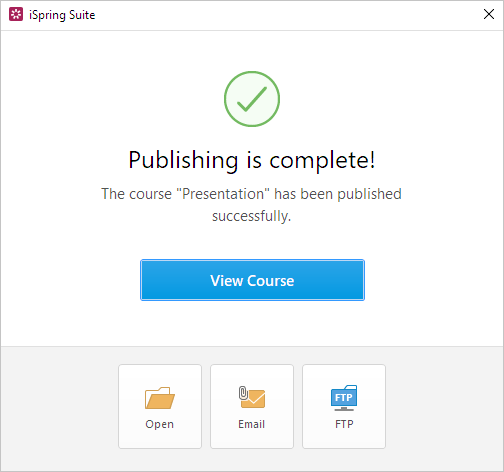 Upload your ZIP file to the LMS.
2. Articulate Storyline 360
Articulate Storyline is one of the most famous e-learning companies and e-learning tools in the world with a history and a reputation among instructional designers. It's a standalone application that you can import .PPTX files to and get an e-learning process going – quizzes and interactions really similar to what iSpring Suite has to offer. The major difference is that if you've only worked in PowerPoint so far, the interface will most likely scare you with its complexity at first.
How to roll with it:
Download the Articulate Storyline trial via the link above and run it.
Click on the INSERT tab and select New Slide → Import → PowerPoint.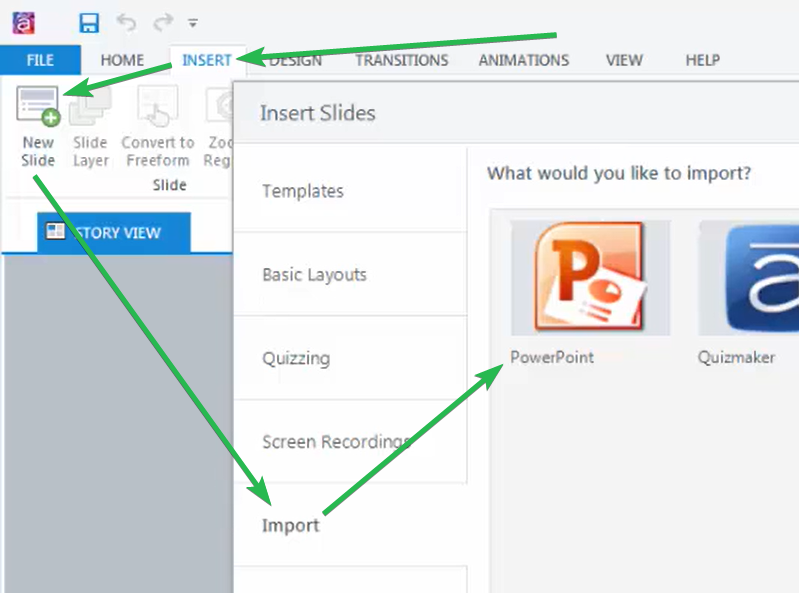 Locate the presentation on your computer and click Select All → IMPORT.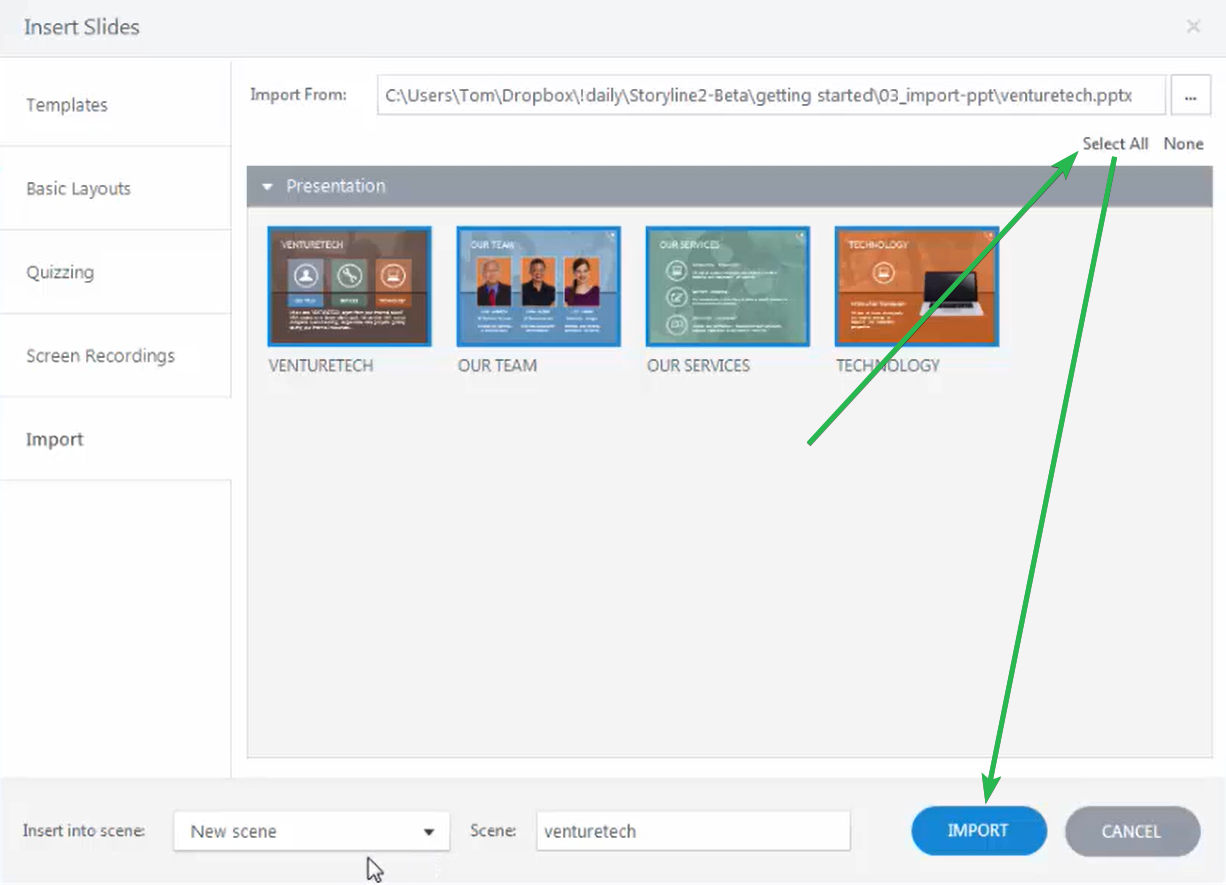 Click HOME → Publish
Select LMS and choose the SCORM version that your LMS supports.
Click PUBLISH, wait for the conversion process to finish and select OPEN – there's your SCORM module.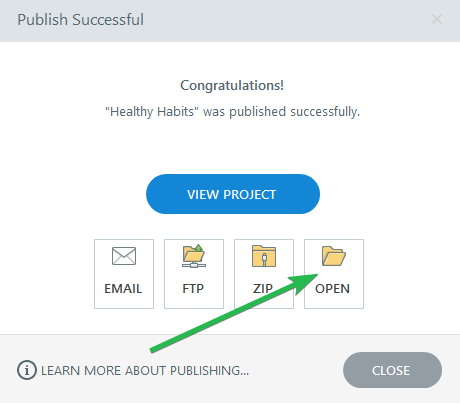 Upload the ZIP file to your LMS.
3. Adobe Captivate 2019
Adobe Captivate is another e-learning staple that has gained a serious following in the instructional design world over the years. It's a desktop application that features functionality similar to that of iSpring and Articulate but in a different interface. It can help you boost your presentation with a quiz or even insert a 360-degree video and pack it into a SCORM file.
How to use it:
Download the free trial of Adobe Captivate for your platform and install it.
Launch the application and select New → Responsive Project (we're not selecting From PowerPoint to make responsive content).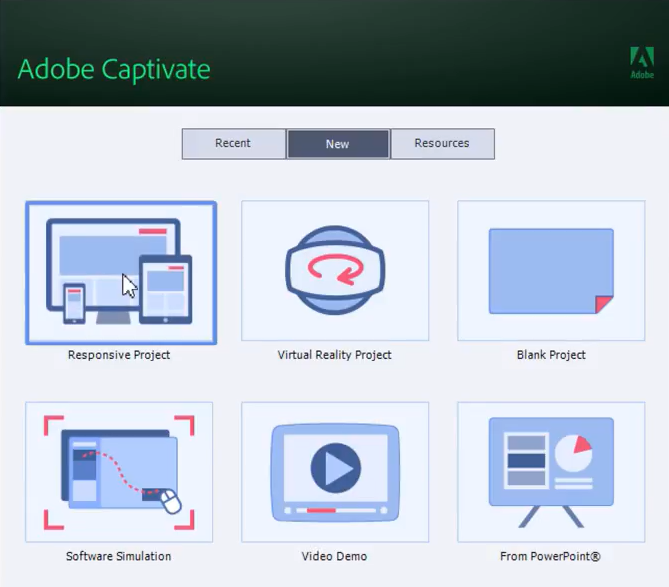 Click on File → Import → PowerPoint Slides.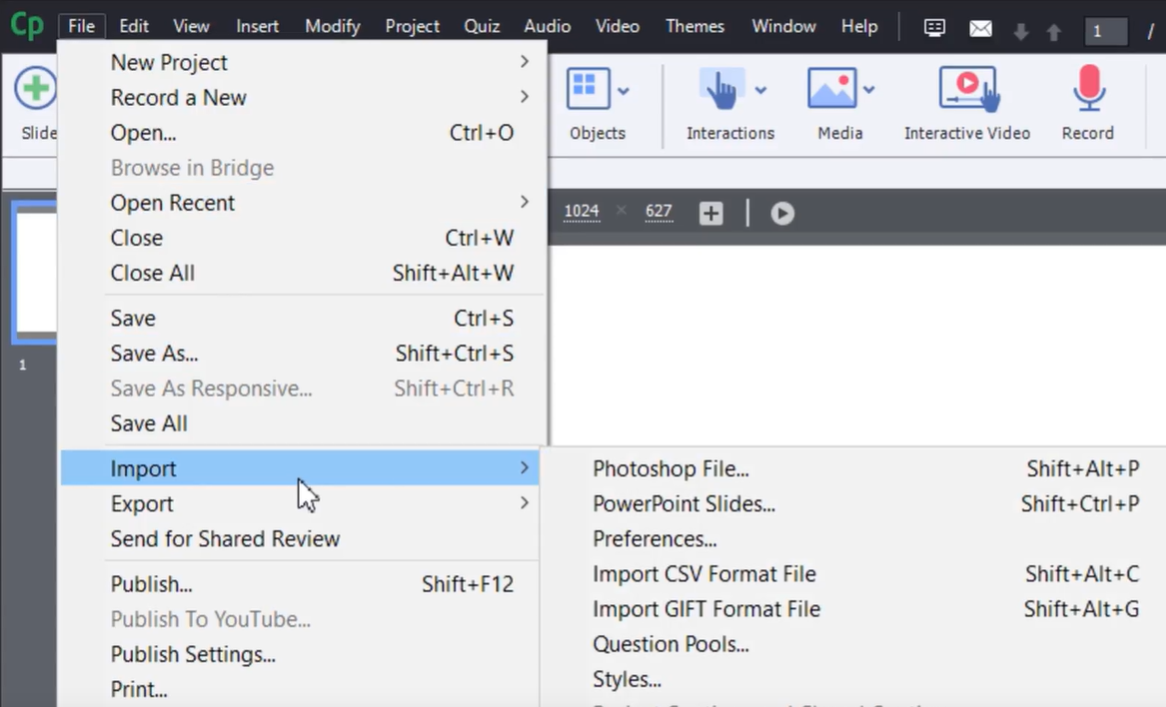 Wait for importing to finish and click File → Project Info.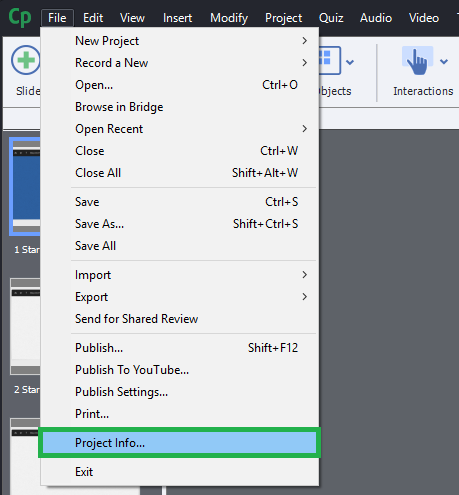 Check Enable Reporting in the Quiz tab and select the version of SCORM you'd like to use. Click OK.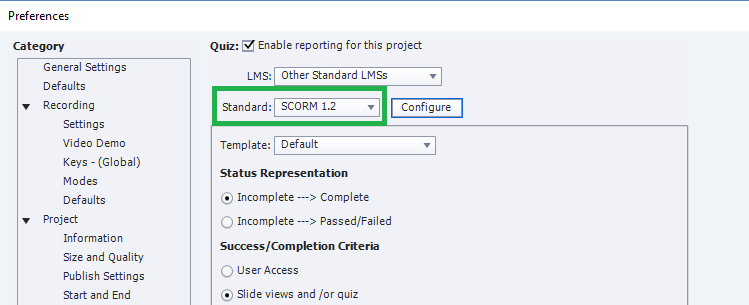 Click File → Publish → Publish to Computer.
Select More → eLearning Output → SCORM and click Publish.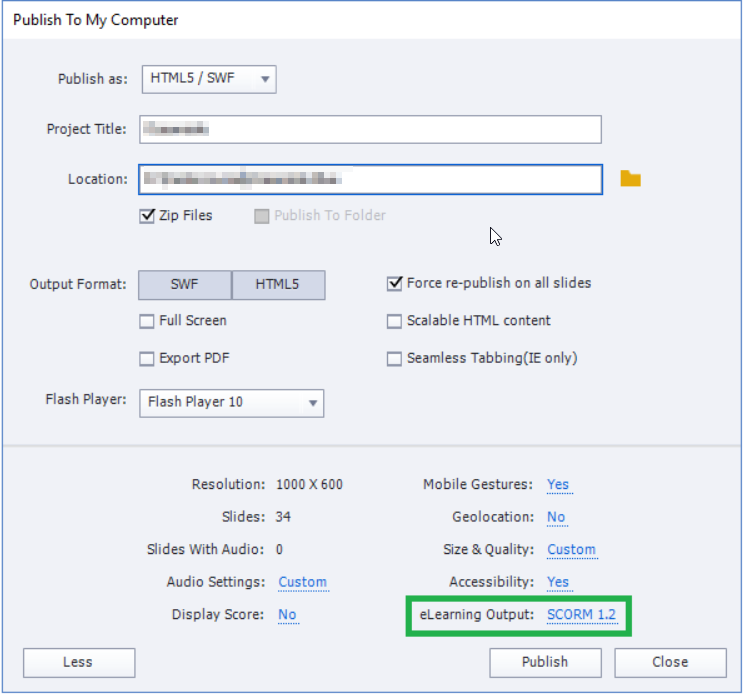 Upload the resulting ZIP file to your LMS.
Conclusion
In this article, we looked at three tools that can help you convert PowerPoint to SCORM. iSpring Suite is the easiest to learn and has the best conversion quality. Articulate is famous for the level of customization it provides and Adobe Captivate is the one e-learning tool that is better suited for experienced instructional designers.
If you don't have access to an LMS but would like to make sure your module works properly, check out my article on how to test SCORM without an LMS.