This time I'm bringing you a comprehensive look at the world's most famous open-source Learning Management System, Moodle. We'll find out why it's considered one of the best options for higher education and investigate whether it can be a useful tool for business training.
But first, here's a quick overview of the platform on Moodle's YouTube channel:
Here's what I'll cover in this review:
Moodle LMS Features
Here are the features of Moodle, both present and missing, that we've sorted into five categories: Administration, Content, User management, User experience, and Customization:
✔
✘
Administration – ease of getting started with and administering the platform.
Internal log of all user-performed actions for the entire platform
No onboarding
Google Analytics tracking can be enabled
No e-commerce
No custom or scheduled reports
Limited branding capabilities
Content – authoring capabilities, supported formats and possibilities of combining separate modules into learning paths, etc.
Supports DOC, PPT, XLS, MP4, MOV, SCORM 1.2, IMS, JPEG, GIF, MP3, WAV, online video
Learners have to download PPT files to view them
Integration with H5P
Very limited amount of storage space provided
ILT events can be added to courses
No learning paths
Built-in assessment editor with 15 question types
Cumbersome authoring tools
User management – adding and managing users, creating and assigning roles.
Users can be imported in bulk via CSV
No leverage to create a proper organizational structure for a corporate project
Self-registration
New users can't be automatically transferred to specific cohorts or groups based on their profile information
All existing user roles can be customized and new ones can be created
User experience and social learning – using the platform to study on a desktop or mobile, notifications for due activities, discussion forums.
Fully functional learner mobile app with SCORM support
No gamification features, except for customizable badges
Custom completion certificates can be awarded for courses
Mastering the user interface can be challenging
Support for many interface languages and compliance with accessibility standards
Forums, live chats, and direct messages available to learners
Customization and Integrations – changing the design and integrating the platform with third-party applications.
Integrates with Safe Exam Browser to prevent students from cheating when taking assessments
The SaaS version doesn't allow clients to install any plugins or themes
Custom HTML and CSS can be added to the portal
No API to integrate it with 3rd party services
BigBlueButton integration for webinars
Moodle LMS Detailed Overview
Let's begin our review by taking a look at how to get started with Moodle. It needs to be mentioned here that this open-source platform is provided in two variations:
A do-It-yourself package for self-hosted installations provided for free
The SaaS version hosted in Moodle Cloud, available for a monthly fee that depends on the number of users registered on your portal. A free 45-day trial is available.
In this article, we'll be talking solely about the SaaS version of Moodle, as it's the one that doesn't require you to set up a server in order for it to operate.

Learning the ropes, ease of use
After completing a two-minute registration process, I got my own cloud-hosted Moodle portal, where a "getting started" course was waiting for me: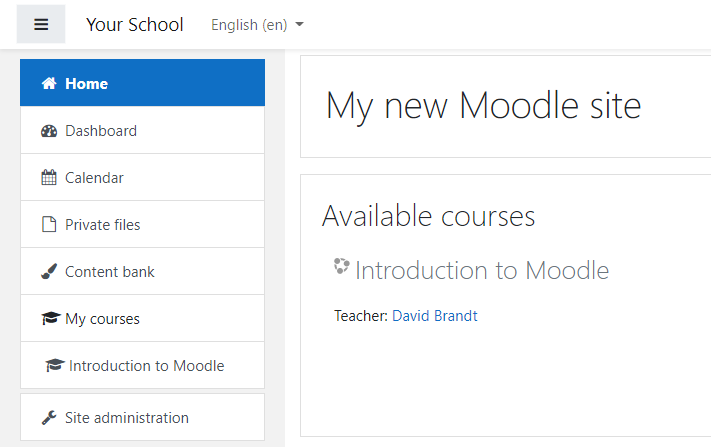 The "course" turned out to merely be a quick text-based description of the main buttons in the admin interface, which was nowhere near the onboarding process I would expect from an LMS as complicated as Moodle. Luckily, almost every setting in Moodle has a little "help" button that initiates a pop-up with a quick explanation of the feature in question:

Not being able to find sufficiently simple tutorials through the portal, I turned to the MoodleCloud Quick Start Guide available on the Moodle website. It provides a few short videos that explain topics like "how to create a course" or "how to add learners to your site" that do indeed help figure out the basics of using the LMS.
Since this segment of the review is also about the ease of use, here are my two cents on the admin interface in Moodle. When you're just starting out with the platform, it's sometimes quite baffling how many options there are in any given window. And it's understandable – being the open-source product that it is – that Moodle is trying to appeal to the needs of a wider audience, inevitably implementing all sorts of features into its LMS.
Of course, once you figure out a few workflows that are most crucial for your use case, you'll stop minding the excessive controls here and there. But until that point, it will take a lot of patience to get used to the button-ridden and option-filled Moodle interface.

Managing users and user roles
Now, let's talk about adding users and setting up their roles in Moodle. Like all other important admin controls, these features are located inside the vast Site Administration menu: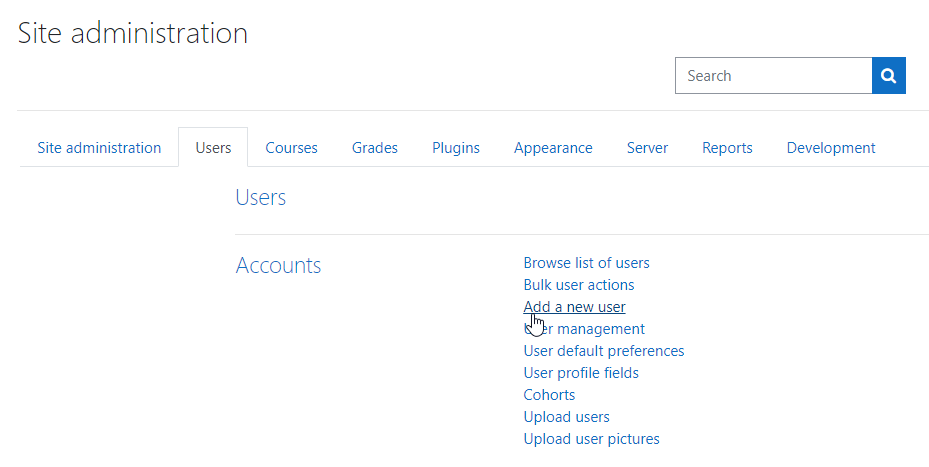 New users can be added by admin either through the Moodle interface or in bulk via a CSV file. There's a bunch of different personal information fields that can be filled out for each user, like country of origin, time zone, preferred language, and interests. If you like, you can add new fields through the User Profile menu. Also, if you enable self-registration in the site settings, users will be able to fill out their information themselves.
Here, users can be organized into cohorts and groups. Moodle help docs state that the former is used to assign multiple students to a course – for example, in a university situation, all sophomores can be added to a single cohort so that a history course can be assigned to all of them in one click. Groups, on the other hand, can't be created outside of courses, so they're used to manage subsets of students within any particular course. Thus, the sophomores enrolled in the history course from the previous example can be separated into several groups to make it easier for teachers to monitor their performance.
There are 9 (!) user roles defined by default, which you can customize any way you wish: change their permissions, remove unwanted roles, and create new ones from scratch. Permission editing in Moodle is really on another level, as there's virtually no action a user could potentially perform that can't be allowed or denied by the admin. In addition, Moodle analyzes given permissions and shows you the risks associated with them:

It's safe to say that user organization capabilities available in Moodle are much more fitting for academic institutions than for businesses. However, its flexibility in terms of role management, plus the availability of hundreds of community-developed plugins can allow the platform to be customized for the specific needs of corporate training.

Adding and managing content
In order to be able to add a learning activity and assign it to students, you need to create your first course. This is done through the corresponding tab in the Site Administration menu. Here, Moodle lets you select from four types of courses:
Single activity – a course with one SCORM package, assessment, etc. inside
Social – a forum page that all assigned learners can post on
Topics – a course separated into a few sections that correspond to several distinct topics
Weekly – a course split into sections, where each section is one week long
After the course is created, you're free to upload some content from your computer, like a SCORM or IMS package, or use one of Moodle's integrated tools to create learning activities, like an interactive assessment, right in your browser: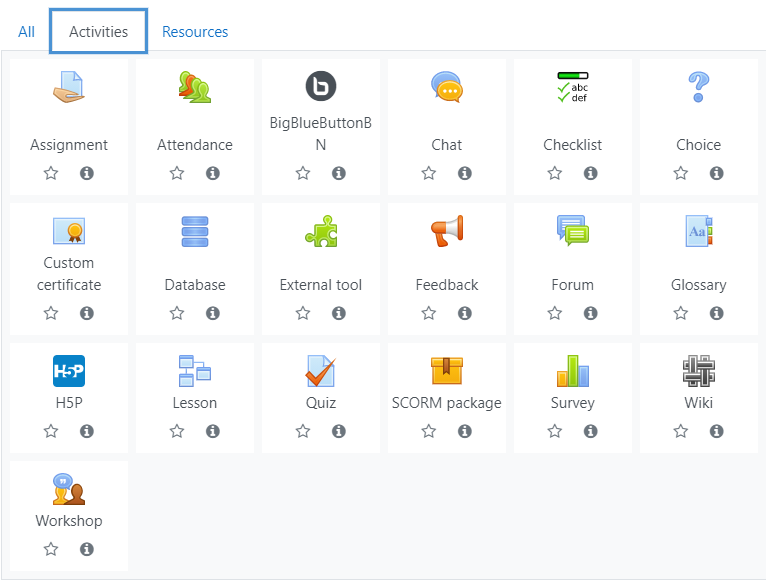 The built-in quiz editor has a bunch of different question types to choose from, including drag-and-drop but, like the rest of Moodle, can be a bit tedious to work with due to an excessive amount of controls, many of which would not be useful for most users. One nice feature available for assessments here is an integration with the Safe Exam Browser – you can turn it on, so a quiz can only be completed in the aforementioned browser that supposedly prevents learners from surfing the web while taking the test.
A relatively recent addition to the Moodle content building functionality is a comprehensive integration with H5P, the famous open-source authoring tool. Now, it's possible for teachers to import their learning activities created in H5P and assign them to students as a part of Moodle courses.
When you finish building your course, individual users or user cohorts can be enrolled in it. You're able to set a due date and schedule the actual enrollment to a specified date:

It is not possible to combine courses into learning paths for additional depth, but this feature is available with the corporate version of Moodle called Workplace. It's a product on its own that, unfortunately, doesn't have a free trial, so we could not see and review it.

Reporting
To access reports for the selected course, you need to open the Grades menu. This is where teachers can select groups of users whose results should be displayed on the screen:

There are a few settings that allow teachers to categorize learner results by performance. For example, it's possible to set up an evaluation scale like "Very Poor, Poor, Fair, Good, Excellent" or customize the ranges for which grade letters are awarded. It's safe to say that reports available in "vanilla" Moodle (without any modifications) would be suitable only for an academic purpose, not for corporate training.

It's good to mention here that whereas reporting on learner performance is not the strongest element of this platform, Moodle provides admins with access to detailed internal logs that contain information about all actions performed by users registered on your training portal. This might come in handy when a negligent config change was attempted by someone and you need to figure out who that was to prevent such incidents in the future.

Branding, integrations, and security
In terms of customization and all things connected to it, Moodle is considered to be the most powerful LMS. There are hundreds of plugins and graphical themes created by the Moodle community that are capable of dramatically transforming how the platform looks and what it's able to do.
However, all these things are only available with the self-hosted version of Moodle, expectedly being omitted from the SaaS version. Indeed, some plugins might not be tested for compatibility with the most current version of Moodle that is automatically maintained in their cloud, which can lead to less or more serious issues, so this functionality is only available for those who host their Moodle sites on their own servers.
The cloud-based version does offer minimum customization, though. For example, an admin can upload a custom portal logo. Also, it's possible to customize some of the colors in one of two available themes or even insert some raw SCSS code at the beginning and at the end of the selected theme's styles heet: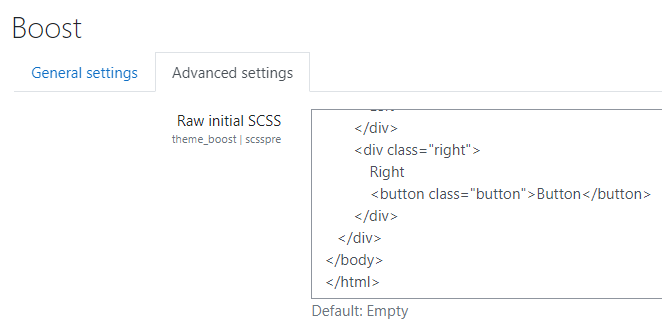 There are a number of security options in place, like setting up a password policy (specific length, mandatory use of digits, and special characters), an IP blocker, and a notification tool that can send an email to one of the admins in case someone fails a number of sign-in attempts.
The platform is integrated with a couple of third-party tools: the BigBlueButton webinar platform and the H5P authoring tool. In addition to those, you can connect your site to Moodle.net which is an open social media platform for educators around the world where they can exchange knowledge and build up networks of like-minded professionals.

Learning experience and mobile device support
The learner interface doesn't differ from the admin version a whole lot, it's just missing a few buttons that provide access to content and account settings. When you open a course, you see Badges, Competencies, and Grades on the left, the three tabs that will show your achievements in the selected course:
There are notifications in the top right corner of the screen, along with the internal messaging tool that allows you to contact your peers: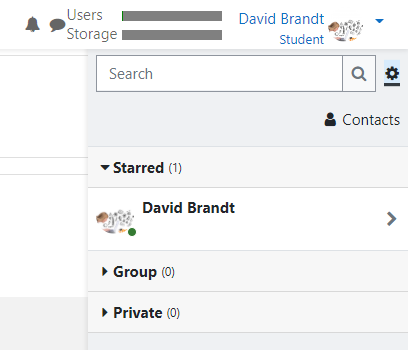 In terms of social learning, Moodle includes Chats and Forums that can be added to courses and both can be used by learners to exchange ideas and help each other proceed through the training activities: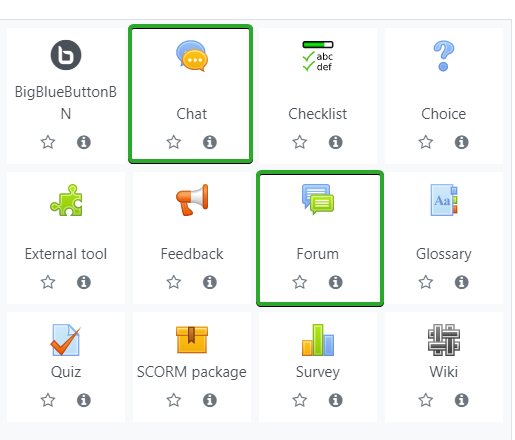 What's truly great is that Moodle offers users its own mobile app. It provides them with access to courses, grades, and achievements, plus it allows learners to download assigned training content to their smartphones. It can even play SCORM modules – which is not something that all LMS apps can do:

Pros and Cons
Pros
Constantly updated and maintained by both its dedicated development team and a community of enthusiasts all over the world
Built-in quiz maker and integration with H5P for more interactive content
Hundreds of editable parameters in Settings that allow customizing the way the platform is operated
Great mobile app
Cons
Lacks proper onboarding
Limited traditional reporting and no custom reports
Moodle help docs might often be confusing
A steep learning curve, as the interface is loaded with all sorts of buttons and checkboxes
Users can't be organized into a structure (available in Moodle Workplace)
No learning paths
Moodle Business Use Cases
Ideal for:
Academic: being an LMS that supports IMS and SCORM, plus offering a reliable cohort-based user management functionality, Moodle would be a great choice for higher education purposes. With its accessibility and extensive support for different languages, it's one of the top options for academic institutions.
Suitable for:
Government and non-profit entities: small organizations in the non-profit category can find Moodle useful due to its competitive pricing and adequate functionality with some leverage for customization.
Won't work for:
Businesses: this platform was originally built for use in an academic setting, which it still targets to this day. It just doesn't have the scalability that a corporate LMS requires. All features required for the corporate training environment were envisioned in a separate product under the name of Moodle Workplace.
Moodle Pricing
There are five plans that differ only by how many users can be registered on your site and how much storage is allocated:
Starter: $120/year
up to 50 users, 250MB storage
Mini: $220/year
Up to 100 users, 500MB storage
Small: $390/year
Up to 200 users, 1GB storage
Medium: $880/year
Up to 500 users, 2.5GB storage
Large: $1,570/year
Up to 1,000 users, 5GB storage
Summary
This concludes my review of the SaaS version of Moodle. This famous open-source LMS lost a considerable amount of its incredible potential for customization due to plugins and themes not being available for this type of installation. On the other hand, this version of Moodle doesn't require any preparation, like setting up a server, and creating a database. So, it's definitely winning in terms of user-friendliness, making it a valid option for small organizations looking to adopt a stable and secure LMS on a budget.