Reach 360 is the new lightweight LMS solution introduced by Articulate in 2023. Upon closer inspection, it replicates Articulate's online training system, Rise (Rise.com), while being integrated into the Articulate 360 subscription.
I haven't written a review of Rise on this blog previously, so this article is a good chance for me to catch up and explore Reach 360. You'll also learn about the platform's functionalities, pros and cons, and probable use cases. I hope this will help you get a full understanding of this solution and whether it's worth trying out.
Here's a quick overview of the platform from Articulate's website: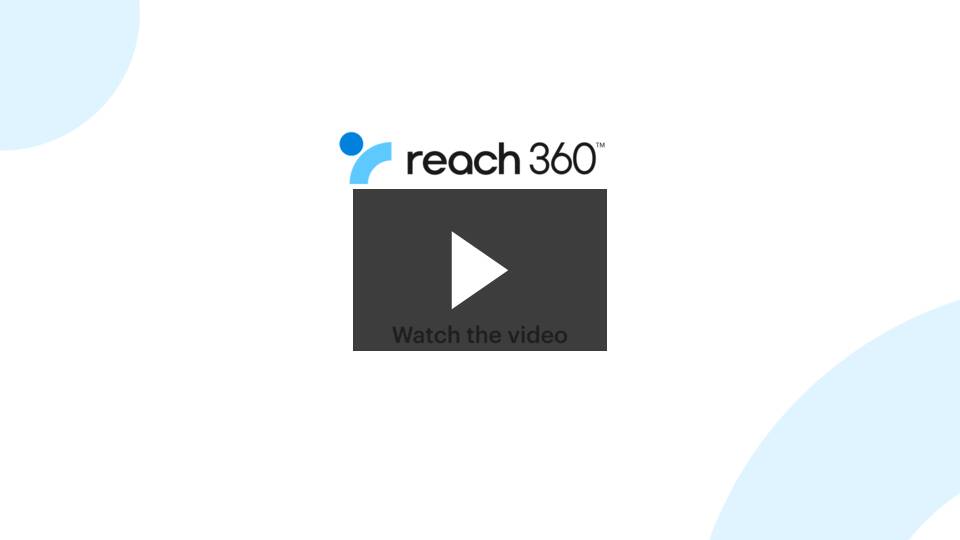 Here's what I'll cover next:
Reach 360 Features
As I usually do, I grouped all present and missing features of Reach 360 into five categories: Administration, Content, User management, User experience, and Customization. Check out this table to get a quick sense of Reach 360.
✔
✘
Administration – ease of getting started with the platform and administering it.
Intuitive interface
It's not clear how to go back to the main page of Articulate 360 subscription from Reach 360.
Straightforward navigation
No localization options
It's immediately obvious that Reach 360 is not a comprehensive LMS solution and the feature set is limited.
Content – authoring capabilities, supported formats, and the possibility of combining separate modules into learning paths, etc.
Supports SCORM 2004 and SCORM 1.2
No content creation functionality
Learning paths
No built-in quiz maker
Instant report delivery by email
No support for eLearning formats other than SCORM
If you update content in Rise 360 or Storyline 360, Reach 360 recognizes the change and suggests it.
Certificates of completion
User management – adding and managing users, creating and assigning roles.
Users can be imported in bulk via CSV
Only four user roles: Owner, Admin, Author, and Learner
Self-registration
No organizational chart
Group management features
Bulk upload and delete group members
User experience and social learning – using the platform to study on desktop and mobile, notifications about due activities, and discussion forums.
Courses can be shared via a direct link/ QR code
No social learning features
No gamification features
No mobile app
Customization and Integrations – changing the design and integrating the platform with third-party applications.
Reach 360 API
No default integrations
Custom domains can be enabled
Detailed Overview
Reach 360 positions itself as the premium add-on to the Articulate 360 subscription and an LMS alternative for delivering training to external and deskless learners.
Learning the ropes and ease of use
Ease of use lies in the core of the Reach 360 design because the platform is supposed to provide access to the nuts and bolts of an LMS while avoiding LMS complexity. As I started to navigate the Articulate 360 subscription, it was fairly easy to gain access to Reach 360 in my trial account.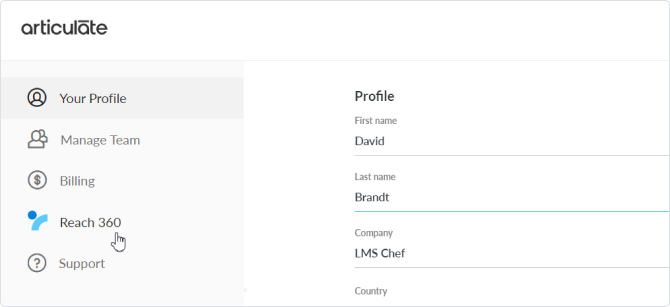 There are three tabs on the Reach 360 dashboard: Learn, Analyze, and Manage. Each of them is designated to help users perform the needed actions without getting lost between various buttons, dashboards, and menus. This is both good and bad: while novices can find it extremely helpful, seasoned LMS users won't have things to explore there.

Managing users and user roles
The default user roles in Reach 360 include Owner, Admin, Author, and Learner. You can invite other people as admins and authors via email (personal or corporate are both fine) in your Articulate account.
Adding learners is available in the Manage menu by selecting the Users tab. In order to get access to the courses, any learner who is invited to the system needs to sign in. The Add Learners dialogue window makes it fairly convenient to group learners.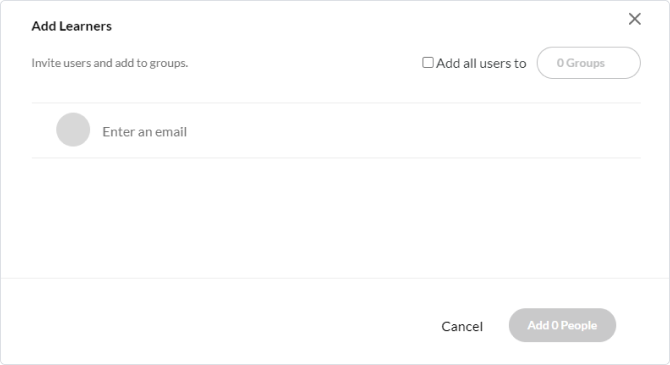 You can also bulk upload learners from the CSV file. The vendor provides a helpful template for you to ensure that the CSV file is correctly formatted.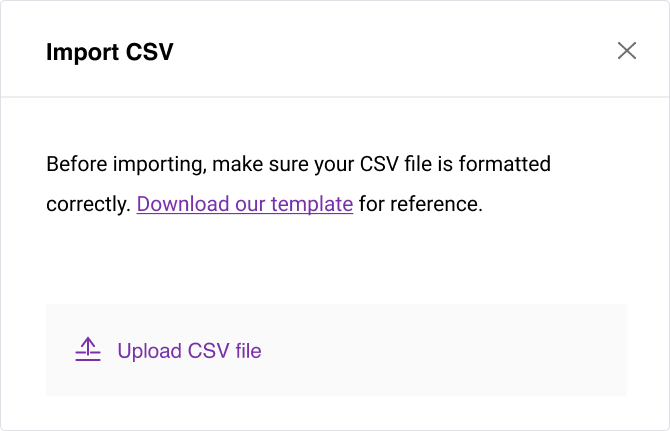 I've discovered that the only way to sort users by location, department, or job role is by doing that manually. You can create groups in the same Manage menu, in the Groups tab. I decided to call my sample group "New partners" because Reach 360 is positioned to be a distribution tool for primarily training external learners.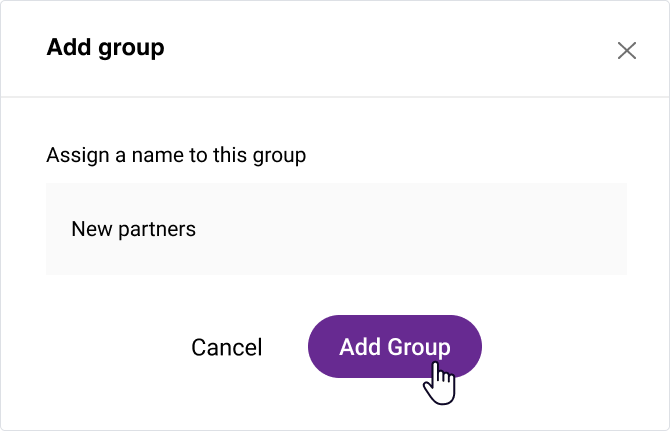 Next, you can assign a learner to a specific group, and the list of people who are already in the group will be displayed.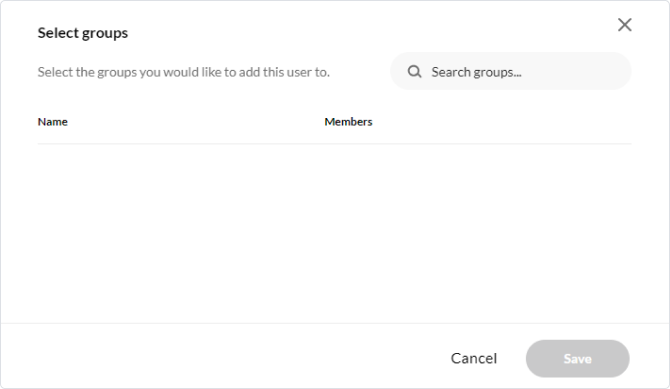 Adding and managing content
Interestingly, Reach 360 originated from Articulate Online LMS, which was shut down in December 2021. Articulate Online allowed for the creation of longreads or page-like courses right on the platform, but lacked the content uploading capabilities like importing slides or SCORM packages. Reach 360 appears to be the tool to bridge this gap, while sacrificing the regular LMS functionality.
In Reach 360, you can upload SCORM 2004 and SCORM 1.2 courses as zip archives. Besides standalone courses, you can include your SCORM packages in learning paths, and organize them around certain topics or in libraries (similar to knowledge bases in a way).
For example, this is what a library looks like in Reach 360. By the way, the Browse Library tab is always on the right and can thus be accessed directly from any other menu.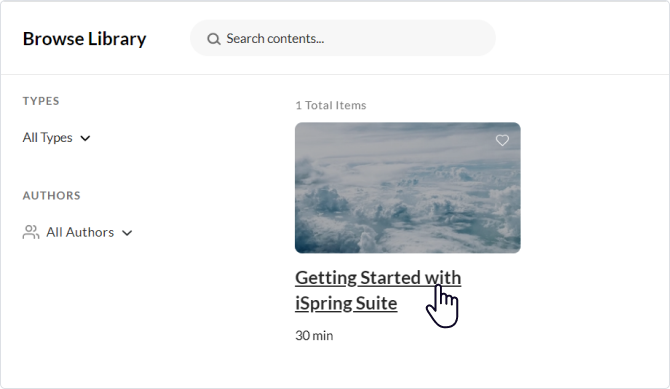 Topics were of greater interest to me. For a start, I've tried to add topics that would match different training scenarios. I chose the topic of product knowledge training for my sample course. More than one topic can be applied for each course.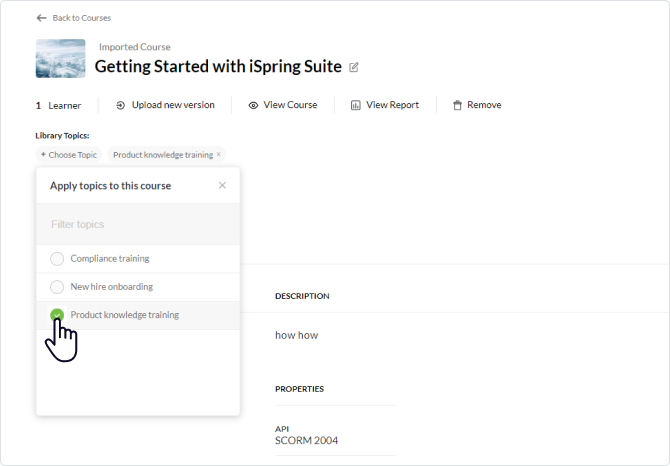 However, learning paths would still work better for that, because they present the related content pieces more consistently. This is what a learning path looks like in Reach 360.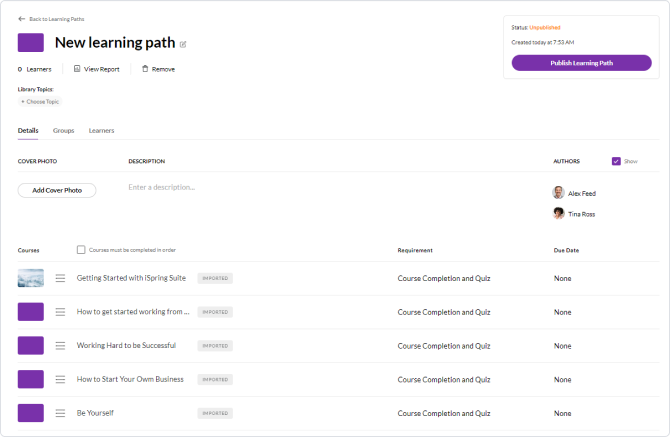 Here you can rearrange the order of eLearning modules, choose a cover photo for the entire training program and write its description, and enroll a learner or entire groups of learners in that.
Reporting
Since Reach 360 is not designed as a full-fledged LMS, it only provides the bare minimum in terms of reporting. As such, it can enable you to monitor training progress on a superficial level, without going into much detail. However, some still may find it sufficient and insightful when it comes to tracking the training of external learners.
All the reporting aspects are located in the Analyze tab. Depending on your task, you can proceed to Learner reports, Group reports, or statistics on courses/learning paths.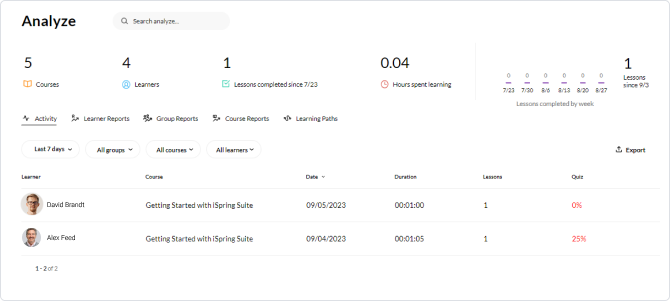 This is what a learner report looks like. You can access the quiz report from here and see how the learner performed in quizzes.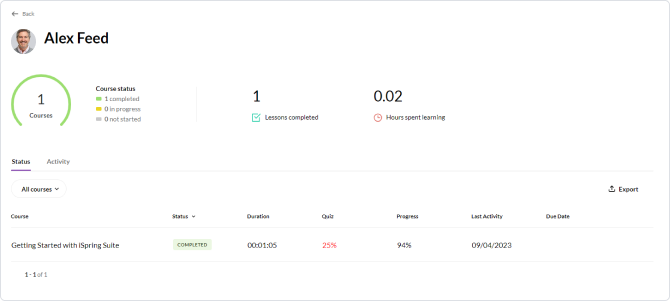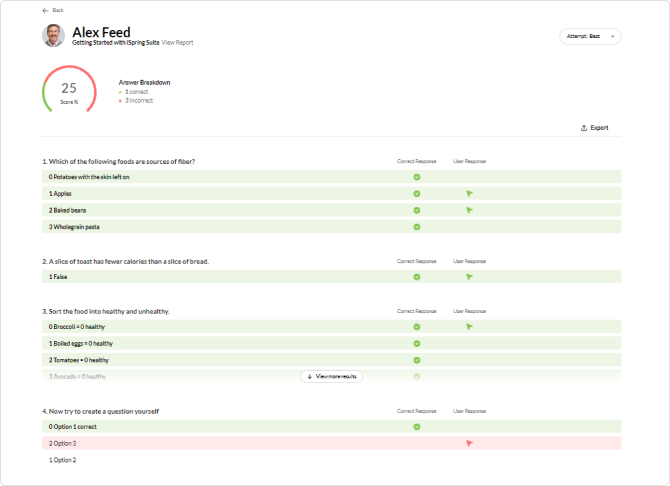 The quiz report is pretty informative and features a detailed answer breakdown that helps to detect possible knowledge gaps.
You can also launch a report on each of the courses separately and see how learners are progressing. Configure your report with additional filters according to time, groups, or learners that would help you narrow down the search. The quiz report can be launched from here as well.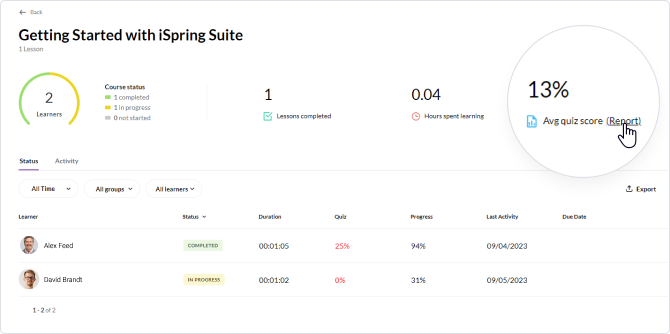 You can't create custom reports or schedule them to be delivered automatically on a regular basis. On the bright side, Reach 360 allows you to export reports as Excel files to your computer and e-mail box instantly, and that's a great benefit.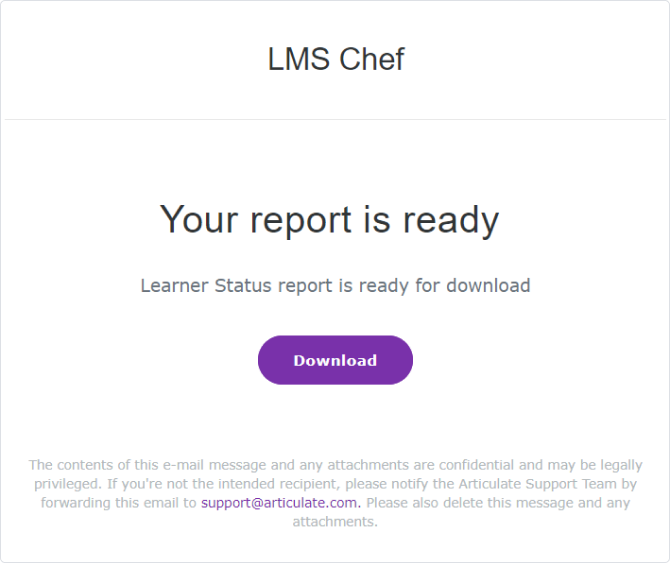 Branding, integrations, and security
Reach 360 enables you to customize the look and feel of a platform by selecting brand colors, setting up a custom domain, and uploading the company logo. In the same menu, you can set up self-registration, which is very convenient for external users.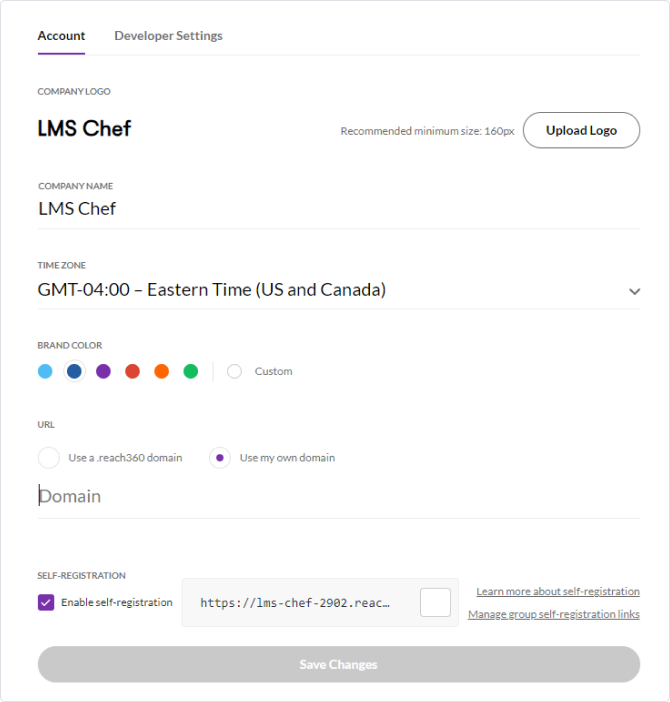 You can also customize the welcome email message for learners in Developer Settings.
Reach 360 doesn't aim to be a part of your corporate ecosystem, so no one expects a full range of software integrations from it. However, this add-on to the Articulate 360 subscription enables you to generate API keys that will help you activate custom integrations through programs like Zapier.
For a lightweight LMS, Reach 360 provides a decent set of bells and whistles like those mentioned above.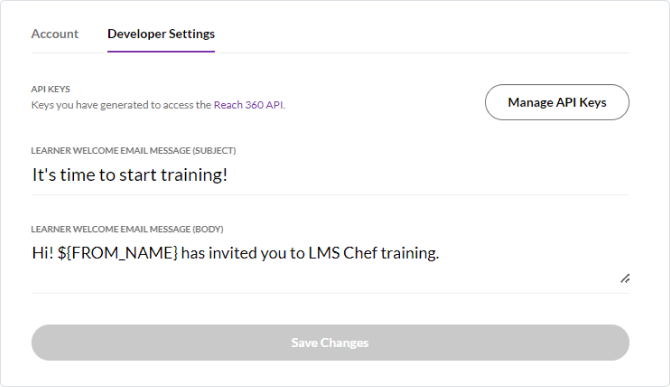 In terms of security, it's better to consider Articulate 360 in its entirety because Reach 360 is an add-on and only the tip of the iceberg in this sense. You can check out Articulate's security policies here.
Learning experience and mobile device support
Reach 360 works in a browser and has no mobile app. So, learners can access training content on their mobile devices only in Safari or Google Chrome. Check out the full list of supported browsers and their versions here.
When a registered user opens a course in Reach 360, it launches in the new browser window (my default browser is Chrome).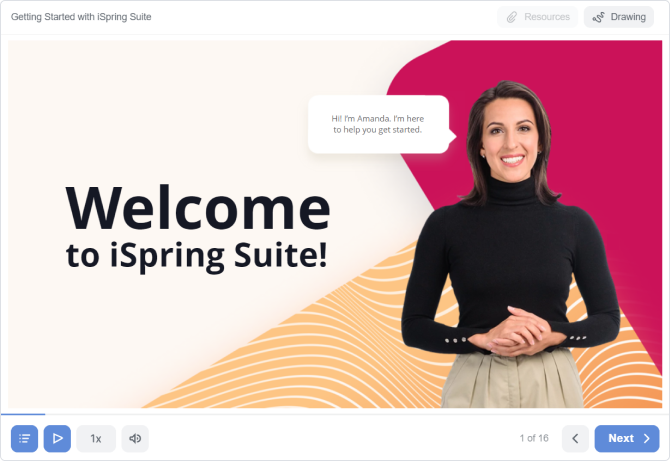 What's truly great is that you can share a course via direct link and QR code if this option is enabled. That makes it easy for deskless learners to access training – from a social media post, for example.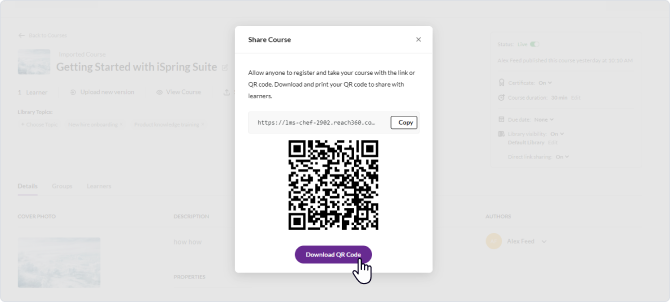 If a learner closes the course view mode, its main page will feature a progress bar showing the percentage of completion (desktop view).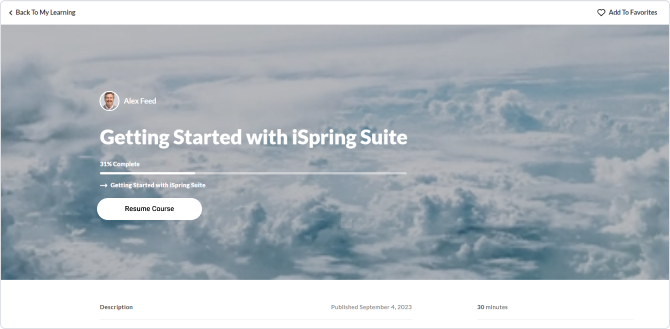 Pros and Cons
Pros
Super easy to navigate, zero learning curve
Great for beginners
Courses can be published by different authors
API Keys
Cons
Only basic reports
Limited user roles
Lacks functionality for in-house training
No mobile app
LMS Pricing
Reach 360 can be added to any Articulate Teams plan to facilitate content delivery alongside an LMS or without one. On Articulate's website, I found that plans are based on a per-active user pricing model and may start at $6K, billed annually. However, according to their sales FAQ, you need to contact the sales team directly for exact pricing info.
Business Use Cases
Ideal for:
Full-time instructional designers: those who work in the corporate sector, already have an Articulate 360 subscription, and were asked to come up with training for a partner network. As a user of Articulate, you won't lose the perks of this authoring solution while getting an LMS-like distribution tool to reach out beyond your usual audience.
Suitable for:
Startups: Reach 360 can be a fit-for-purpose LMS alternative for emerging companies that are only testing the eLearning waters and recognize the need to launch training for their partners, staff, or customers.
Won't work for:
Full-scale employee training and the creation of a learning culture. Limited reporting, the absence of a learner portal, and only four user roles don't make Reach 360 a good fit for online employee training if you take it seriously.
Governmental organizations: An Articulate 360 subscription is too pricey for this sector. Its authoring software has a steep learning curve and probably won't provide the best bang for the buck in this case. If governmental organizations need a complete solution like an authoring toolkit plus an LMS, they may find more affordable and robust solutions on the market.
Summary
This was a review of Reach 360 – a lightweight distribution solution that can, in some cases, serve as a viable alternative for LMSs in their full sense. Although it has a limited feature set, it can help you reach a wider pool of external learners if you're not ready to invest in a complex learning portal for that purpose. It might be a good choice for startups and full-time instructional designers who are on a mission to deliver basic training programs to the most hard-to-reach learners.