E-learning may seem pretty expensive, but the truth is there are plenty of freeware tools on the market. Such options can be a great starting point for those who are just beginning to work with e-learning and want to get a taste of what it's like to do instructional design.
In this article, we'll explore the 10 best free e-learning authoring tools available on the Web.
1.
iSpring Free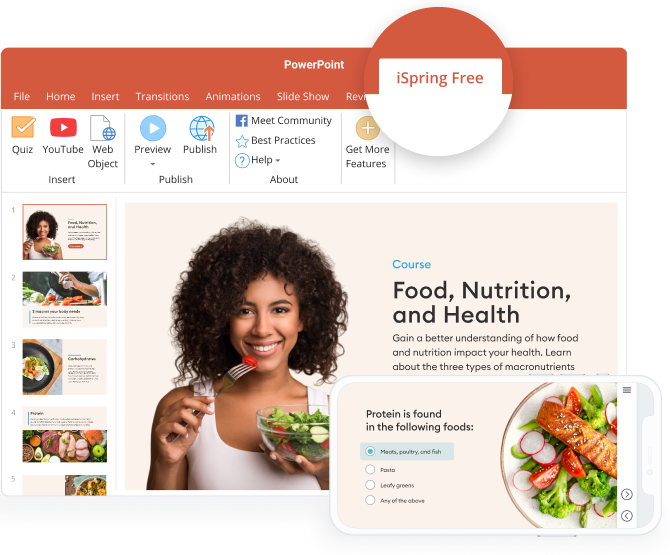 iSpring Free is the "little brother" of the well-known iSpring Suite is very capable by itself. Install it on your Windows machine for free and start creating your first training course straight away. It allows you to turn old boring PowerPoint presentations into mobile-compatible SCORM courses with quizzes and YouTube videos.
The main advantage of the tool is its simplicity. The editor has an intuitive interface, so it's suitable for novice course developers. What's truly great about iSpring Free is that the number of courses you can create using this program is not limited, unlike many other free authoring programs. This tool is definitely among the world's best free e-learning authoring software.
2.
Scratch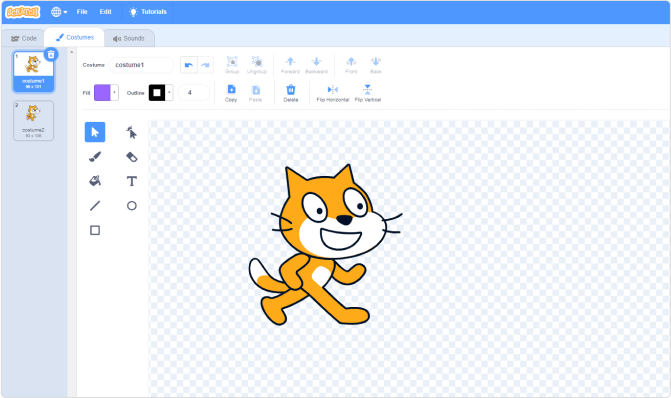 Scratch is not your standard business-oriented e-learning tool. It's a free MIT-developed online platform that can be used to program interactive games, narrated stories, and whatever your imagination can come up with. The tool is mainly oriented toward kids aged 8-16 years, although the vendor states "it's used by people of all ages."
If you're looking for something that can give your inner creativity a boost, while still providing leverage to create online learning, definitely try out this free content authoring tool – you won't be disappointed.
3.
AdaptiveU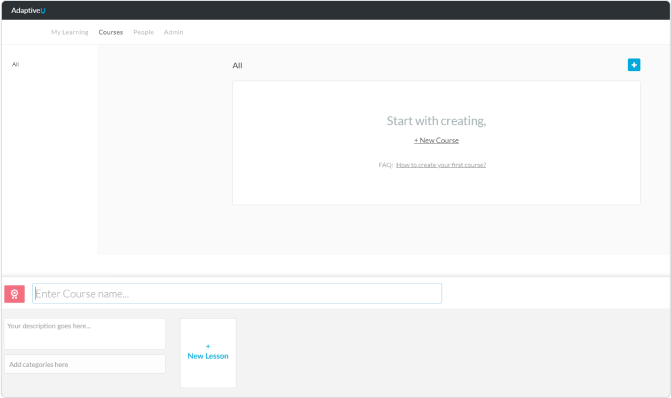 AdaptiveU is another example of an online authoring platform that offers an unlimited trial plan for 1 GB of data and 5 users. It allows you to not only create training content, but also to invite learners and track their training statistics, which makes it a learning management system.
The free plan would only let you create up to 2 courses, but this should be enough for you to get a grasp of what online learning management is like.
4.
isEazy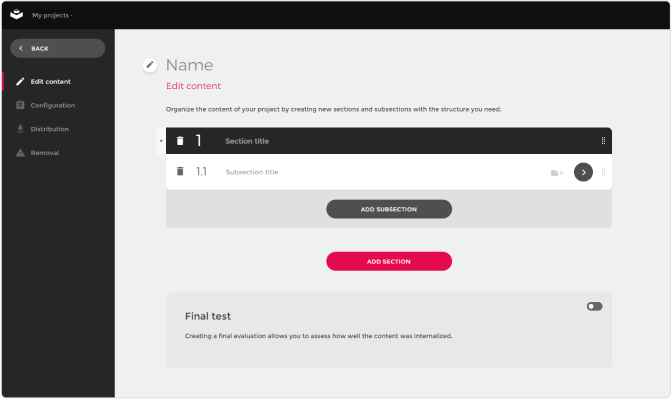 isEazy is a cloud-based authoring tool that enables you to create and distribute e-learning courses that work on any device and supports LMS (SCORM) and HTML5 export. A huge variety of interactive resources allow you to create engaging and dynamic content to educate or engage your audience.
As a free e-learning tool, isEazy has serious limitations. In the free version of the service: no more than 1 author is allowed, you are limited to 3 projects and a total size of 0.3GB, and the projects are published with a watermark and the isEazy logo.
5.
Adapt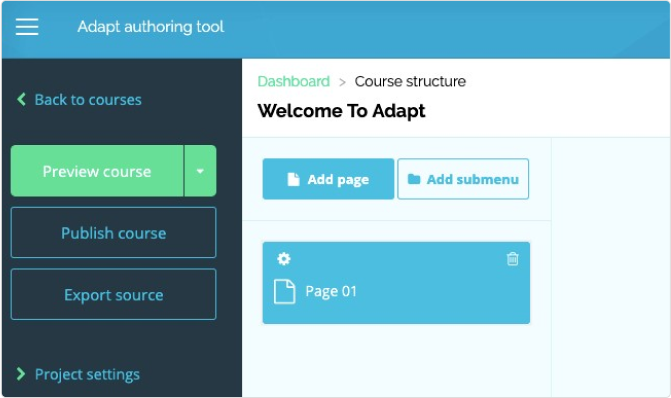 Adapt is an open-source content authoring tool with a modern responsive design. Even though it is open source, you don't need to know programming to use it. There are some prerequisites, though. For one, you need to have a server. Plus, it requires you to be able to install and configure things like git, Node.js, and MongoDB.
This platform has built-in SCORM export and allows you to use a community-supported library of dozens of plug-ins that extend the functionality of the tool. It also makes it easy for multiple authors to collaborate on the same project, which is something you don't usually find in free course authoring tools.
6.
ActivePresenter 9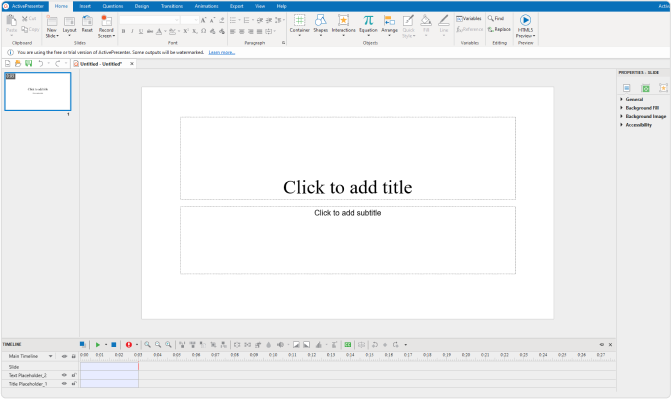 ActivePresenter 9 is an easy-to-use video editor and powerful e-learning tool. The integration of these useful features into ActivePresenter allows you to quickly capture your screen and create e-learning content step by step.
ActivePresenter offers you the ability to make a professional intro or training video for free without watermarks and without time limitations. It also enables you to build simple interactive modules and convert PPT presentations into online courses.
7.
H5P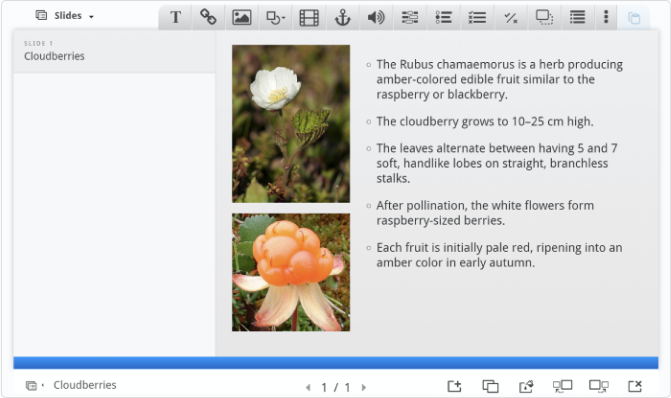 H5P is a handy open-source online content builder that lets you create e-learning based on a number of available templates. Choose between interactive video, branching scenarios, and course presentations or combine them all to create your own e-learning course and export it as a SCORM package.
8.
Udutu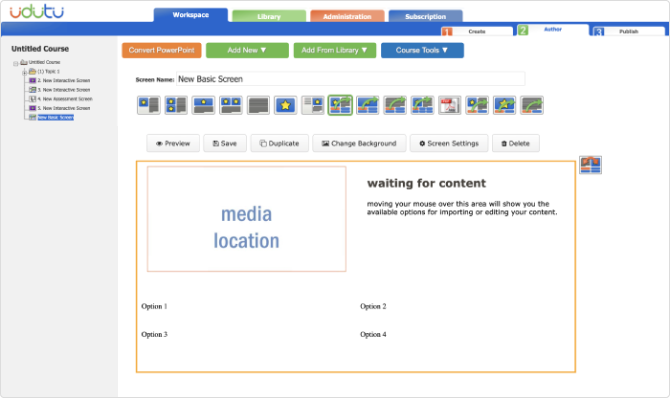 Udutu is a free eLearning authoring tool designed for building courses with videos, quizzes, and branching scenarios. It comes with pre-designed templates for fast course creation and allows you to upload and convert PowerPoint slides to SCORM packages in seconds. You can customize the look and feel of your content to maintain a consistent brand experience.
But when selecting a tool, you need to keep in mind that Udutu is only free if you deliver courses using Udutu's LMS. And this LMS has a free plan for up to 25 users only.
9.
Compozer
Compozer represents itself as a tool for effortless course creation. It offers a wide range of templates and pre-built blocks that let you create great-looking learning content extremely fast. You can publish your course to SCORM for an LMS or export it as a web package ready to be uploaded to a web server.
Like many other free authoring tools, Compozer comes with big limitations for a free version. With a freemium subscription, you can only create one course and have 200 MB of storage space.
10.
guroo.pro
guroo.pro is an innovative next generation authoring tool that has a whole bunch of outstanding features. You can build branching scenarios that link learning with real-world outcomes, create personalized learning plans that cover learners' goals and capabilities, and assess learners' knowledge with multiple metrics. The tool lets you easily track and gather comments as you collaborate with SMEs and stakeholders, and share content with a link or export it to SCORM.
A free account includes up to 3 team members, 2 programs, and up to 5 digital nodules per program.
Conclusion
This was an overview of the 10 best free e-learning authoring tools. Perhaps this list will help you find a solution for your e-learning needs so you can start your first online training project at no cost.