Medical professionals of the 21st century are expected to continuously update their skills and to keep abreast of the changing healthcare environment. That's why many healthcare organizations are considering implementing online learning in medical education.
With the help of a learning management system (LMS), they can make medical training more cost-effective while ensuring its quality.
I reviewed 4 LMS vendors most relevant to healthcare organizations: iSpring Learn, Docebo, EthosCE, and TOPYX. All of them have essential features for the medical industry: learning paths, webinars, advanced reporting and analytics, blended training, and mobile learning. Let's take a closer look at how these features can be used.
Learning path. This includes a number of courses that users have to take in a certain order. For example, you can combine video, interactive courses, and tests on emergency medicine or pharmacology to create full programs on these disciplines.
Webinars. Through video conferencing, you can keep doctors up to date on the latest innovations in their field. It's also possible to record sessions so learners can watch them later.
Blended learning. All the healthcare LMSs in the list allow you to manage face-to-face training as well as web-based training. For instance, you can assign theoretical e-courses to learners in the system and at the same time use it for planning and tracking practical classroom lessons.
Reporting and analytics. In an LMS, you can monitor the attendance and progress of students. There should be different types of reports in the system related to users, courses, groups, and learning plans.
Mobile learning. Courses should be accessible and look consistent across different web browsers and mobile devices. Additionally, some platforms have mobile apps for Android and iOS where learners can take courses and tests offline.
Best Healthcare Learning Management System Vendors: Quick Comparison Chart
LMS
Distinctive features
Helps to
1. iSpring Learn

fully integrated authoring tool for creating HTML5 courses
simple interface

create high-quality interactive content without spending too much time on it
launch online learning and employee assessment in one day

2. Docebo

modular system
skills management

use only those features which you need
develop some specific skills in learners

3. EthosCE

highly configurable credit and certification tools
integration with ACCME web services

simplify the progress of certifying medical professionals

4. TOPYX

full set of social learning features
download limitations

create an environment for peer-to-peer learning and content curation
Although all the LMSs reviewed have much in common, they have unique features too. Let's consider each learning management system vendor for healthcare organizations in greater detail.
1. iSpring Learn
Rating: 5.0/5 – 64 reviews (Capterra)
Vendor's promise: "Flexible learning management system. Build a complete eLearning environment in record time."
iSpring Learn is an easy-to-use cloud-based LMS. You can start training your employees immediately after registration.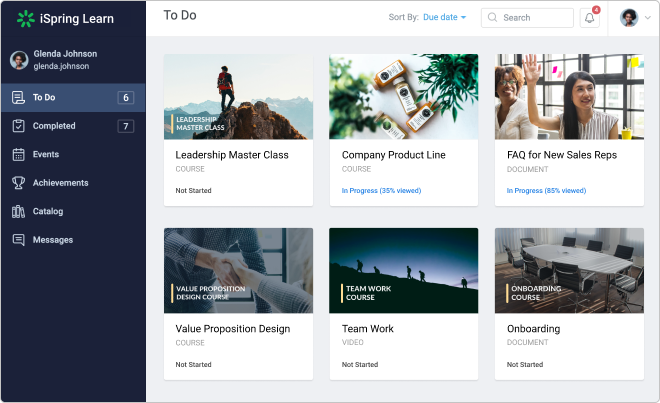 Distinctive features
Users appreciate iSpring Learn for its simple interface. It's easy for learners to understand how to log in, complete a course or a test, and see the results without special training. There's also no need for an admin to study the technical documentation to upload new training materials, add users to the system, or create a report. The platform can be managed by an HR manager, a training coordinator, or even a doctor without IT skills.
iSpring Learn comes with a built-in editor to create articles with illustrations, quotes, videos, and quizzes right in the LMS. No technical skills are required — it's even easier than Word. 
Plus, the LMS is integrated with a powerful authoring toolkit, iSpring Suite. It allows you to build PowerPoint-based interactive courses as well as quizzes and conversation simulations.
After converting PPT to HTML5 and video, all presentation animation effects work exactly as in PowerPoint. Moreover, the original image quality is preserved. That's important, for example, if you are planning to create an eLearning course in ultrasound technology and want learners to see the pictures from the course in the finest detail.
It takes just a couple of clicks to upload an e-course from the authoring toolkit to the LMS.
iSpring Learn can also boast of excellent 24/7 technical support. In 2017, the analytical portal Capterra recognized iSpring Learn as the LMS with the best customer support. According to statistics, 83% of users receive a response within two hours after requesting support.
Pricing
The price of an annual subscription for iSpring Learn depends on the number of users. It starts from $3.66/user/month for 100 active users. There's also a custom plan for any number of users. You can use the free trial version for 14 days.
Pros
Built-in editor to create longreads
Fully ontegrated authoring tool for creating HTML5 courses
Excellent 24/7 technical support
Simple interface
2. Docebo
Rating: 4.0 / 5 — 75 reviews (Capterra)
Vendor's promise: "The learning management system you'll love to use. Train employees, partners and customers worldwide."
Docebo is a flexibly customizable LMS with numerous options. It allows you to organize not only formal but also informal training in a virtual collaborative environment and combine it with skills management.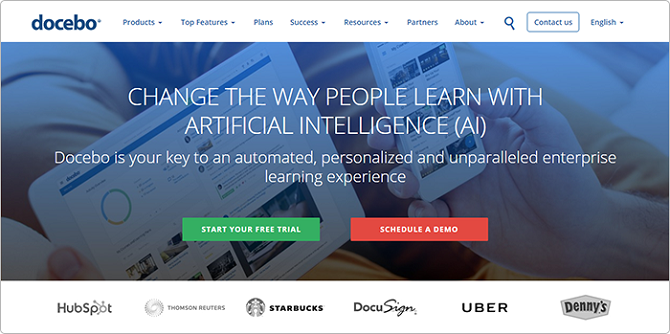 Distinctive features
What differentiates Docebo from its competitors is the modular system. The LMS includes four modules: Learn, Coach & Share, Extended Enterprise, and Perform.
Learn is a module for formal learning through e-courses and other training materials.
Coach & Share is a module for informal learning. It lets learners ask questions and get answers from subject matter experts.
Extended Enterprise is a module for training external users.
Perform is a skill management module. It allows you to detect skill gaps and assign courses to close each of them. The system offers 14,000 competencies. You can choose ones which you want to develop in learners, and make up a training program for each skill.
The Learn module is included in the basic pricing plan while the others are available for an extra fee. Moreover, you can buy Extended Enterprise and Perform only if you choose the most expensive pricing plan.
In Docebo, there are also many paid extensions that are standard in other healthcare Learning Management Systems. For example, ILT-Classroom App, Gamification App, White-labeling and Customization App are available only at an additional cost. Extensions can be enabled or disabled at any time.
Pricing
Pricing plans start from $390/month for 100 active users. For each user over the selected plan, you have to pay $5.90. Also, there is an enterprise plan with additional features and services.
Pros
Modular system
Skills management
Informal learning
Cons
Many features are available for an extra fee
3. EthosCE
Vendor's promise: "EthosCE is the leading learning management system (LMS) for medical associations, academic medical centers, health systems, and medical education companies."
EthosCE is a full-featured hosted learning management system created to automate the delivery of continuing education in nursing, pharmacy, and other healthcare-related professions.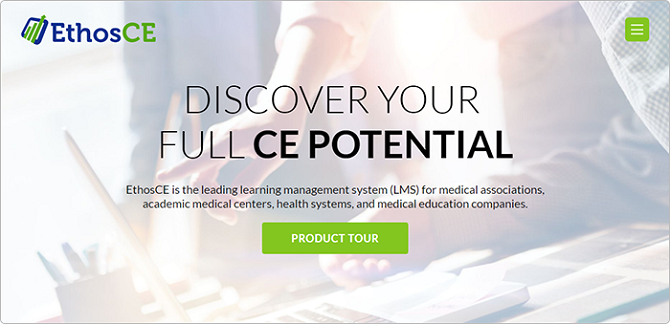 Distinctive features
EthosCE has highly configurable credit and certification tools. It's a medical LMS that allows you to create different credit types (CE, CME, CNE, and others) and apply them to one course or full programs on various disciplines. You can set a number of credits for each assessment and establish a time limit when credits expire.
A great advantage for healthcare organizations is integration with ACCME web services, including ABA, ABIM, ABP, and MOC 2 programs. All external credits stored in third-party systems can be united with credits earned in the medical LMS. You can make EthosCE a single repository of credits. All data is automatically reported to boards and other external systems, including ACCME PARS, CE Broker, CPE Monitor, and others. You don't need to integrate and work with multiple Excel spreadsheets from different systems.
Pricing
Public pricing information is unavailable. You need to contact EthosCE to obtain current pricing. According to Capterra, the starting price of the LMS is $1,750/month.
Pros
Integration with ACCME web services
Highly configurable credit and certification tools
4. TOPYX
Rating: 4.5/5 – 15 reviews (Capterra)
Vendor's promise: "Easy-to-understand platform that enables teammates to be more competitive and productive, as well as onboard faster."
TOPYX is an LMS that combines formal and informal learning. It has a full feature set of tools that allows users to learn at their own pace, collaborate with colleagues, and use different channels for consuming content.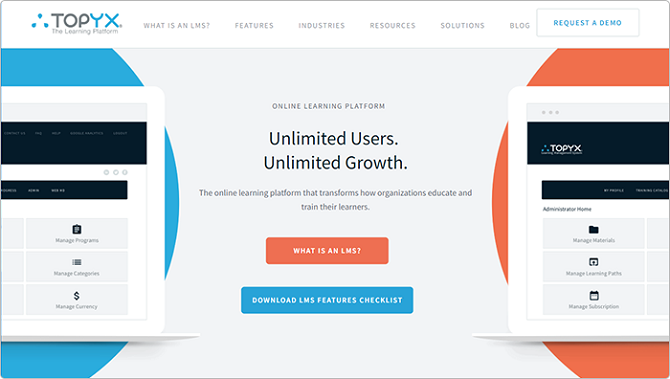 Distinctive features
TOPYX offers great potential for social learning. It allows you to create communities revolving around any topics or courses. The platform offers six levels of social learning communities: site, course, group, program, and material communities and categories. By joining communities, learners can contact each other and share knowledge with their colleagues. For example, a user can share an article on a health topic and discuss it with other medical specialists in the comments. This feature accelerates content curation and peer-to-peer learning.
In TOPYX it's also possible to appoint experts in subject areas and make them responsible for each piece of content. Experts can share useful training materials and learners can ask them questions if necessary. Such an approach will help students gain a better understanding of the different aspects of medicine.
Other social learning features of this healthcare LMS include announcements, calendar, chat, events, forums, marketing tiles, sponsor links, and media gallery.
TOPYX can boast of a rich functionality. However, unlike other LMSs in the list, it has limitations on file downloads, depending on the chosen pricing plan. With TOPYX Expanded, you can upload 300 GB of training materials, while TOPYX Essentials allows you to upload only 100 GB.
Pricing
TOPYX Essentials costs $19,500/year for 3,000 users. The price of TOPYX Expanded pack is $29,500/year. It offers a wider range of features and can be extended to an unlimited number of users.
Pros
Full set of social learning features
Cons
Download limitations
Starting plan extends to 3,000 users
Final Thoughts
That concludes this comparison of medical learning management systems. I hope that this analysis has been a good starting point for assessing and selecting the best LMS for your needs.