Today, I'm reviewing TalentLMS. This platform was developed by a company named Epignosis and is advertised as an easy-to-use cloud-based training solution, complete with e-commerce, xAPI support, and Zapier integration.
Here's an overview of the platform by the vendor:
Here's what I'll cover in this review:
TalentLMS Features
I've separated the features into five categories: Administration, Content, User management, User experience, and Customization.
✔
✘
Administration – ease of getting started and administering the LMS
Helpful introductory videos
Slightly outdated graphical interface
Interactive onboarding tour
Reports are a bit clunky and lack depth and analytical value

Calendar of offline training events (Instructor-led Training)

Reports can be scheduled and automatically sent to an email address
Custom reports
Flexible automation engine – for example, "upon course X completion, assign course Y"
Integrates with GoToMeeting, Zoom.us and BigBlueButton for webinars
A marketplace of professionally built courses where you can buy content from e-learning pros
Content – authoring capabilities, supported formats, and the possibilities of combining separate modules into learning paths
Unlimited storage
Maximum file size for video, audio, and SCORM/xAPI files is 600 MB
Supports a wide range of formats: SCORM 1.2, xAPI, cmi5, ppt, pptx, doc, docx, xls, xlsx, pdf, epub, mp4, webm, ogg, ogv, avi, zip, sql, mp3, aac, ogg, wav, mpeg, webm, wave, wav, wma, ra, aif, and aiff
Only 5 question types available for graded quizzes and 2 types of surveys
Allows the creation of graded quizzes and surveys in browser
Managing versions of the same course in different languages can be difficult
Allows the use of online video and iframes in courses
Content created in the LMS can't be exported to SCORM
Assignments with manual response graded by admin
No LTI/PENS support
Live training events can be added into the course structure
No versioning control and no admin actions logging
Courses can be automatically re-assigned in a given time interval (recurrent training)
Files hosted on Google Drive or Dropbox can be imported to share with learners
User management – adding and managing users, creating and assigning roles
Bulk user import via CSV or XLS
Self-registration for learners, including sign-up via Facebook, Google or LinkedIn
Users can message their co-learners
Custom user profile fields
Custom user roles
Branches with custom URL and different design can be created inside the main account
User experience & Social learning – using the platform to study on desktop and mobile, notifications for due activities, discussion forums
Direct messaging including learner-learner interaction
Certificates can't be downloaded in bulk
Custom completion certificates
Mobile app with offline learning support
37 interface languages that can be used separately within individual branches
Gamification: points, levels, leaderboards, and badges
Customization & Integrations – changing the design and integrating the platform with third-party applications
Integration with Zapier
Theme customization is limited
API that offers the same functionality as the GUI
Single sign-on with ADFS, LDAP, Okta, OneLogin, etc
Custom login pages for different branches
Can prevent users from signing in from more than one device at the same time
Can automatically add a watermark to videos
Integrates with BambooHR, a human resource management service
TalentLMS Detailed Overview
Let's delve deeper with a detailed overview of TalentLMS and see what kind of experience it offers.
Learning the ropes, ease of use
When you begin your TalentLMS trial, you are assigned video tutorials that explain the basics of working with the platform.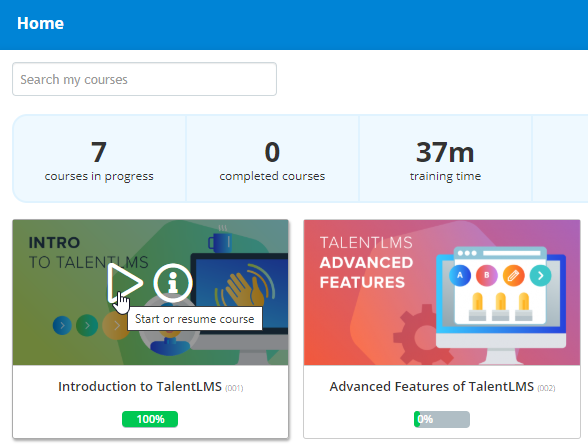 I watched both the introduction and advanced tutorials, and the only two things I can complain about are the repetitive corporate background music that can't be turned off and a lack of subtitles.
There's also an interactive onboarding tour that will help you get acquainted with the main functions available to an administrator: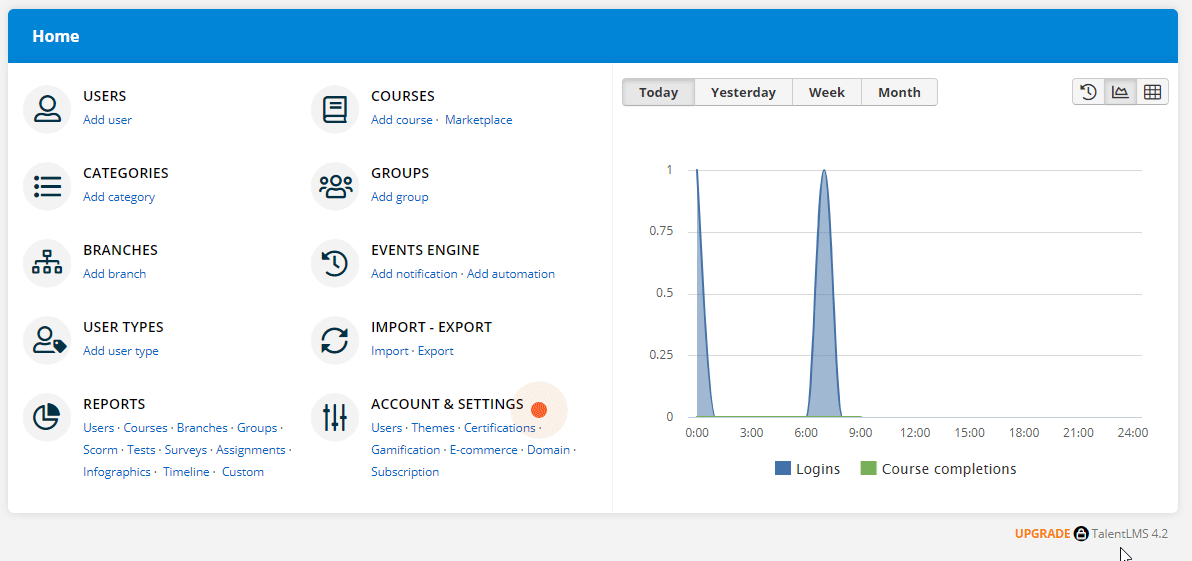 Another thing that I liked was a quick guide that can be downloaded as a PDF file – it's easy to load this document on your iPad and keep it on your table while you're learning the ropes of the LMS.
When you're using this LMS, it's easy to switch between admin, instructor, and learner roles "on the fly."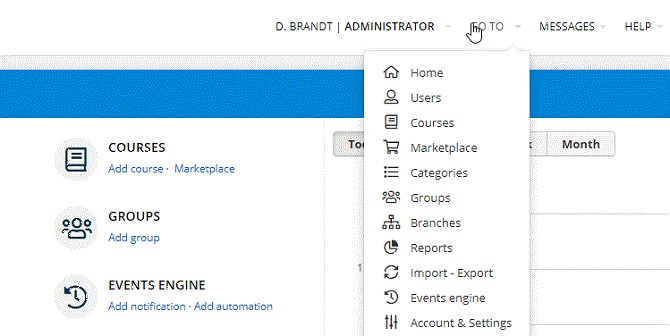 One complaint I have in terms of workflow was a cramped interface that feels outdated – stuck in the days of material design. In most menus, only 40% of my screen was allocated for the LMS interface while the rest of it was a blank white – it would be great to see the folks at Epignosis update their UI.
Managing users & user roles
New users can be added either via an option in the interface or by importing a CSV/Excel file. In addition to that, they can self-register to the platform using their email or LinkedIn, Facebook or Google account. New registrations may require either a captcha, email verification or admin activation – this should help prevent unwanted registrations and bot attacks.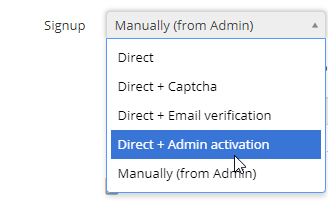 There are two structural units that you can add users to – groups and branches. Groups are good when you simply want to assign a certain module to a number of learners within your organization.
Branches are more complex – each branch has its own custom URL and might have a design different from the main instance. You can select an admin in each individual branch, in which case they will have full control but won't see any users that belong to other branches.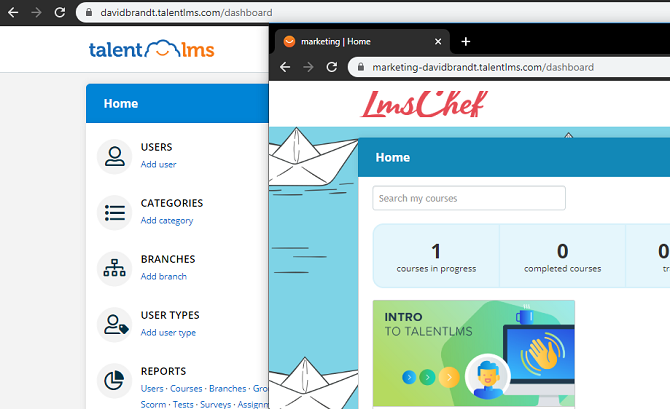 There are 3 default roles – Admin, Instructor, and Learner. You can edit these roles and their permissions as well as create your own and customize their rights to your liking.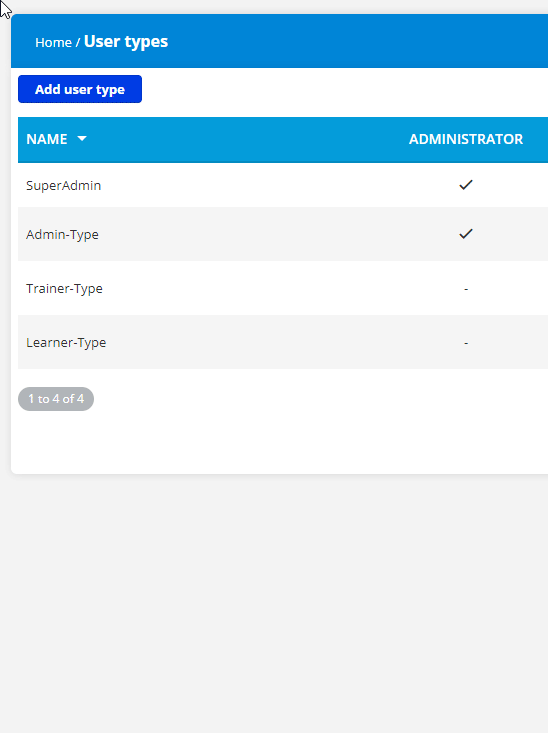 Overall, I'd say the user management capabilities of TalentLMS are pretty good and there's nothing significant that I would like to have added.
Adding and managing content
The platform supports a wide variety of formats and standards, including SCORM 1.2 and xAPI. You can upload PowerPoint presentations straight to the LMS and they will be displayed in the browser as learning content.
There's also a large variety of online content hosting services that allow you to embed content from the LMS: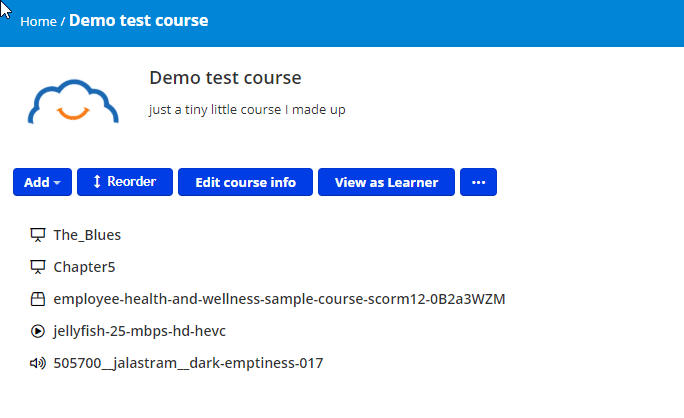 In TalentLMS, you can build quizzes in your browser and make them a part of your course. All questions can be saved in question banks, allowing you to reuse them over time by simply shuffling existing questions and selecting a slightly different set for a new course.
I liked the feature that lets you mark a module as complete with a correct answer to a question that will pop up right after you finish viewing a content item.
I was not able to set up a date for one of my modules to be assigned to a certain group of users – it's a bummer that I can't schedule assignments, as I usually tend to do that a week or two before a curriculum should start.
It's possible to enable an external course catalog that will have its own URL and can open without having to sign in to the platform. However, you will need to sign in to view the content.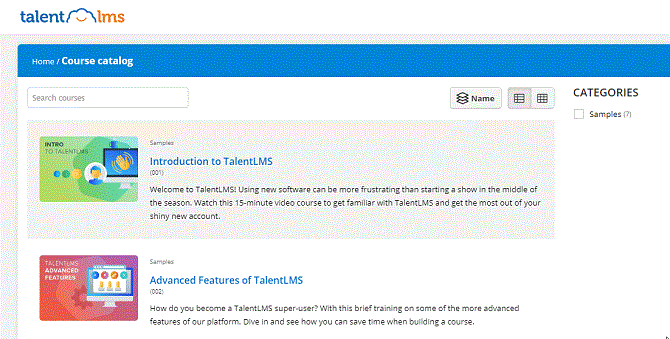 It's also important to note that TalentLMS has advanced e-commerce capabilities, so if you're planning to sell some of your courses, you can do that just fine with the platform. The dedicated plug-ins for Shopify, WooCommerce, and WordPress will make it easier to promote your content and display it online.
One feature that allows TalentLMS to stand out in this category is the automation engine. It's a component that you use to create automatic events that happen without your supervision, for example, a notification that is sent out to every user that registered with your portal a certain number of hours ago. And there are dozens of different options to select from.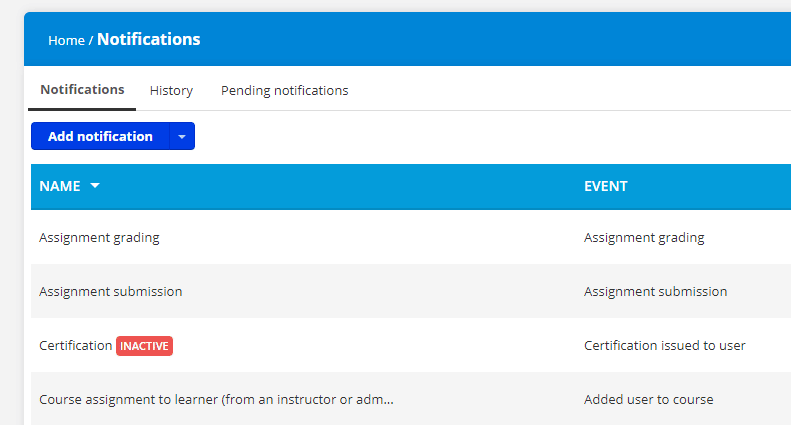 In addition to plain email notifications, TalentLMS can also be used to create automatic events like "assigning course A in 24 hours from the moment that a new user registers with the platform". Unfortunately, this feature is not included with the free plan, so I wasn't able to test it.
Reporting
Reports in TalentLMS are generated based either on content or users selected. You can choose a user group or a branch and see what courses were completed by the learners that are in that selection. Or you can select a course and see which learners completed it – all the usual stuff you would expect from an LMS these days.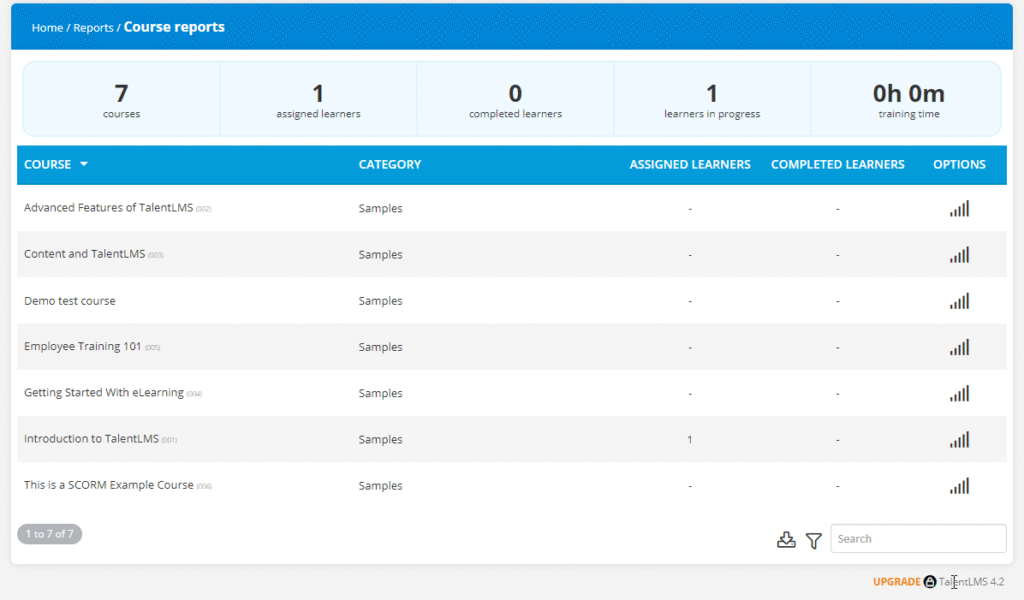 It's helpful that you can generate reports on SCORM files too. I also liked the ability to create custom reports and scheduled exports – you select a certain report that you'd like to be exported, say, each week on the same day, and you enter an email address so the report can be in your training manager's inbox every Monday morning.
Branding, Integrations, and Security
In terms of branding, TalentLMS offers you the ability to split your account into several instances called "branches." A branch can have a custom color scheme, logo, background, and login page in addition to letting you pick a different language and time zone compared to the main instance. The same can be done for the main "branch".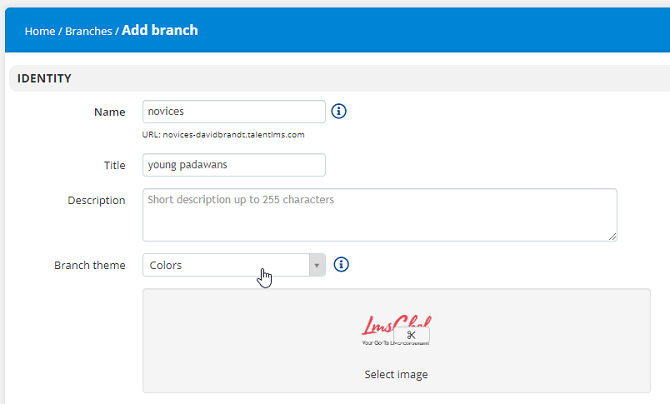 The platform can be integrated with Zapier, which means it can connect to ~2000 different web services and apps. It also integrates with BambooHR and there's an API with a wide array of available calls that will allow you to connect TalentLMS with an application that is not supported by Zapier. It also has a dozen SSO options for seamless user transit from a web app that the learner works in most of the time (like Google's GSuite).
In terms of security, the LMS has all the stuff one would expect from a modern LMS – SSL (HTTPS) support, Captcha on login, enforcing strong passwords, and password change after a certain number of days. It can even lock a user account after several unsuccessful sign-in attempts.
Learning experience and mobile device support
I enjoyed learning with the platform but, again, the interface could be just a little more effective and modern – most of the time I couldn't help but imagine that all this functionality could look and feel better.
There are discussion boards and direct messages that will help users get into social learning and let them stay in touch with you and your training team. It has a built-in webinar service that is part of the "Instructor-led training" tool where you can also create offline training events. It can also be integrated with dedicated webinar services like GoToMeeting or Zoom.us.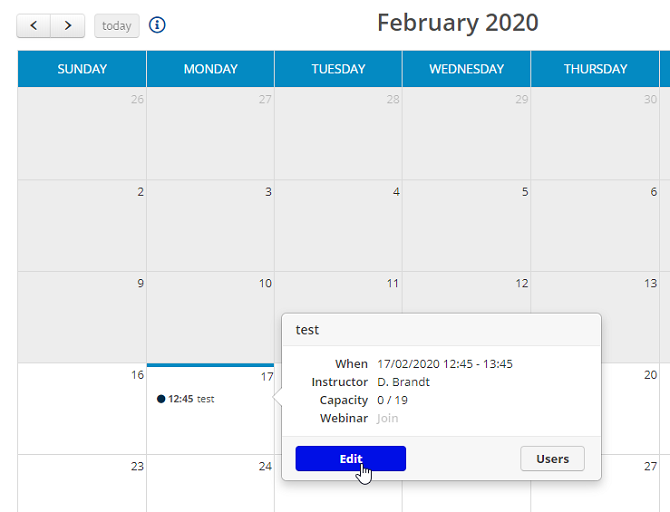 There's a mobile app available on Android and iOS that looks nice and allows you to download any type of content and complete it offline. It also gives you access to direct messages, discussions, and gamification stats.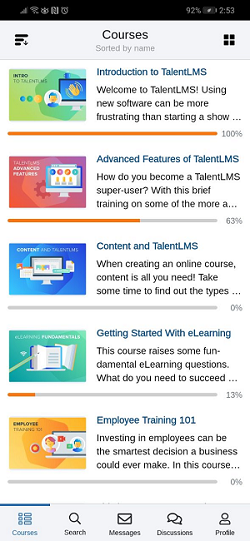 Overall, learning in TalentLMS can be described as a solid experience.
TalentLMS Pros & Cons
Pros
Allows creating tests and surveys in your browser
Instructor-led Training (offline or webinar) can be added to courses
Customizable user roles
Custom reports and scheduled reports
Branches' design can be customized separately
Open course catalog
E-commerce capabilities
Integrations with Zapier and BambooHR
Allows for over 10 different Single Sign-On connections
WCAG 2, Section 508 compliant
Cons
Reports are not very comprehensive – they let you see whether something is completed or not but can't provide real analytical feedback on your learners' progress
Platform interface could be better – I sometimes found myself lost trying to assign a course or create a quiz
Built-in quiz maker supports only 5 question types
TalentLMS for Business Use
Ideal for:
Employee onboarding: Training new employees, especially in a distributed company, can be tough if you don't have an online learning platform. TalentLMS will help you make sure that each new employee has the same onboarding experience and gets the same quality of knowledge.
Continuous employee training: Schedule course assignments via the automation engine and control learners' progress using the reports available in the system. The platform will automatically issue certificates and re-assign training at the appropriate time.
Short-term training projects: It's easy to launch and quick to get started with, especially if you already have your training content prepared. No previous experience required.
Suitable for:
Academic: Even though TalentLMS is more suitable for business use, it can also be a solid choice for an academic institution. In fact, it is used by the University of Arizona.
E-commerce: The platform lets you set up an open catalog of courses, plus integration with Shopify, WooCommerce, Stripe, and PayPal. But, it is apparent that the main focus of its developers is e-learning for businesses, not e-commerce.
TalentLMS Pricing
Pricing comes in tiers that are based on how many active learners you need each month. It's important to note that some useful features like Custom Reports or the Automation Engine are only offered in the Plus tier:
Free – up to 5 users, up to 10 courses, email support
Starter – $59/month (this and the other prices listed here refer to annual payment rates); up to 40 users, same functions and limits as the free tier
Basic – $129/month; up to 100 users, single sign-on support, plus everything from the previous tiers
Plus: $249/month; up to 500 users, custom reports, automations, SSL for a custom domain, success manager, plus everything from the previous tiers
Premium: $429/month; up to 1000 users, Live Chat support, plus everything from the previous tiers
Summary
In this article, I reviewed TalentLMS. It was a good experience and I'm sure some of you will find this platform suitable for e-learning. If you'd like to let me know what you think about this review, share your thoughts in the comments section.