Today, I'm bringing you a full "hands-on" review of eLeaP LMS. It's advertised as a powerful cloud-based learning platform for business that features flexible user management, e-commerce, and a built-in authoring tool that will help you create courses using just your browser.
Here's an overview of the product by its vendor:
eLeaP LMS Features
I've sorted all of its features into five categories: Administration, Content, User management, User experience, and Customization:
✔
✘
Administration – ease of getting started with and administering the platform.

Basic onboarding tour

No report scheduling

Action log allows you to track any changes made by other admins

No report customization

Auto-log-out

No detailed SCORM communication log

No self-registration

SSO available only with Okta

Content – authoring capabilities, supported formats and possibilities of combining separate modules into learning paths, etc.

Supports SCORM 1.2

No xAPI/AICC support

Courses can be combined into training paths with a specified order of completion

Documents like PDF and PPT can only be attached to lessons and not viewed inside them

Built-in content authoring tool and quiz maker

The content authoring capabilities are very basic

User management – adding and managing users, creating and assigning roles.

Bulk user import via CSV

No user role customization

Single Sign-on with Okta

No entities aside from groups exist

Subgroups can't be created, which makes building a hierarchy impossible

User experience and social learning – using the platform to study on a desktop or mobile, notifications for due activities, discussion forums.

Simple learner interface with graphical reports on recent performance

No mobile app

Gamification – leaderboards and badges

Gamification settings can't be customized

Forums for social interactions

Calendar of events for ILT

Customization and Integrations – changing the design and integrating the platform with third-party applications.

API and Webhooks allow for easy integrations with third-party services

Poor design customization capabilities

No webinar service integration

No multi-tenancy support
eLeaP Detailed Overview
Now, let's put this product to a comprehensive test to see what it can and can't do.

Learning the ropes, ease of use
First, logging in to the platform triggers a getting started tutorial. It shows you around the dashboard, highlighting the areas you will be interacting with: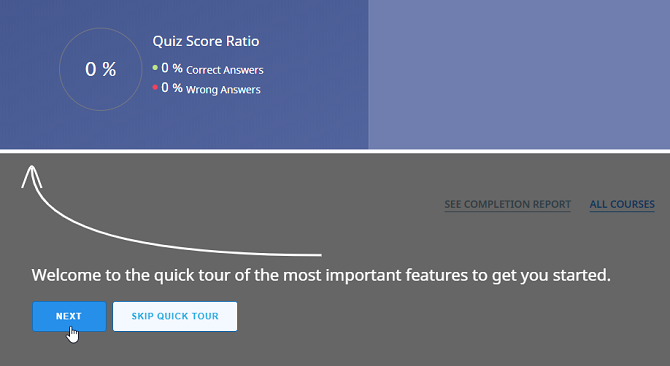 For cats like me that tend to bury themselves in any help docs they can get their hands on for a new software, there's a page with video tutorials dedicated to literally every available aspect of eLeaP. The videos could use some better scripting as their narrative tends to go all over the place, but it's a welcome twist on the usual text-based tutorials.
The interface itself is a take on a classic LMS design with a navigation bar on top:

Sadly, there's no Admin↔User switch so you'll need to create a separate account with lesser permissions to test something in the learner interface.
Generally speaking, the admin interface is simple enough and won't cause any difficulties for any somewhat experienced LMS adopters. Now, let's move on to user management. 

Managing users and user roles
Same as all modern LMSs, eLeaP lets you add users one by one through the interface or in bulk by uploading an Excel spreadsheet with a bunch of learners. The selection of profile fields with user information can be extended with custom fields, but the default ones can't be removed, which is unfortunate. For example, if I'd like to remove the default Title field that lets me choose between Mr./Mrs./Ms., which I consider too dated of a division for the modern world, I can't do that:
Self-registration is not available and Single Sign-On capabilities are limited to SAML 2.0 via Okta (which you have to pay for separately), so you'll most likely end up adding users yourself using the bulk-upload method.
Users can be organized into groups, but there are no branches or anything like that, which could let admins organize learners in some different way than with just groups. Also, eLeaP doesn't allow you to create sub-groups, rendering it impossible to build a hierarchy tree – if a business has over 200 employees, it would be difficult to maintain such a user base with the functionality present.
The platform has 4 non-customizable user roles: Administrator, Instructor, Supervisor and Trainee. It's not easy to figure out what each role stands for (except for Trainee, obviously). Plus, custom user roles can't be created, which is a huge disadvantage in comparison to other modern LMSs like iSpring Learn (you can read my review of it here).

Adding and managing content
In order to upload new content, you must first create a course. Then, you add chapters to the course and fill the chapters with lessons. A single lesson can comprise one SCORM 1.2 module or a few attached files like PDF and PPT. The process of uploading such attachments is a bit cumbersome, as you have to go down a rabbit hole of menus to do that. Also, eLeaP doesn't allow learners to view attached files in their browsers, so they have to download the attachments and open them locally instead. As you can tell, this means that no proper learning stats (like the number of pages viewed) can be gathered for content types like PDF.
SCORM and file attachments aside, a lesson in eLeaP can also include text and media (images/video), for which a simple editor is provided: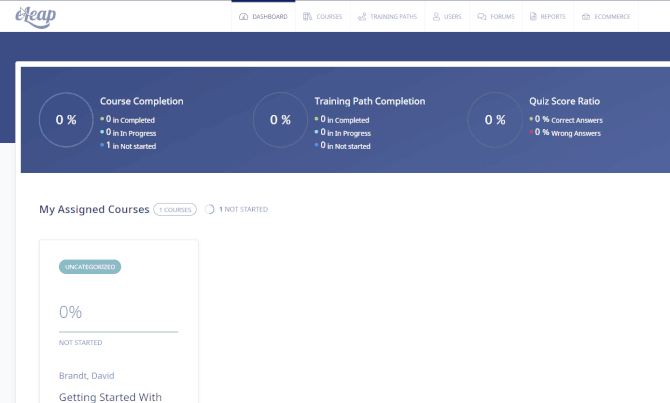 In addition to text-based content, knowledge-check questions can be added to individual lessons. And, if you'd like to create a quiz, you can only have one per course. For that, you have a selection of 6 available question types in the built-in quiz editor: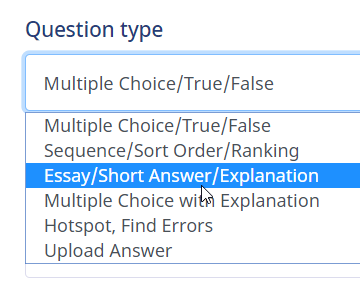 All questions are saved into the main question bank that lets you reuse questions in new courses. There's a bunch of options that allow you to control whether the question pool is randomized, whether there's a time limit on the quiz, etc. Hence, it can be said that the quiz editor in eLeaP is pretty functional considering its cloud-based nature. However, the inability to choose exactly where the finished quiz should be placed in the course structure makes it difficult for me to use this feature and I would have opted out in order to use a 3rd party authoring tool instead.
The process of assigning content to users is as simple as it gets – you either select a learner or a group of learners, and that does it: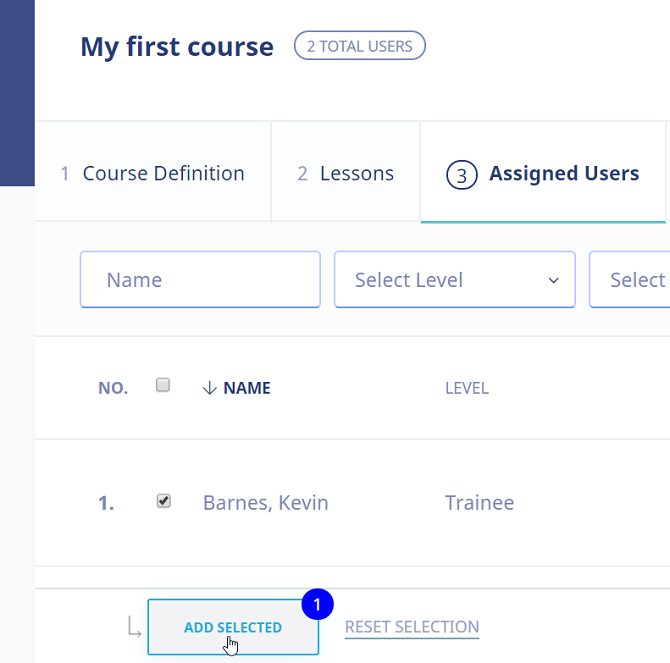 To sum up this section, I have to say that, compared to what other popular LMSs offer in terms of content authoring and content management these days, eLeaP LMS is pretty basic and certainly will not be a great fit for a more or less sophisticated setup.

Reporting
The Reports menu is by far my biggest disappointment in eLeaP. It includes just a few of the most basic reports thrown together on the same page with no depth to it whatsoever. There's no control over the reports that are displayed here and there's no possibility to customize them in any way: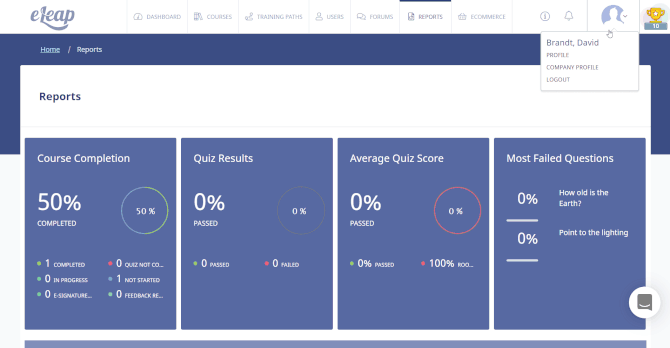 And to complicate matters a bit, when you'd like to generate a report on any of your specific courses, you have to go to Courses, select the one you need, and then click on Stats. A questionable UX decision to say the least.
All course reports (there are just three) including the one that's designed for quizzes, can be exported to PDF/XLS, but this is too thin of a silver lining to cover up for a lack of flexibility and detail in this section overall.

Branding, integrations, and security
Branding in eLeaP is also very basic – you can change the logo, the welcome text, some other messages, and that's it: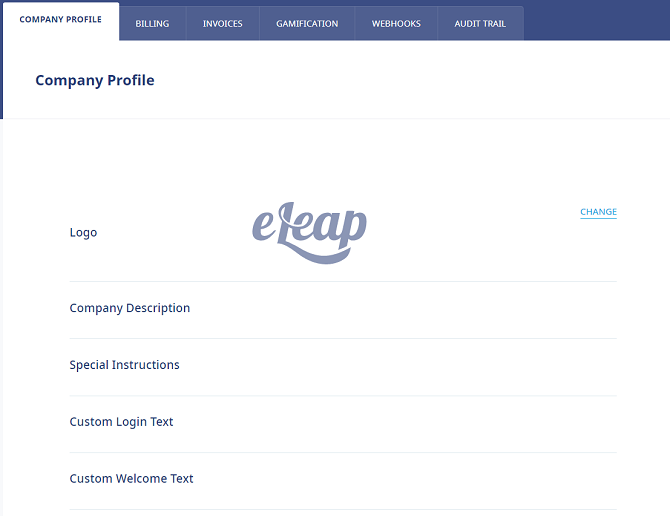 As I've mentioned earlier, there are no branches for which you can set a different, unique look. Customizing the learner dashboard is not possible either, even changing the color scheme is not an option, which is a bummer.
In terms of security, you're allowed to set the time after which inactive users are automatically logged off. Also, there's a log of events, so you can check any user activity by IP in case of some misunderstanding within your team.
There are two ways to integrate eLeaP with another web product: Webhooks and API. Webhooks allows you to automatically send an update to a third-party service (Zapier, Slack, etc.) on certain events in eLeaP. For example, if you'd like to receive a notification in Slack each time a learner completes a course, you can do that via Webhooks: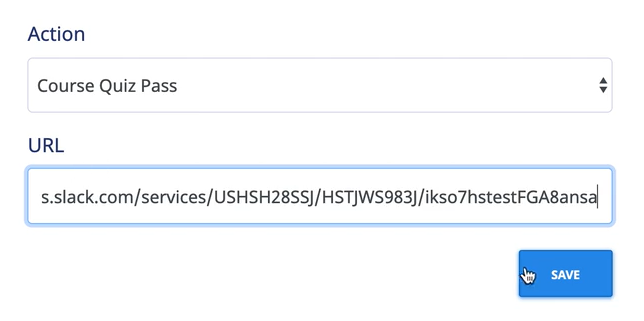 What stands out to me about eLeaP are its eCommerce capabilities, because it allows you to create an open eCatalog with courses for sale, use discounts, promo codes, and referrers.

Learning experience and mobile device support
The learner interface doesn't differ much from its admin counterpart – there's a dashboard with quick stats and a Calendar of Events, a course list, and a menu from which users can access available Forums – the only social learning tool there is: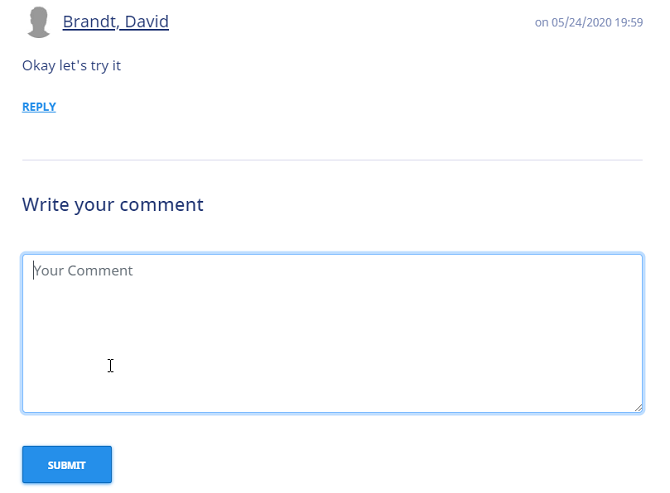 Learners can create their own topics inside forums, and you can assign individuals and groups to certain forums like you can assign courses. The process of setting up a new forum is a bit messy and unintuitive, the same as many things in this product. But, at the end of the day, it does work.
Gamification with its ubiquitous Leaderboard and Badges is present, but the amount of customization is shockingly small. I wasn't even able to change the amount of points awarded for completing a course, not to mention not being able to customize a badge. At least it's possible to customize completion certificates in the built-in editor.
Unfortunately, there is no eLeaP app available for smartphones, so whatever content your learners are trying to view, they will need to do so while connected to the Internet.
Now that we've "disassembled" the platform piece by piece, let's list all of its positives and negatives.

Pros and Cons
Pros
Simple, clean UI

Lots of video tutorials

Built-in lesson and quiz builder

Webhooks and API for easy integration with 3rd party products

eCommerce – discounts, promo codes, and referrers
Cons
Limited user management that most certainly won't fit a bigger organization

No mobile app

Very basic reporting with no custom reports or report scheduling

Gamification settings can't be customized

No webinar service integration
Business Use Cases
Ideal for:
Employee training in small companies:

The platform is easy to master, so small companies that have never tried e-learning can benefit from bringing their training online with this product. The free plan with 5 learners included will give you plenty of time to test everything before making a purchase decision.
Suitable for:
E-commerce:

eLeaP can be easily made into an online course shop with the help of discount codes and a referrer system. 

 
Won't work for:
Academic:

The platform misses many features that are crucial for an academic LMS. For example, there's no language versioning for content and there are no other social learning activities aside from Forums. If I was choosing a product that works best for an academic setup, I would go for Moodle, or one of the Moodle-based LMSs that are so common these days. 

Large businesses:

The user management aspect of eLeaP is much too weak for large companies to recreate their structure inside the platform. It would be a bad choice for a company of over 200 people.
Pricing
There are eight pricing plans available and all include 24/7 support and the same functionality, except for the number of active learners available per month:

Demo – 5 users included, $0/month (only 25 MB of disk space available)
Basic 25 – 25 users included, $125/month (650 MB of disk space available)
Medium 100 – 26 users included, $129/month (unlimited disk space)
Medium 300 – 101 users included, $314/month
Large 500 – 301 users included, $712/month
Large 1000 – 501 users included, $1012/month
Extra 1000 – 1001 users included, $1361/month
Extra 6000 – 6001 users included, $3012/month
All plans except for Demo and Basic 25 allow you to purchase extra learners for an additional fee. The higher priced the plan, the lower the fee per extra learner. For example, on Medium 100, one additional learner will cost you $2.50. On Large 1000, the fee per additional learner will only be $0.70.
Summary
This was a review of eLeaP LMS that, in my opinion, can be a good starting option for a small company that has never used an LMS. Its straightforward user interface and basic content authoring functionality will allow you to jump on the eLearning trend without spending too much time learning all the bells and whistles of a more complicated product. Modest reporting capabilities, on the other side, will only let you have a light grasp of the real power of eLearning. So, if you're aiming for a long-term solution, I suggest passing on this one.