In the not-so-distant past, digital training went hand in hand with scratched CDs, clunky program interfaces, and slow computers. But, with the world's rapid adoption of mobile devices and more powerful computers and software, the face of digital training has changed. Most specialists now refer to it as eLearning, and at the center of this new training canon are sophisticated computer programs called Learning Management Systems (LMS).
For one thing, an LMS lets you create online courses and assign them to learners. With all its data usually stored in the Cloud, a modern LMS doesn't set any limits on how much training content you can upload to it. Besides, it tracks all learner activity, even when it happens through a smartphone, and provides analytics based on those stats so you can see the true meaning behind the dull figures.
Briefly put, an LMS is the ultimate training tool for any modern business. But, with the eLearning market filled with dozens and dozens of training platforms, it's hard to see why you should choose any particular one.
So, before anything else, let's make a checklist of business applications that a good employee training LMS should be able to handle:
Onboarding. Every new worker you hire should be taught the basics: the company's values, culture, and the workflow routines of that person's position. To make sure this training is standardized and doesn't take much of the senior specialists' time, onboarding courses are a must for every company.
Mandatory training. Many countries oblige companies to provide a certain amount of training for their workers. This can be workplace safety training, harassment prevention training, and many other topics. It will save you and your employees a lot of time if this training is digitized and stored in an LMS.
Product training. All employees should know their product and this knowledge needs to be measurable. A great product training course can help all workers to be on the same page with their colleagues.
Certification. There are certain skills that are important for each job, and aptitude tests can help to assess them. An LMS will let you automate the testing process and even send filled out completion certificates to workers' emails automatically.
Blended learning. Not all training can be digitized, so sometimes it's reasonable to provide live training sessions. But wouldn't it be nice if you could schedule them and record the results of these sessions in your LMS? This is what blended learning is about – managing both online and in-classroom training events in your LMS.
Now, let's take a look at 5 great LMSs that are suitable for employee training:
LMSs for Employee Training – A Quick Comparison Chart
LMS
Type of solution
Distinctive features
1. iSpring Learn
A straightforward LMS suitable for both online training beginners and seasoned eLearning adopters.

Cloud-based
Has a built-in course authoring tool – lets you create training in your browser
Supports a variety of training content: SCORM, Video, PPT, PDF
Comes with a desktop authoring toolkit by the same vendor. Great for building video lectures, quizzes, interactive presentations.
Integrates with Zoom meetings for webinars
24/7 technical support

2. SAP Litmos
A popular LMS with lots of additional features like Salesforce integration.

Cloud-based
Built-in library of ready-made learning courses
Skill management and skill mapping
Advanced API allows for custom-built integrations
Supports 360-degree video

3. TalentLMS
A simple, yet powerful LMS that is best suited for small and medium-sized companies.

Cloud-based
Has a library of off-the-shelf content
Integrates with 1000+ web applications like Slack using Zapier Webhooks
Built-in quiz editor you can use to create tests in your browser

4. Adobe Captivate Prime
Enterprise-oriented LMS from one of the largest software moguls.

Cloud-based
A good fit for a multilingual company
Great reporting capabilities with lots of graphics and report scheduling
A standalone desktop app allows learners to record their own content and share it with their peers
Lots of attention to skill management and certification

5. Paradiso
A cloud-based LMS on Moodle bones made with corporate needs in mind.

Lots of customization possibilities for look and feel
Skill and competency management system
Integrates with Adobe Connect, GoToMeeting, WebEx, Zoom for webinars
Good mobile app
Mandatory Features for an LMS for Employee Training:
There are a number of features you need to consider when selecting an LMS for employee training:
User management. To be able to manage several departments of employees and do it effectively, you will need an LMS with well-thought-out user management. This includes editing user role permissions so that the LMS rules can be adjusted to reflect your company's reality.
Instructor-led training (ILT). Live offline training with a mentor is sometimes the only solution. You should have the ability to track attendance on such events and correlate their results with the online portion of your training program.
Webinars. Since the COVID-19 pandemic began, webinars have become one of the main tools of communication and education for many businesses around the world. A good LMS should let you record important webinars and use them as training materials for new generations of workers.
Analytics. The fact that your training content is available to workers remotely, via an LMS, means nothing by itself. The actual value behind digital employee training is in unbiased reports that let managers see their subordinates for what they are.
Social learning. In the real world, learning content is not just something that is created in the minds of instructional designers. Social interactions, work experience sharing, and mentorship are also a part of the modern training environment. This is why it's important that an LMS for employee training allows workers to interact not only with learning content but also with each other.
The 5 LMSs that I've selected comply with the abovementioned requirements. Here are detailed reviews of each platform.
1. iSpring Learn
Rating: 4.6/5 from 133 reviews (Capterra)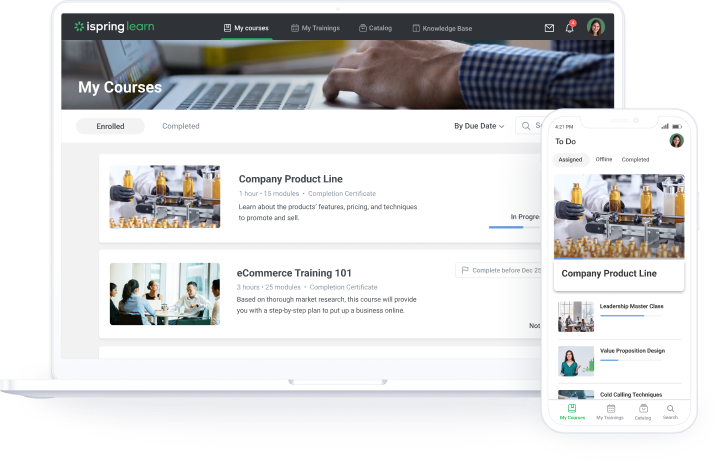 Quick review
iSpring Learn is a solution that has been dubbed one of "the Best Learning Management Systems of 2023" by Forbes. 
This is a cloud-based system, which translates into zero infrastructure costs, fast loading from any location on the globe, and unlimited space for your training content. There's also no limitation on the number of user accounts that can exist on your portal – pricing is based on how many workers actually log in to the platform in a given month.
iSpring Learn has a built-in authoring tool that lets you create mobile-friendly training modules with images, videos, and short quizzes. In fact, it is one of the most user-friendly authoring solutions in the entire LMS market.
In addition to the built-in tool, the LMS comes with a desktop toolkit called iSpring Suite, which expands authoring capabilities even more. It's suitable for building any type of eLearning course, starting from slide-based presentations with video narration, to interactive tests with drag-n-drop questions and elaborate screencasts with closed captions and transitions from one scene to the next.
There's a calendar of events in iSpring Learn where you or your managers can book ILT sessions and then send invitations to participants. With live training being out of question recently, you can book a webinar instead of using Zoom, which integrates with the platform seamlessly.
Also, the LMS offers gamification with achievements and a leaderboard. But, most importantly, this training platform has a mobile app that learners can use to download the learning content and view it even when they're offline.
Pricing
iSpring offers two types of subscription – Start and Business, with Business coming with more advanced features. The price depends on the subscription you choose and the number of learners who enter the platform during a month. For example, the plan for 100 learners/month (Start subscription) costs $2.87 per learner.
Goodies I found
Built-in course authoring solution
Seamless integration with a desktop authoring tool – iSpring Suite
Customizable user roles
Gamification and direct messaging for social interactions
ILT and webinar support
API allows the implementation of custom integrations
Course assignment can be scheduled via an automation engine
User-friendly mobile app
24/7 technical support
My opinion
iSpring Learn can be considered a well-rounded choice for employee training. It provides extensive authoring capabilities while also giving training managers tools for automating the learning process and setting up recurrent training. On the user end, the platform boasts a beautiful mobile app, social learning via discussions, and direct messaging, plus gamification with badges, points and leaderboards.
2. SAP Litmos
Rating: 4.2/5 from 274 reviews (Capterra)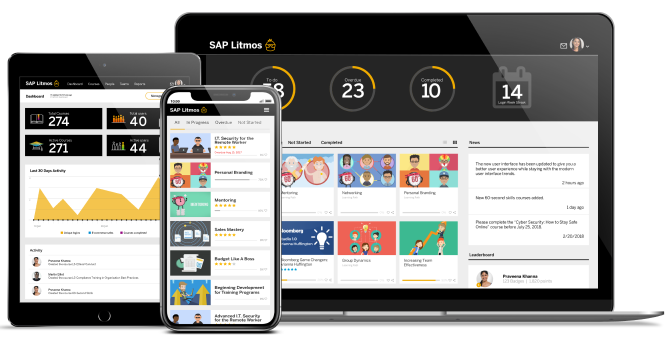 Quick review
SAP Litmos is a cloud-based LMS that has all the essential features for employee training. It offers detailed reports, off-the-shelf content, and the ability to create your own training materials right in the browser. The platform has a built-in quiz/survey-making tool, plus a simple content editor that allows you to put together texts, images, videos, and embed information from other websites.
For an additional price, you can get a subscription to Litmos Heroes, which will enable your employees to pick courses from a steadily growing library of training content made by industry professionals. This lets you save time you would otherwise spend building your own course library, especially on mandatory topics like "workplace safety."
Learners will find the mobile app handy – it can be used to download courses, while there's an Internet connection, and view them when no network is available. It's especially great that all of the functionality available in the browser version of the platform, including Discussion Forums, can also be accessed through the app.
Pricing
The cost is based on how many active learners you have a month. Pricing begins at $900 for 150 active users per month.
Goodies I found
User-friendly design
Off-the-shelf content with Litmos Heroes subscription
Customizable reports
Multi-tenancy support
Integrations with Salesforce, Zendesk, BambooHR, Zoom, WebEx, and GoToMeeting
API for even more integrations
Gamification with badges and leaderboards
Native mobile app
My opinion
SAP Litmos will be a good pick for larger companies that could use a selection of readymade courses, integration with Salesforce, and custom reports for better training results analysis.
3. TalentLMS
Rating: 4.7/5 from 503 reviews (Capterra)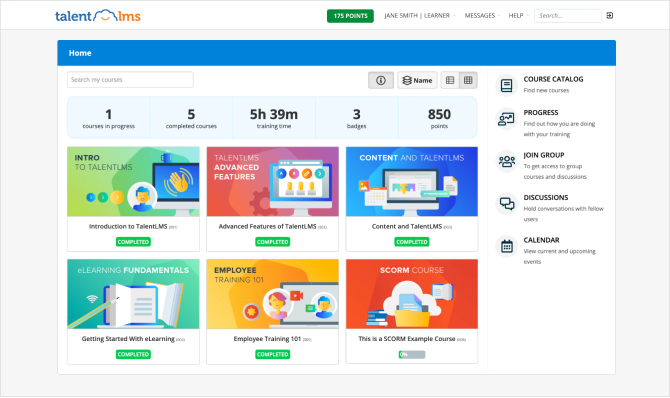 Quick review
Like other LMSs on this list, TalentLMS is a cloud-based solution. It has a built-in library of off-the-shelf training content that you can purchase for an additional fee, plus it features built-in tools that allow you to create quizzes and surveys. There are only 5 question types of the former and 2 of the latter available, but this should be enough for a simple test. If you prefer authoring content in a different software, TalentLMS has no problems with that as it features support for SCORM 1.2 and xAPI.
A number of integrations are available for this platform – you can connect it with GoToMeeting or Zoom for webinars and use one of the few available Single Sign On standards to provide learners with a smooth transition from, say, GSuite or Microsoft Active Directory to TalentLMS.
Another thing that will make your life as an admin a little easier is the automation engine. This mechanism lets you schedule certain tasks – like sending an email with a reminder to complete a course – to certain triggers. This feature can be used to get rid of annoying routines that training managers often have to perform manually, like restarting a certification training after the previous certificate expired.
From a learner's standpoint, TalentLMS looks and feels a bit out of date. But, there's a mobile app that can mitigate this disadvantage thanks to its ability to download training content and show it even when there's no Internet connection.
Pricing
$129/month for up to 100 learners.
Goodies I found
Lets you build quizzes/surveys in your browser
A catalog of ready-made courses
Multi-tenancy support
The platform can be integrated with Zapier, Shopify, Stripe, and WooCommerce
Customizable reports that can be scheduled for automatic delivery
Section 508, WCAG 2 compliant
A mobile app
My opinion
This LMS is one of the staples of the current eLearning landscape. It has a pretty user-friendly interface and a set of features that will allow small and medium-sized companies to run their employee training without much hassle.
4. Adobe Captivate Prime
Rating: 4.3/5 from 670 reviews (Capterra)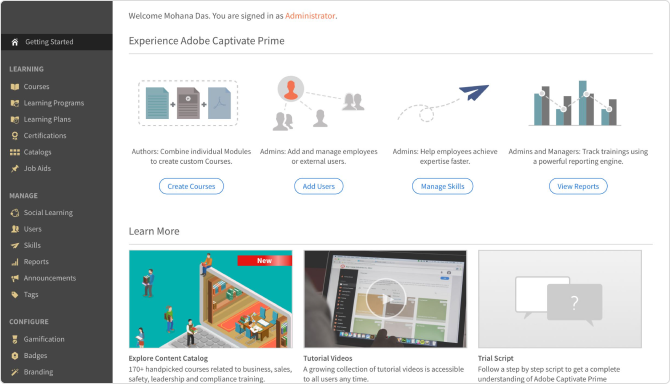 Quick review
Like Docebo and Litmos, Captivate Prime has a built-in collection of courses that you can get for an additional fee and use them to expand your library of training materials. It's pretty good at reporting and analytics – you can create your own reports from scratch and schedule them to be automatically sent to your email every week.
Unfortunately, Captivate lacks any authoring capabilities, so if you choose this LMS, don't forget to buy an authoring tool too. Luckily, there are some interesting features to compensate for that. For example, there's skill management – a useful function that will let workers earn certain skills as they complete assigned training. The skills list can then be used as a tool to assess one's progress at their job and give the person realistic requirements to meet before they can get a promotion.The LMS has a few third-party services it can be connected with: Zoom, Salesforce, BlueJeans, LinkedIn Learning, and some others.
Pricing
There are two pricing models:
Registered user pricing model

depends on the maximum number of learners that can register with the platform each month. It works for situations in which you know that you won't exceed that number. In that case, the price starts at $4/month per learner. 

Monthly active user pricing model

is more suitable for organizations where the number of learners fluctuates from month to month. If that is the case, the Adobe pricing page says you need to contact them to discuss the costs.
Goodies I found
It's easy to create and manage courses in multiple languages
Skill management system
Comprehensive reports with lots of graphics and customization
Social learning
Gamification: badges, experience levels
Desktop app
My opinion
This platform is an enterprise-level product that features many possibilities that other LMSs don't have: importation of external training records and desktop software that learners can use to record content and share it with their peers. At the same time, Captivate Prime doesn't have the most concise Knowledge Base in the world – there's even no onboarding course to help you get started with the product.
5. Paradiso
Rating: 4.2/5 from 10 reviews (Capterra)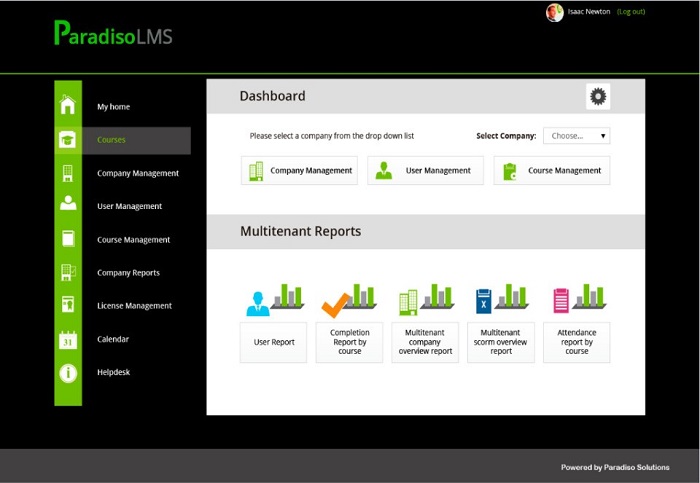 Quick review
Paradiso LMS began as a cloud-based version of Moodle tailored for business needs. And while it looks and feels like a modern business LMS, you start seeing the Moodle backbone once you descend through an endless labyrinth of menus and settings.
The LMS lets you create multiple instances of the platform with different URLs allowing you to organize your employees from different branches of your company into one entity. It supports user role customization, but it might not be needed as there are 21 predefined user roles available on the platform by default.
Among learning standards, Paradiso supports SCORM 1.2 and the now-irrelevant AICC. xAPI support can be enabled via a plug-in. In terms of authoring capabilities, the platform has a quiz builder that it inherited from Moodle. Also, it's integrated with H5P, an online content building service that lets you create interactive videos, course presentations, and flashcards right in the LMS. And if creating something from scratch is not your cup of tea, there's a library of around 7,000 courses on common topics like customer service and anti-harassment that you can use freely once you purchase the platform.
In terms of trainee experience, the platform can boast basic social learning with forums and direct messages available to users. All this, plus gamification and a nice mobile app, add up to an overall solid employee training platform.
Pricing
There's no pricing on the vendor's website, but Capterra states that one active user a month in Paradiso costs $2.95/month. This means that 100 users a month would cost you $295.
Goodies I found
A mobile app has the same set of features as the desktop version
Extensive customization options
Skill and competency system
Integrations with Zoom, Adobe Connect, GoToMeeting, and WebEx for webinars
Multi-tenancy support
Customized reports and report scheduling
My opinion
Paradiso LMS is the dark horse of this list – the company hasn't gained a lot of traction yet, but I believe that they have what it takes to become a real competitor in the LMS game. Despite certain design issues and minor, harmless bugs here and there, it's a fine product that can be a great starting point for first-time LMS adopters.
To Sum Up
These were my top 5 picks for an employee training LMS for 2020. Every year, more companies digitize their employee training as learning management systems become "smarter" and more accessible to businesses. It's hard to predict what trends will rock the eLearning of tomorrow, but we can be sure that the tendency to opt for online training will not go away anytime soon.
Have any LMS reviews to suggest? Let me know in the comments – I'd love to hear from you.