Hi, it's your humble friend David and I'm testing learning management systems so you don't have to.
This week I'll give you a full hands-on review of EasyLMS, a cloud-based online training platform that features some serious content authoring capabilities. It boasts being easy to learn for administrators and fun to use for learners, so let's see if it can live up to its promises.
Here's a quick overview of the platform by the vendor:
EasyLMS Features
I sorted all present and missing features of EasyLMS into five categories: Administration, Content, User Management, User Experience and Social Learning, and Customization and Integrations – and made a spreadsheet:
✔
✘
Administration – ease of getting started with and administering the platform.
Possible to use your own SMTP server for email notificationsNo onboarding tour
No onboarding tour
E-commerce with Shopify
No custom or scheduled reports
Lots of options to set up SSO
No scheduled reports
Great built-in certificate editor
Content – authoring capabilities, supported formats and possibilities for combining separate modules into learning paths.
Easy to use quiz maker
Doesn't support video uploads
Allows the creation of psychological tests with the assessment tool
Can't display PPT or PDF files
Courses and exams can be put into Learning Paths
Doesn't support SCORM, xAPI, PENS or LTI
Fun quizzes with online leaderboards
Built-in quiz maker has only 5 question types
User Management – adding and managing users, creating and assigning roles.
Bulk user import via CSV
No group hierarchy

Self-registration is available only with the Enterprise plan

Custom user roles can't be created
User Experience and Social Learning – using the platform to study on a desktop or mobile, notifications for due activities, discussion forums.

Responsive interface looks good on all devices

No webinars or ILT

Gamification with points and leaderboards

No mobile app

Discussion forum is available only with the Enterprise plan using Disqus

Customization and Integrations – changing the design and integrating the platform with third-party applications.
Webhooks and Mailchimp integrations
API has only 2 calls
Good white labeling functionality – all fonts and colors can be changed
EasyLMS Detailed Overview
Let's examine the platform more carefully by checking out what it offers in terms of user experience. We'll start at the very beginning and check how EasyLMS helps new users get up to speed with the platform.

Learning the ropes, ease of use
The admin Dashboard in EasyLMS follows the "Wordpressy" design trend that is very common among SaaS services these days.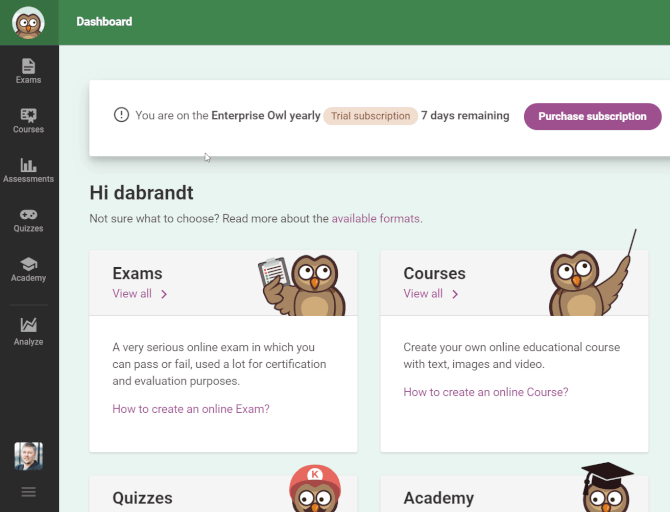 The interface is pretty easy to navigate and most of the icons have text labels beneath them so you don't have to guess what each of the options does. The icons that don't have text labels, like Menu or Help, feature pop-up hints and thus cause no issues when using them.
The Help button that is featured on the majority of menus has links to the corresponding sections of the EasyLMS Knowledge Center. For example, if you're on the Academy screen, you will see this when clicking on Help: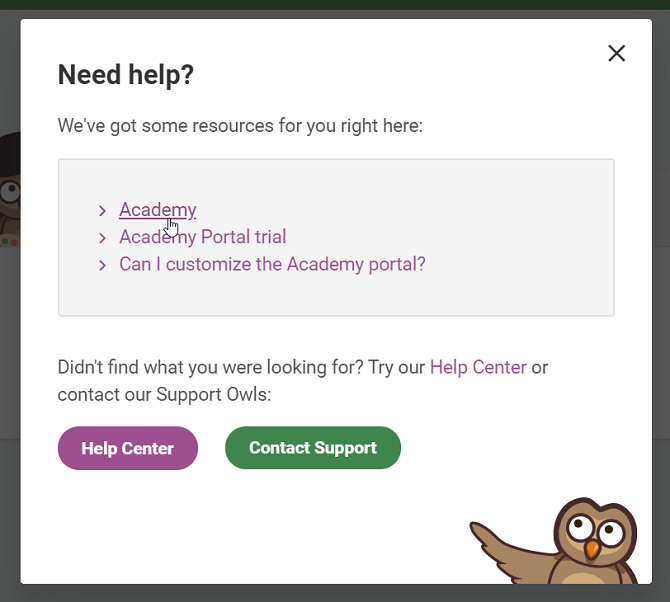 Even though self-help materials were at my fingertips, I was a little disappointed by a lack of a cohesive onboarding tour that would help me get up and running. A getting started video from the vendor, maybe some visual cues on my dashboard – just something quick that is structured like this:

There's no conventional "switch to learner view" button, and that's because EasyLMS presents a slightly different approach to online training than other competitors. With all pricing plans except for the most expensive Enterprise plan, you use EasyLMS to create quizzes and courses and then share them via email or embed them into your website. Learners don't have a traditional style Dashboard. Instead, they get an email with a link, click on it, and then complete the test or whatever content you shared with them.
With the Enterprise plan, you get the Academy add-on that lets you create a more familiar LMS environment with learner dashboard, customized design, list of assigned courses, etc.
This add-on is available for lesser priced Business and Corporate plans too, but it will cost you an additional $50/month. I honestly find it odd that you have to pay above your subscription just to get some regular LMS functionality from a product that has LMS in its name.
Further review will be structured around the Academy add-on since it provides the workflows that I'm looking for.

Managing users and user roles
After you create your academy, you can add participants. Note that you are able to create multiple academies within a single EasyLMS account, each with its own distinct design and a separate list of learners. New users can be imported to an academy from an Excel spreadsheet or via User Interface (UI):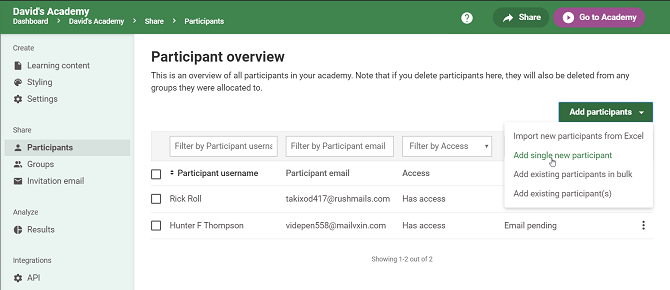 Self-registration is available only with the Enterprise plan, but the platform supports Single Sign-On with Windows Azure, OKTA, SAML, Auth0, and CAS, so you can do away with email invitations and CSV lists altogether.
There are just two user roles: learner and administrator. But the admin role has a few distinct types that provide different levels of access to the platform:
Global admin – can do everything an account owner can do
Academy admin – only sees stuff within a selected academy
Group admin – designate an administrator for a selected group in one of your academies and they will only see what's going on inside that group
It's possible to choose what permissions will be included for the new admin that you're adding. You can choose whether they will be able to simply add learners or also manage content and view reports: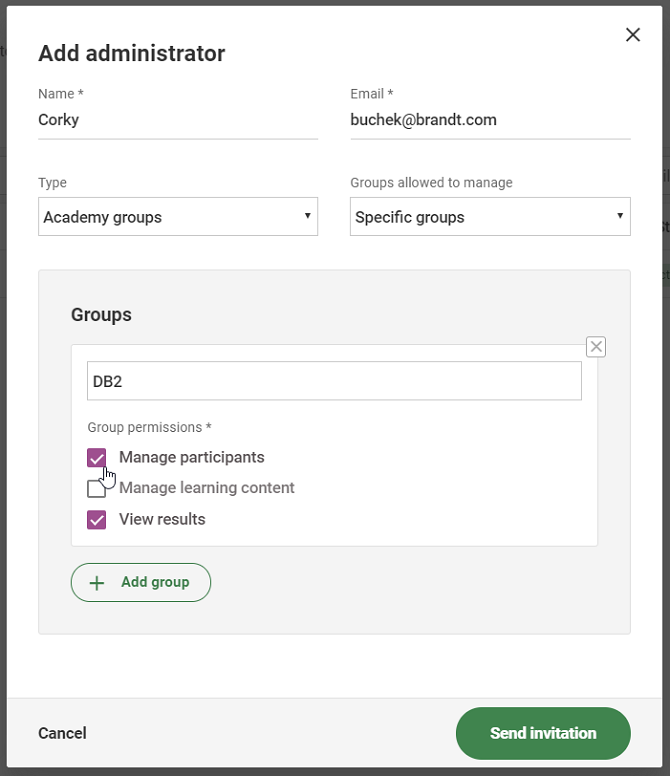 This role management model is an interesting take on the classic Admin/Manager/Teacher/Learner system that most other LMSs have in place. I imagine it would be convenient for companies and individuals that need to manage a number of branches not affiliated with each other with their own administrators and organization structure.
The bad news is that you can't create groups inside of other groups. In other words, building a multi-layer structure using this platform is not possible, which will certainly make it harder for bigger companies to use this product effectively.
Now, let's check out what EasyLMS has to offer in terms of content authoring.
Adding and managing content
To import existing content, you need to create a course. There's no SCORM or xAPI support so it won't be possible to use your existing content in one of these standards if you have any. Videos also can't be uploaded – you need to embed them from sources like Vimeo or YouTube. Actually, the only types of files that you can upload to the platform are MS Office documents that are not displayed for learners, but are available for download.
It's important to note here that the idea of courses in EasyLMS is slightly different than in most other LMSs. A course here is a combination of slides with text, images, and embedded videos and test questions, so it's more like a module. This type of content is very similar to modules that can be created in iSpring Learn LMS, which I recently reviewed. But unlike today's contestant, that LMS does support SCORM and video uploading
Here's a new course I created with a content slide where I can place some text using a RICH text editor and embed media: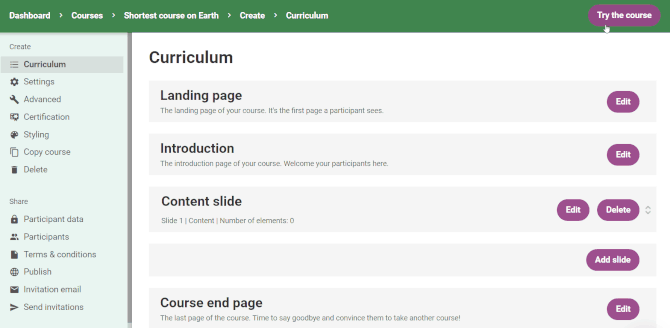 Along with content slides, courses can include quiz questions, assessments, and exams. These three terms are somewhat close to each other in real life, so an explanation of the difference between them is needed:
Practice question – a single question on one of the course slides
Assessment – an outcome-based test, such as a personality test
Exam – a test with correct and incorrect responses, a score, and the possibility to award a certificate of completion; possible to add feedback text for individual answers
You can also create assessments and exams outside of courses and share them as standalone learning activities.
Each one of these course types allows you to use 5 question types: multiple-choice, fill in the blanks, free text, images, audio/video: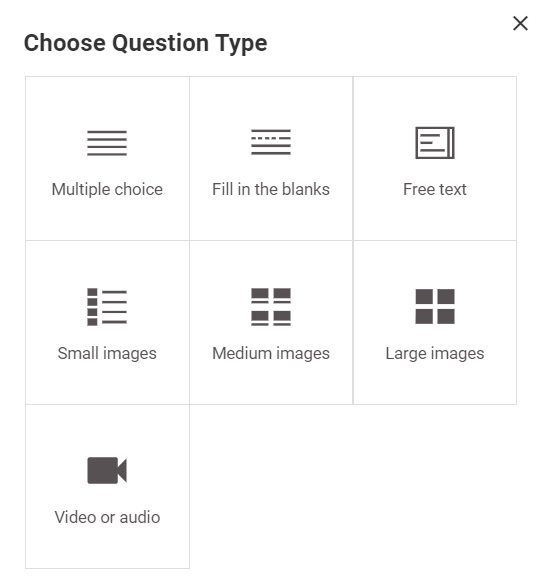 In addition to assessments and exams, you can create quizzes – these are fun little tests whose only purpose is to let users compete with each other via open leaderboards. A quiz can't be included in a course and is shared simply by embedding it on a web page or posting a direct link to it on your LinkedIn page.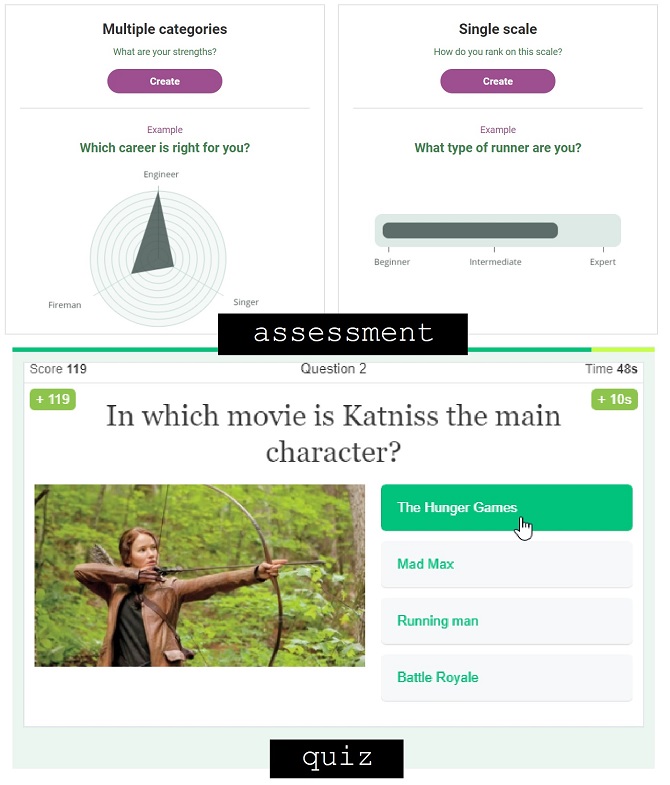 If this design with three similar concepts looks a tad overcomplicated to you, you're not alone. When I started my trial, the difference between these three terms was a sealed book for me as well: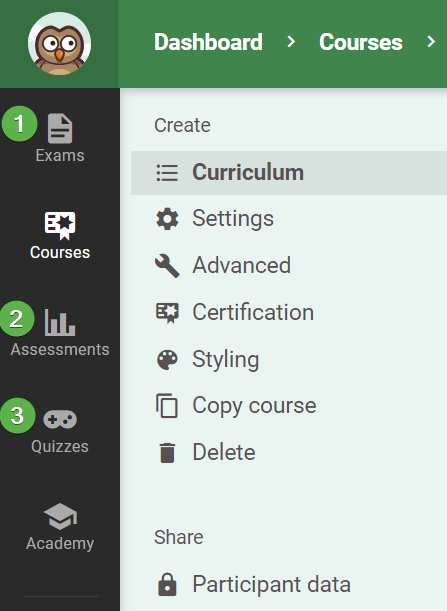 Access to courses and exams can be given for a period of time that is specified in the corresponding menu in the content settings. There's no possibility to make a course automatically assign itself after a period of time, so no easy way to create recurrent training.
Concluding this chapter of my review, I'd like to say that EasyLMS leaves an impression of a well-thought-out content authoring tool, but not a traditional LMS in which you can host and effectively run onboarding, certification, and partner training.

Reporting
Reports can be accessed either from the specific module that you need stats for or from the Analyze menu. Here's an example of a report on a single user who took my exam: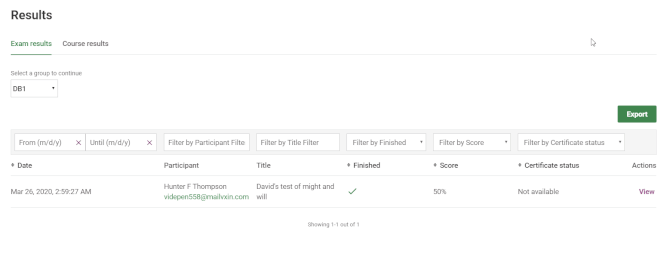 The second type of report is Overview which shows how user results for the selected content were spread in a more graphical manner: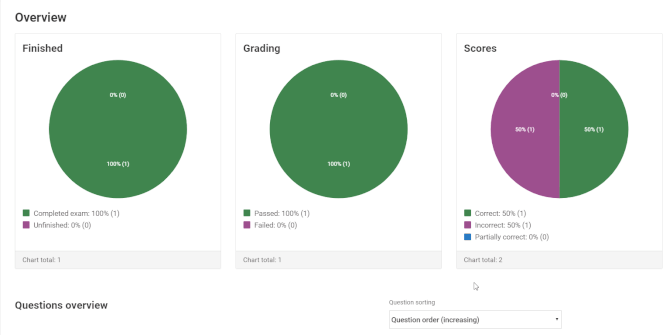 Reports for other content categories like assessments and quizzes look a bit different, but stay within the same concept. Any report you generate can be printed, shared via a link, or posted on Facebook or Twitter. There are no custom reports.
Now let's see how you can customize the platform to fit your needs.

Branding, integrations, and security
As I mentioned earlier, it's possible to customize the design and branding of academies so that learners from different groups will see different colors, logos and such.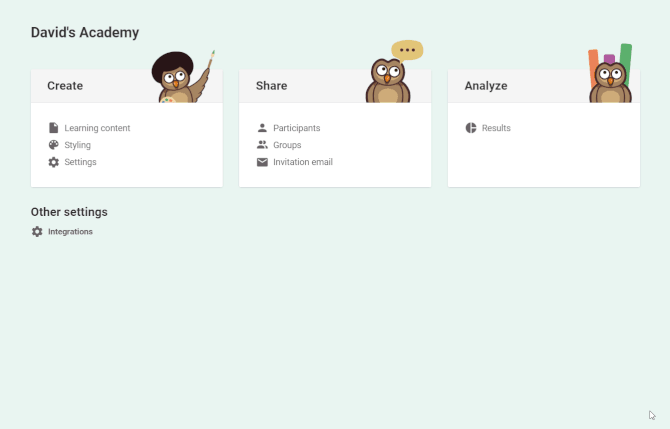 The only integrations available globally for the entire account are single sign-on and using your own SMTP server instead of the one EasyLMS provides. The latter will let you send email invitations from your own email address.
Other integrations can be activated for each course individually. For example, you can use Webhooks to integrate EasyLMS with one of the services that Zapier supports (500+). For example, you can make it so that all information about any recent course activity automatically goes to your HR management system or you can integrate EasyLMS with Shopify to sell your exams online.
Unfortunately, no security options like event monitoring, IP blocking or showing Captcha upon logging in are available.

Learning experience and mobile device support
The user interface is way too simple, even to the point of being austere: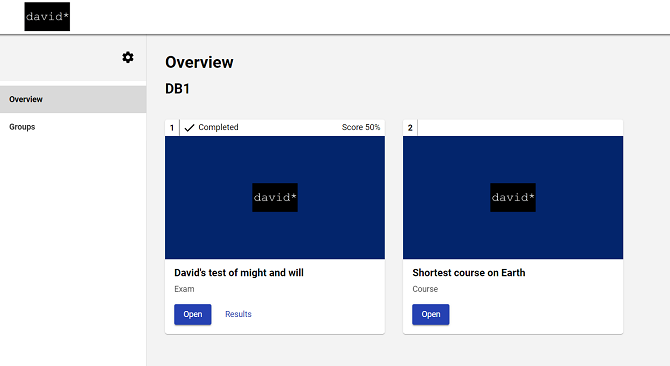 There's a gamification element that awards points for completing exams and quizzes. Points can be customized for questions in the exams section, but they are fixed for quizzes. Learners compete for higher rankings only in quizzes, since the leaderboard doesn't show points awarded for exams.
This platform provides discussion boards via Disqus (the option available only with the Enterprise plan). You'll have to create your own Disqus account as an admin to integrate it with the LMS, plus, your learners will need to have their Disqus account too in order to be able to comment. 
The vendor claims that all content that you can build with EasyLMS is responsive and can be played on any mobile device as well as a desktop. However, there is no mobile app, so you won't be able to download content from the platform and view it while offline, as on other platforms. 
Now that we've dissected everything there is to this LMS, let's sum everything up by looking at Pros and Cons.
EasyLMS Pros and Cons
Pros
Simple UI
Available in 10 languages
Account can be split into several academies with distinct design and learning content
Allows building quizzes and psychological assessments in your browser
Has integrations with Zapier and Mailchimp
Quite a few SSO protocols are supported
Cons
No onboarding
Free trial is only 7 days long
Doesn't support SCORM/xAPI or video uploading
Basic reporting and no custom reports

Missing discussion boards with cheaper plans

No mobile app
Lacks security features
EasyLMS Business Use Cases
Ideal for:
I'm not really sure if this product can be an ideal solution for any case. It's neither a full-fledged LMS nor a noteworthy authoring tool.
Suitable for:
E-commerce: EasyLMS can be integrated with Shopify, so it can serve as a starting point for those wanting to launch an eLearning shop.
Individuals who want to make a quiz and share it online: easy to master content builders and quiz builders, combined with the ability to embed content in webpages make for a great option for those who are looking for a simple product to start their first training course. But, at the same time, it is a bit too costly to be used solely for this task.
Won't work for:
Businesses of any size: Lack of social learning features and webinar capabilities make EasyLMS a questionable candidate for a corporate training platform.
EasyLMS Pricing
There are four plans available – the higher the cost, the more features are included.
Smart Owl (199$/year) – unlimited courses and quizzes; 1,000 course views per month
Business Owl (499$/year) – 25,000 course views per month; everything that comes with Smart Owl + white-labeling and certification
Corporate Owl (990$/year) – 50,000 course views per month; everything that comes with Business Owl + Webhook and Mailchimp integrations
Enterprise Owl (2500$/year) – 100,000 course views per month; everything that comes with Corporate Owl + SSO, Academy add-on
For a complete breakdown of which features are included with each plan, visit this page.
Summary
This was a review of EasyLMS, a product advertised as a learning management system, while, in fact, it's more of an online quiz and assessment building platform. I hope the developers will extend their brainchild's functionality beyond the current capabilities so that more clients could find this undoubtedly up-and-coming product useful.