The Australian e-learning market has grown by 25% since 2016, reaching the impressive value of $7.9 billion in 2021. And while the global economy continues to shift to remote work and education, the numbers will only increase, bringing new game-changing products to the e-learning scene and further expanding the reach of this new technology on the continent.
One of the products that the e-learning landscape can't be imagined without is an LMS (Learning management system). This is the type of online software that you upload training content to and get learners' performance reports from. Getting an LMS is an essential part of setting up online training in an educational or a corporate setting.
So, we'll look at 10 high-performing Learning management systems available in Australia that have proven their usefulness and shown a high ROI.
Quick comparison chart
LMS
Type of solution
Distinctive features
1. iSpring Learn

An all-around SaaS learning management system for businesses of any size

Good technical support

Built-in content authoring tool

Smart assignment settings allow managers to plan training flow in advance

Allows managers assess not just to training materials, but also to learners' competencies

Customizable organizational structure that will fit any company

Mobile app that allows learners to take courses offline

2. aXcelerate

Training selling platform for the educational sector with an embedded LMS

Extensive e-commerce feature set

Built-in quiz builder

Supports SCORM and xAPI

Three mobile apps for different roles on the platform

Assessors can capture video and photo evidence of authenticity through the platform

Course marketplace / enrollment page that can be embedded in any website

3. Acorn LMS

Business-oriented LMS for small / medium companies

SCORM and xAPI compliant

Learners can acquire skills by completing training materials

A library of premade courses available

White-labeling

4. Etrainu

LMS for business with the vendor offering custom training course development as well as a library of premade courses available for purchase

Library of premade courses available for purchase

Customizable training portal design

Event calendar for live training events

Special mobile app for training assessors

5. Simplify LMS

Business-oriented LMS; plus, the vendor can develop training content without an in-house instructional design team

SCORM and xAPI support

Integrates with GoToMeeting and BigBlueButton

Built-in quiz generator

Gamification features that include levels, badges, and leaderboards

6. Moodle

The famous open-sourced community-supported LMS that suits the educational sector best but can be used in almost any scenario, thanks to its flexibility

Free if you host it on an internal server

Supports SCORM 1.2 and IMS training packages

Integrates with the H5P content authoring tool

Customizable with hundreds of visual themes and plug-ins created by the community

7. PageUp

Talent acquisition platform with a built-in LMS

Integrated Talent Management CRM

SCORM, AICC, xAPI support

Role-based content assignments

Advanced talent analytics

8. SAP Litmos

Capable LMS for corporate clients with e-commerce and a library of premade content for an additional price

Has a built-in content authoring tool

Advanced social learning

Higher pricing plans include a library of ready-made courses

Lots of integrations with third-party services

E-commerce

9. LearnUpon

LMS for large-scale online training projects in a corporate setting

Supports upload of SCORM/xAPI training modules

Supports creation of several training portals within a single LMS

Clean and friendly interface

Integrates with Salesforce

10. Coassemble

Easy-to-use LMS for medium to small businesses

Lots of interactive content templates to choose from

Accessibility ensured by WCAG 2.0 compliancy

Integrates with Zapier

Provides real-time analytics on how learners study
10 Best LMSs in Australia
1. iSpring Learn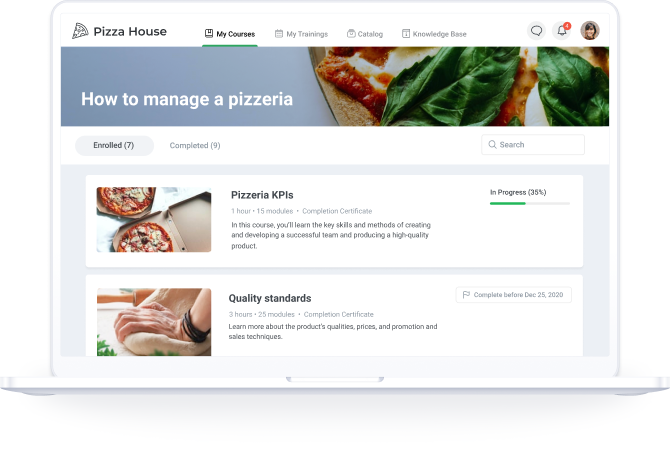 iSpring Learn is a cloud-based LMS with a straightforward interface that can be handy for both learners and training managers. It has a built-in content authoring tool that will let your team create quality e-learning without leaving their browsers. The LMS also features detailed reports and performance charts, Zoom integration, flexible permissions settings, and extensive API.
Key features
Support of any content:

iSpring Learn supports MP4, MP3, SCORM 1.2/2004, PDF, DOC, and XLS files with unlimited storage. Upload them to the platform and assign these files as individual training units or include them in a multi-chapter course.

Online content builder: Access the built-in content authoring tool to create long-reads with video, interactions, and knowledge checks.
Performance appraisal system:

team managers, colleagues, and learners themselves can assess their job performance for a fair 360-degree evaluation of their competencies. (This module requires an additional fee.)

Bundled with a desktop authoring tool:

If you feel more comfortable creating e-learning from your Windows device, use iSpring Suite to create content and upload it to iSpring Learn. The desktop software is packed with content templates that your learners will love: quizzes, drag-and-drop activities, and many more. Use these to spice up online training and increase retention rates.

Learning tracks:

Training modules can be combined into courses, while courses can be stacked into learning tracks. Those can last anywhere up to a year and comprise any number of training activities, with each of those starting and finishing on a tight schedule that you can set up prior to launch.

Support:

Over-the-phone help from an in-house team of trained support agents available 24/7. Email and online chat too.

Mobile app:

Allows learners to study, even when offline.
Pricing
iSpring offers two types of subscription – Start and Business, with Business coming with more advanced features. The price depends on the subscription you choose and the number of learners who enter the platform during a month. For example, the plan for 100 learners/month (Start subscription) costs $2.87 per learner.
My verdict
iSpring Learn is a rare type of LMS where advanced functionality doesn't stand in the way of being user-friendly for both admins and learners. The feature set it has will fit corporate training projects of any size and any previous experience in e-learning. I especially recommend it to those who are looking for an LMS with a good mobile app to let their workers take some of the training in their spare time.
2. aXcelerate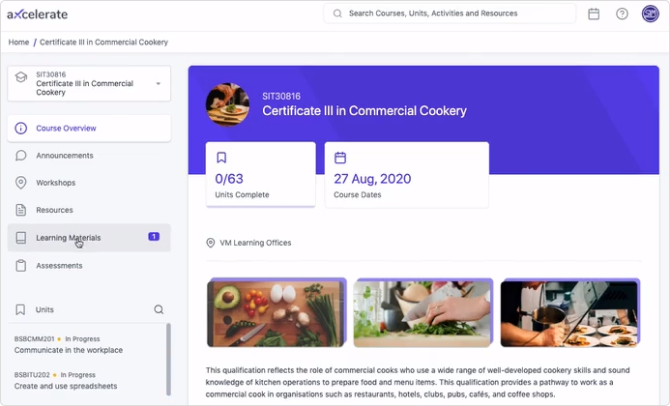 Axcelerate is a CRM and LMS powerhouse that was built and is maintained in Australia. Boasting a wide array of e-learning features combined with compliance to many state standards, this platform focuses on e-commerce, providing unmatched leverage for big training content providers.
Key features
Video and photo evidence:

Assessors can capture evidence of authenticity through the platform, leaving learners fewer opportunities to cheat.

Built-in quiz builder:

A range of question types from short answer to hotspot and match is available in the aXcelerate quiz builder.

Multiple learning standards supported:

Upload SCORM or xAPI modules from your authoring tool of choice.

Online enrolments page:

Insert a course page to your website and sell access to courses on aXcelerate using the e-commerce functionality of the LMS.

10 integrations with third-party services:

Upload existing data from Canvas or Moodle, display your courses on WordPress, or integrate the platform with Hubspot.

Mobile app:

Not just one, but three different apps! One for learners, one for trainers, and one for supervisors. Each has its own user interface and capabilities tailored toward the needs of its audience.
Pricing
There are two pricing plans that can go higher, depending on how many learners you expect to have per year. The top-tier plan that includes the LMS will cost $651/month if your annual learner count stays below 300.
My verdict
aXcelerate will suit course providers from the educational sector like institutes and schools, allowing them to control both trainer and student performance — all while ensuring compliance with Australian standards like RTO or ASQA. Despite its support for SCORM and xAPI, aXcelerate is definitely not suitable if you're looking for an LMS aimed at corporate training needs.
3. Acorn LMS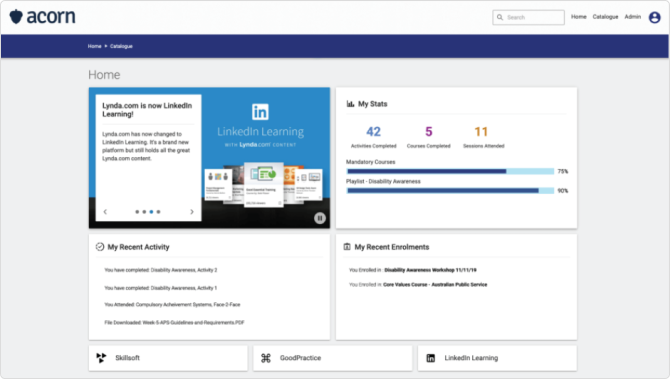 Acorn is yet another learning management system developed in Australia. Launched in 2014, it claims to be the mainland's most trusted LMS, with its clients even including the Australian government. Acorn is a classic corporate-style LMS that can be white-labeled and used with almost any format of training content: learning modules can be imported even from LinkedIn Learning.
Key features
SCORM and xAPI compliant:

Acorn LMS lets you upload your training modules that were created in Articulate, iSpring, or Captivate, and use them as parts of courses that you build in the LMS.

Gamification features:

Acorn has a couple of "standard" gamification features that will make training a little more interesting for learners. For example, they can compete for a number of badges that are awarded based on students' performance.

Learners' profiles display what skills they acquired:

Each trainee profile displays their skill proficiency, depending on the selection of skills that you set up.

Complete white-labeling:

One of the strong sides of the platform, according to the vendor, is how they treat white-labeling. They promise to deliver a complete change of branding, feel, and look — so that learners can adapt to studying on the new platform more quickly.

Ready-made courses:

The top-tier pricing plan for Acorn doesn't just include the LMS, but a selection of prebuilt courses on soft skills as well. This might come in handy for those who are only getting into e-learning and don't have any training content on common corporate topics like information security.
Pricing
The pricing for Acorn LMS is based on how many learners log in to your training portal per month. For example, the basic plan with 100 learners per month will cost you $400/month. The price per user reduces if you need more than 100 learners.
My verdict
Acorn LMS looks like a valid choice for small to medium corporate clients who want to try out e-learning and don't know where to start. There are some downsides, like a lack of a dedicated mobile app that would allow learners to consume training even when offline. Other than that, Acorn seems like a solid LMS.
4. Etrainu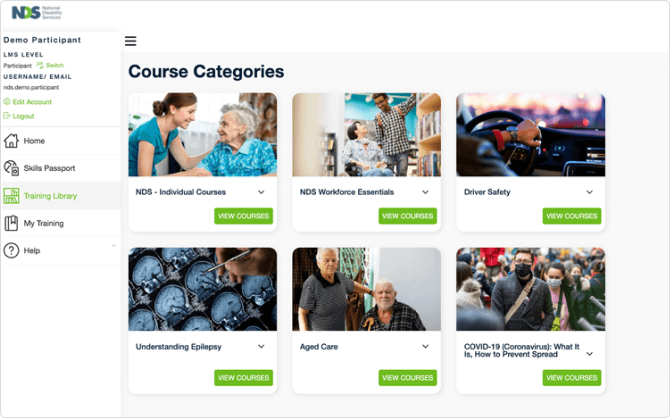 Etrainu is also an LMS that is native to Australia. In addition to offering their own Learning management system, the company also provides course development on demand and has an impressive library of courses on soft skills.
Key features
Large library of courses available for purchase:

Choose one of the courses prepared by Etrainu, pay for it online, and start learning.

Integrations with other platforms:

It has a few integrations with other IT products like HR systems and sports membership programs.

Custom learning portal design:

Represent your corporate structure with the hierarchy feature. Also, white-label the interface for the learners so they can function in a familiar environment.

Training event calendar for live events:

Add all of your in-person training sessions to the calendar and send automatic event notifications before they start.

Special mobile app for assessors:

Trainers that work in the field have their own mobile app that can be used to assess results of live training sessions right after they take place.
Pricing
To get pricing for Etrainu, you need to contact their sales team.
My verdict
Etrainu is not a very sophisticated LMS and has a clunky outdated user interface. However, it offers a handful of training courses. They also develop custom courses, so that might be a good find for companies that want to outsource their e-learning development to professional instructional designers. I would not recommend it for the purpose of getting an LMS, but their courses might be worth checking out.
5. Simplify LMS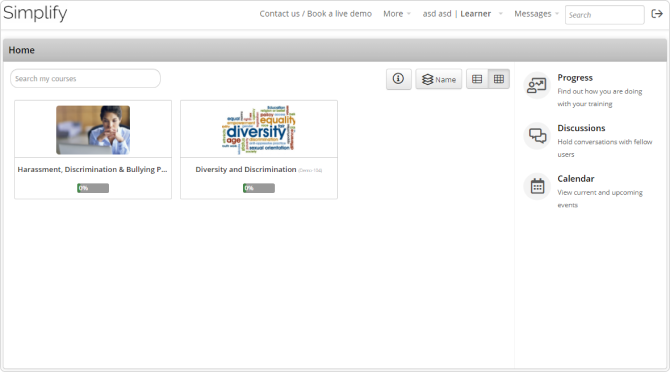 Simplify is a cloud-based Learning management system from a vendor based in Australia. The company offers not only their LMS to potential clients, but their instructional design services as well. Whether you need to set up onboarding training or ensure compliance to certain standards, this Learning management system will have you covered.

Key features
SCORM / xAPI support:

Upload any modules created in iSpring Suite, Articulate Storyline, or any other authoring tool to Simplify LMS.

Built-in quiz creator:

Test questions can be embedded right into the canvas of your training modules created in Simplify LMS.

Integrated with GoToMeeting and BigBlueButton:

Simplify LMS also has a built-in webinar system that you can use instead.

Gamification with points, levels, badges, and leaderboards:

Gamify training for learners and help them achieve new heights by making them compete with each other.

Learning path support:

Courses can be combined into learning paths with restricted order of completion so you can guide your learners through the course material and not let them skip around.
Pricing
Sadly, there is no openly available pricing, so contact their team if you need a quote. But, one thing's for sure: the pricing for Simplify LMS will depend on whether or not the vendor needs to help you with content development.
My verdict
Simplify LMS seems like a product that would be a valuable addition to any corporate setting. The LMS features everything that a manager might need in order to keep his staff in the learning mood. In addition to all its virtues as an LMS, Simplify offers content creation to its clients — which definitely won't go unnoticed by those companies that don't have an in-house instructional design team.
6. Moodle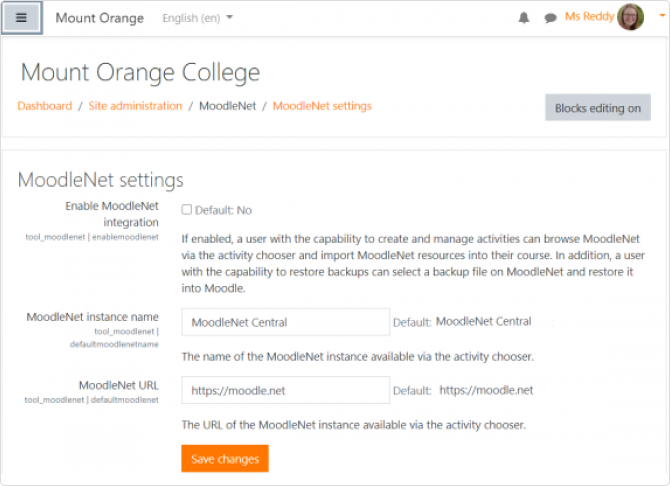 Moodle is one of the most famous open-sourced projects in the history of training software. Despite not originating from a specific place on the map as a product and being developed and maintained by many hundreds of enthusiastic people all across the globe instead, the Moodle company is based in Australia. 
Something that makes Moodle LMS extremely popular on the Australian e-learning scene is that its self-hosted version is completely free and can be customized with a wide range of plugins and additional modules, as well as integrations with third-party CMS, CRM, and HR platforms.
Key features
Support for a variety of training content formats:

You can upload a handful of different content formats to the platform and assign them — DOC, PPT, XLS, SCORM 1.2, IMS, MP4, and many other formats are supported.

Integration with H5P for content authoring:

Instead of using Moodle's own content-building tools that are somewhat cumbersome, you can switch to the H5P content builder that's embedded in the LMS.

Forums, direct messages, and live chats:

There are quite a few Learning management systems that allow the same level of peer-to-peer interaction as Moodle. Engage your learners in conversations and teamwork so they can study more effectively.

Integration with BigBlueButton for webinars:

Moodle also integrates with Safe Exam Browser if you'd like to ensure complete control over how learners take their assessments and prevent cheating.

Complete customization capabilities:

if you've never used Moodle, it might seem a little clunky at first. This is because this platform is among the most customizable, most flexible solutions on the market. And that's why there are quite a few commercial LMSs that use Moodle as the backbone for their platform. The caveat here is that you'll need to get technical in order to get started with the self-hosted version of Moodle. Make sure you have a few technical specialists with free time on their hands to get this LMS all set up.
Pricing
The standard self-hosted version is free, as is any open-source software product. There is a different installation, though — one that is hosted in the cloud. This option will suit companies that don't have the time to invest in building their own Learning management system infrastructure and want to purchase a ready-made solution.
The pricing for the cloud-hosted variation of Moodle starts at $110 a year for just 50 learners and 250 MB of space.
My verdict
Moodle is loved by the academic community because it's stable and has all the features that professors need to assess students on a daily basis. Also, it's highly customizable, so it can fit almost any purpose. I would suggest that you adopt Moodle if you're from the academic sector – it's free and will do the job just fine. If you're looking for a corporate LMS, look for a different product: Moodle is just a tad too hard to customize for a business application.
7. PageUp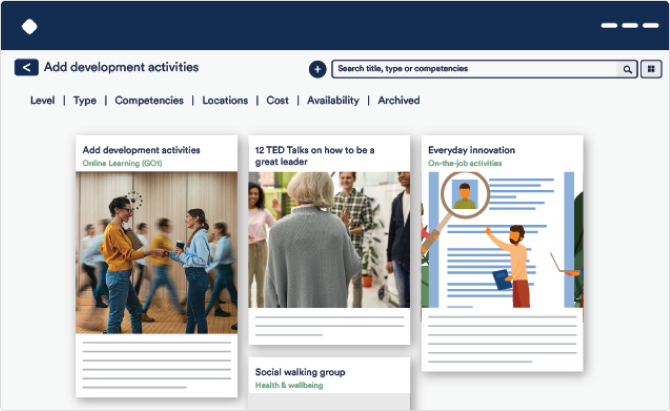 Originating from Melbourne, Australia, PageUp is an LMS and a Talent Acquisition Software as well. It has an advanced mobile learning app that focuses on social learning. Plus, there is a learning content API that allows you to import training content from SkillSoft and GO1 to your courses on the platform.
Key features
Integrated Talent Management CRM:

Find the best candidates and train them later on, so that they can become the core of your workforce.

SCORM, AICC, xAPI support:

Upload finished training modules from the authoring tool of your choice – Adobe Captivate, iSpring Suite, or Articulate Storyline.

Role-based content assignments:

Easily assign new training content to learners based on their roles on the platform.

Analytics:

It offers a set of reporting tools that will allow you to see the strong and weak sides of your human resources, and make corresponding changes to training plans.
Pricing
Pricing details are not provided by the vendor. You'll need to reach out to their sales team via the contact form on their website.
My verdict
Despite having a built-in LMS, PageUp is more of an applicant tracking, talent acquisition type of software. If you're looking for a product that will boost the number of applications to your company's open positions, then definitely check out PageUp. The added functionality of the Learning management system will help nurture the new talent and grow them into valuable experts. However, if you're looking for an LMS more than anything else, I'd recommend going with a different platform.
8. SAP Litmos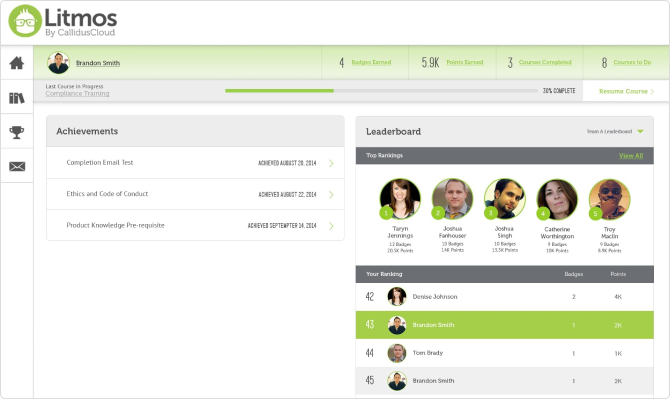 Litmos is a very popular Learning management system developed by a company that has an office in Melbourne, Australia. It's an LMS and a content library available through subscription. A handful of customizations and advanced social learning features are among this platform's top selling points.
Key features
Built-in content authoring tools:

Litmos is packed with all sorts of authoring capabilities. Create training modules with quizzes, surveys, PPT slides, and other types of content using Litmos' built-in authoring software.

Social learning:

Let your trainees communicate through discussion forums and direct messages. Sharing achievements on Facebook, Twitter or LinkedIn is also an option.

A library of ready-made courses:

Get access to a library of training content developed by the professional instructional designers at Litmos.

Integrations with third-party services:

Connect your company's Litmos account to services like Dropbox, Zendesk, MailChimp, and BambooHR. Integrate it with one of three webinar platforms – Webex, Zoom, or GoToTraining.

Course selling:

If you have a library of training content that you'd like to sell online, Litmos is integrated with PayPal and Stripe.
Pricing
The annual subscription starts at $5.5/user/month for up to 150 users.
My verdict
Litmos would be a nice choice for medium-sized businesses that are looking to expand their content library with some pre-built courses and not spend a ton on it. With lots of integrations and e-commerce capabilities, Litmos would also be a viable option for agencies that sell online training. However, in that case, the pricing of the Litmos platform might be a little too steep.
9. LearnUpon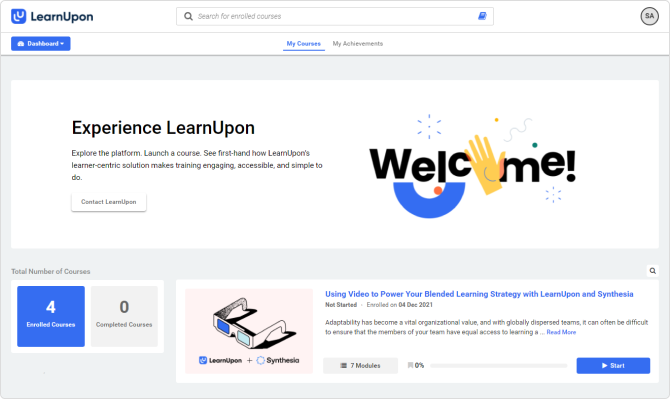 LearnUpon is a cloud-based LMS with a modern-looking interface that focuses on larger corporations, with a corresponding set of features. A wide range of integrations with services like Zapier, SalesForce, and Webex will help make sure that the platform stays in sync with the other apps in your corporate ecosystem.
Key features
Upload SCORM/xAPI files:

Build your courses from a variety of content options: SCORM, Video, and many other content types.

Multiple mini-training portals can be created:

Use LearnUpon's trademark feature to split your main learning portal into several smaller portals and conduct training not just for employees, but for customers and business partners as well.

User-friendly interface:

LearnUpon has a very pleasing look. I can assure you that whatever your relationship with design might be, this platform is one of the slickest looking LMSs available for purchase in Australia.

Integration with Salesforce:

If you're using Salesforce for your staff, then you'll be able to integrate the LMS into their everyday sales routine.

Built-in knowledge check tool:

Quick information checks can be inserted anywhere in a course.
Pricing
The pricing starts at $1,249/month for 150 active learners with a substantial increase for more learners.
My verdict
LearnUpon is a well-designed learning management system that will fit large companies in Australia looking for an all-around learning platform. The pricing will not be so generous with smaller teams, so I would only recommend it to enterprise-level companies.
10. Coassemble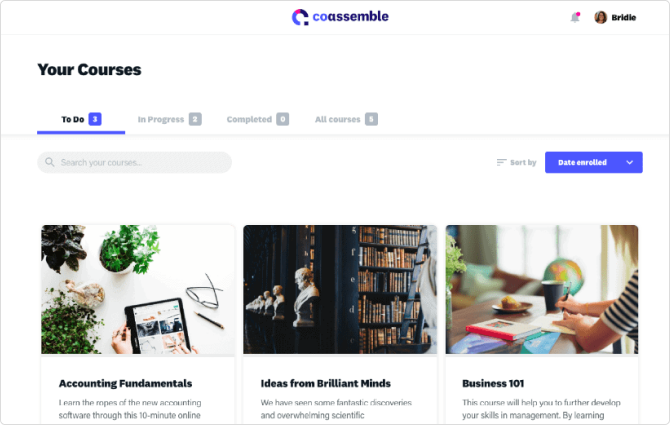 Coassemble is an easy-to-use business-oriented learning management system developed by a company that began in Australia. The platform features a powerful content authoring tool, advanced white-labeling, and a handful of integrations with services like Slack, MailChimp, and Gmail.
Key features
Easy to learn:

This LMS is straightforward and has a user-friendly interface that will be easy to pick up even if you've never used a learning management system before.

Lots of templates for interactive content:

Around 40 customizable templates for drag-and-drop, visual, state-of-the-art interactive content. All available for you to insert into your training content right from the browser.

WCAG 2.0 compliant:

All content created in Coassemble is accessible and compliant with the WCAG 2.0 standard.

Almost any integration possible:

As it is able to connect with your Zapier account, Coassemble can allow for any number of integrations with third-party services through webhooks.

Real-time analytics on learners' performance:

Use customizable reports to see who's rocking and who's slacking on the assigned training modules.
Pricing
Pricing starts at $49.00 per month for just 5 courses and 25 active users.
My verdict
Coassemble is a nifty, nice-looking LMS for SMBs that want their content to shine with interactivity. It will also be a great option for companies working with people who have disabilities, due to its compliance with the WCAG 2.0 standard.
Summary
In this article, we checked out 10 different LMSs that are popular in the Australian e-learning market. A couple of these platforms turned out to not quite be learning management systems by nature, while others fit the description of an LMS to a T.
To conclude, I just want to let you know that it's up to you to decide which platform to go with. Take your time and do your research, don't pay too much attention to a vendor's marketing pizazz and ask direct questions about the functionality that you're looking for in the product.

If I missed any great platforms in this review, definitely let me know in the comment section.