In this review, we'll take a look at Paradiso LMS, a Moodle-based training platform from Paradiso Solutions that features gamification and skill management, while offering the now-standard blended learning support plus e-commerce.
Here's an overview of the platform by the vendor:
Here's what I'll cover in this review:
Paradiso LMS Features
I sorted all present and missing features into five different categories: Administration, Content, User management, User experience, and Customization.
✔
✘
Administration – ease of getting started with the platform and administering it.
E-commerce having more than 12 integrations with payment processing services like PayPal
No onboarding
Customizable reports with simple graphs and scheduling
The knowledge base didn't always have the answers I was looking for
Custom completion certificates
Content – authoring capabilities, supported formats, and the possibility of combining separate modules into learning paths, etc.
Supports DOC, PPT, XLS, MP4, MOV, SCORM 1.2, xAPI, IMS, JPEG, GIF, MP3, WAV, and online video (YouTube, Vimeo)
Learners have to download PPT files to view them
Has a built-in quiz editor with 15 question types
Built-in authoring tools are not convenient
Built-in authoring tools from H5P
Multiple files can be uploaded simultaneously
ILTs can be added to course structure
A few simple games can be created with one of the built-in authoring tools
User management – adding and managing users, creating and assigning roles.
Bulk user import via CSV
No means to create a hierarchy; cohorts and groups are hard to manage
Self-registration
Multi-tenancy (additional branches with individual designs) needs to be purchased separately
All existing user roles can be customized and new ones can be created
System of skills and competencies
User experience and social learning – using the platform to study on desktop and mobile, notifications about due activities, and discussion forums.
Discussion boards (forums) and messaging as social learning tools
Gamification with points, leaderboard, badges, and an experience system
Mobile app with SCORM support that provides access to most of the desktop version functionality
Customization and Integrations – changing the design and integrating the platform with third-party applications.
Custom CSS, HTML, and JS can be added to pages
No API
Lots of features for customization of platform's look and feel
Scarce security features
SSO: G-Suite, Facebook, LinkedIn, OAuth, ADFS, and SAML
WebEx, GoToMeeting, Zoom, and Adobe Connect integrations for webinars
Integrations with Salesforce and SugarCRM
Detailed Overview
Without further ado, let's get to know the platform up close as we take it apart piece by piece. We'll begin by checking whether it's easy to get started with Paradiso LMS.
Learning the ropes, ease of use
When you log in, the first thing you see is your admin dashboard, which looks pretty neat for a Moodle-based LMS: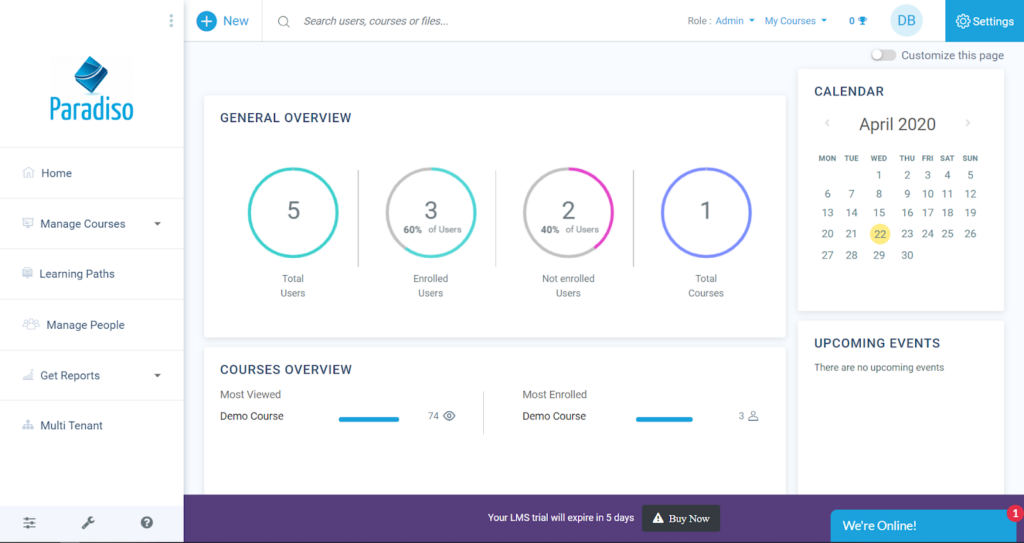 There's no onboarding tour, so the only source of information on how to get started for me was Help Docs. Unfortunately, these docs are often poorly structured and not very concise, so finding information often got difficult.
The platform can be slow to load new pages or refresh those that are open. For example, the dashboard widgets can be moved around and customized individually. But, when you click on the "switch" that lets you edit the dashboard, there's a 4-second delay before you can actually customize it: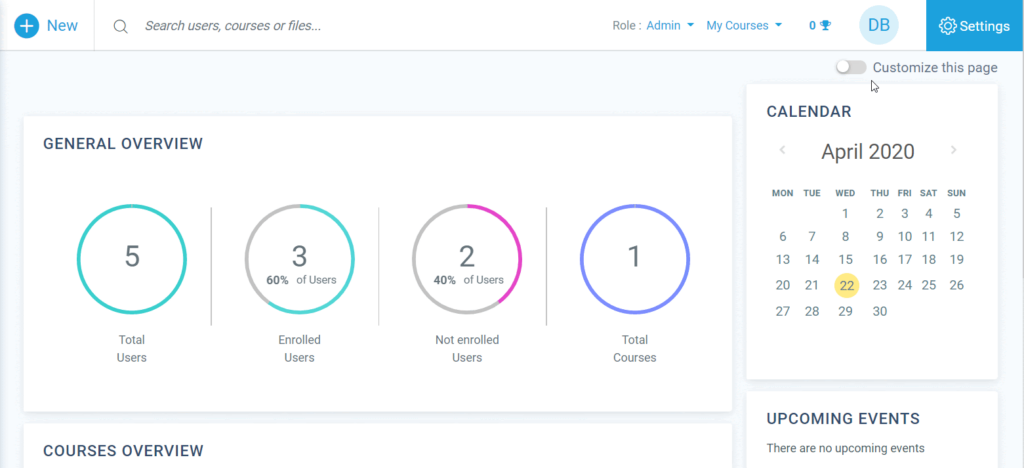 There's a menu where you're supposed to be able to set your current Role to either Admin or Student, but when I tried to do that on my freshly generated trial, it got me an error message:

With all these little nuisances, I can't help but draw a parallel between Paradiso and ScholarLMS, which also uses Moodle as its codebase. Both these platforms lack attention to detail and with both, some things just don't work as expected.
Managing users and user roles
There are a few "preinstalled" dummy learners that come with some learning records to their names so you can organize them into groups and try out reports. New users can be added via UI, uploading a CSV file (adding in bulk) or enabling Self-Registration. In addition, you can enable Single sign-on to let users seamlessly enter your training portal using their G-Suite, Facebook, LinkedIn accounts, or, say, an account in Active Directory (AD).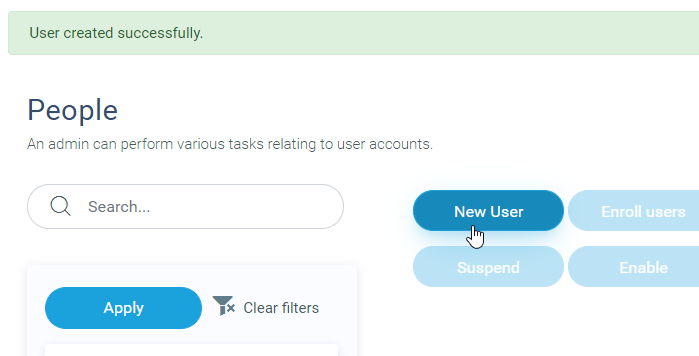 The help docs state that it's possible to organize users into Cohorts and Groups, but it's not very easy to figure out how to create them. For example: in order to create a cohort, which is used to enroll users to courses in bulk, you need to go to Manage People, right? Wrong. Cohorts can only be created via the Site Administration menu that also happens to provide access to all of the settings that there are in Paradiso.
But wait, there's more! In order to create a new group, you need to open a course and go to its settings. This "gimmick," which is probably intuitive for someone with previous Moodle experience, goes contrary to the logic of the most popular LMSs on the market.
You're also allowed to create tenants – additional branches of your learning platform, each with its own URL and design. However, be aware that multi-tenancy is an additional feature that you need to purchase separately from the main subscription.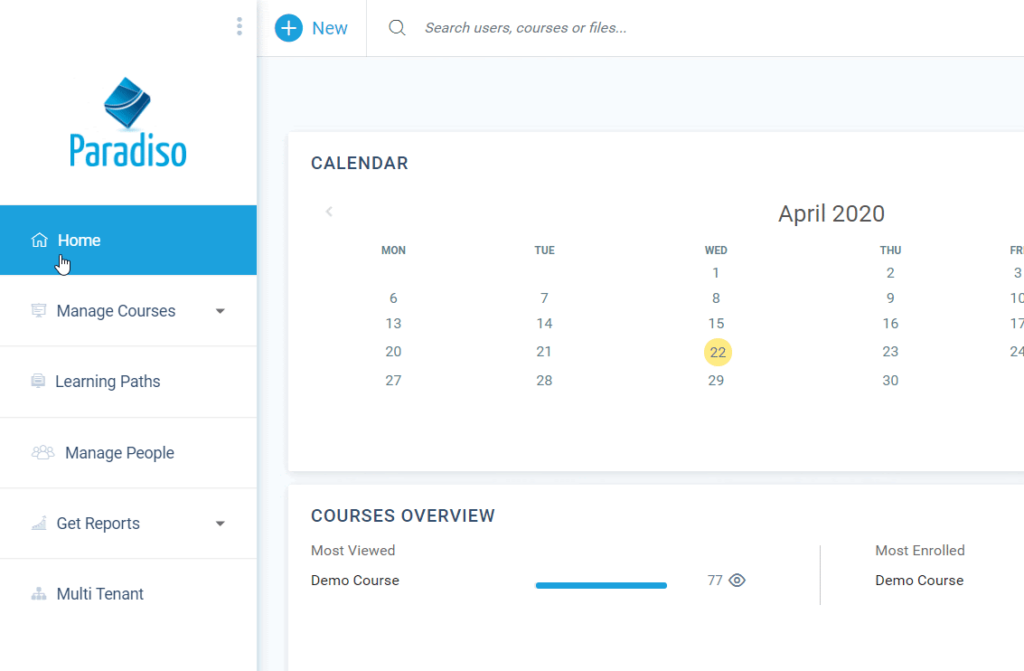 There are 21 (!) predefined user roles to which you can add new custom roles. The process of creating a custom role includes setting hundreds of permissions, which, while certainly giving you more freedom, may prove to be a tad tedious.
An interesting user mechanic that Paradiso has is a system of skills and competencies. Choose a course and add a skill to it, then apply the same skill to 3 other courses on the same subject. When a user completes one course, their profile will show that they possess that skill, and when they complete the other courses, they will also get a competency.

To sum up this section, let's just say that user management in Paradiso LMS (as it is in Moodle) is not for everyone or that it at least requires getting used to.
Adding and managing content
Content that you can upload to Paradiso includes video, SCORM 1.2, and AICC. xAPI support can be added with third-party Moodle plugins. While it's possible to upload PDF and PPT files, they are not displayed on the platform, but instead, are downloaded as file attachments.
Among other things, the LMS vendor offers a free library of ~7000 courses on common topics like coaching, wellness, anti-harassment, and customer service that you can download and use on your Paradiso platform.
In terms of authoring capabilities, Paradiso boasts a wide selection of options. There is a quiz builder, an interactive video maker, a presentation composer, and a flashcard editor.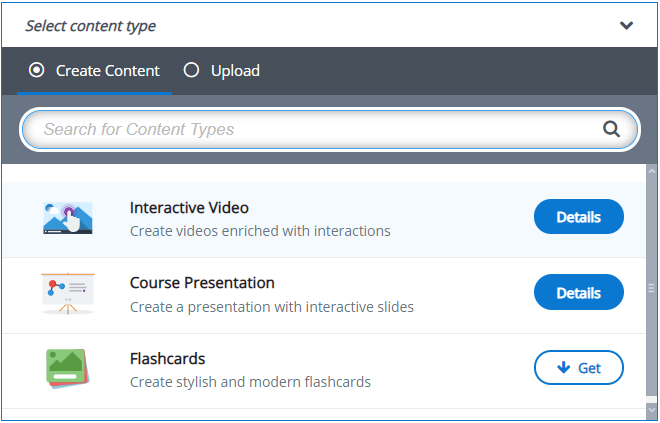 The last three are all provided by H5P and are embedded in Paradiso. Each of these tools is displayed in a small window on a page where you also set up all the module's properties, which is not convenient at all. For example, this is the presentation composer: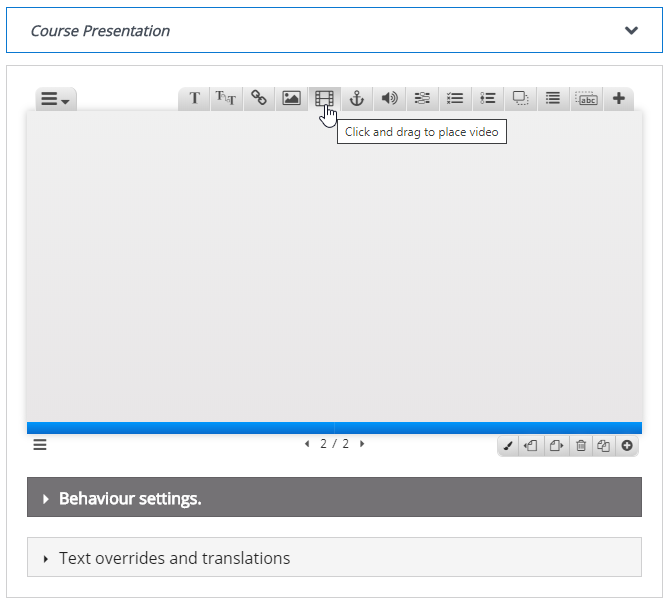 The built-in quiz maker is inherited from Moodle and doesn't look very appealing, UX-wise. Certainly not my cup of tea but, who knows, maybe you'll find otherwise. The question type selection is standard: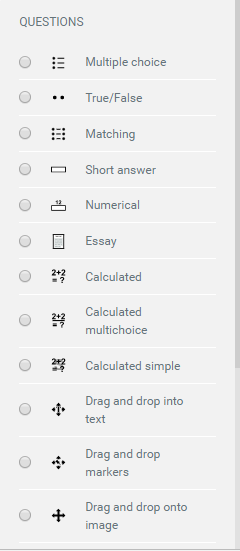 There are integrations with Adobe Connect, GoToMeeting, GoToWebinar, WebEx, and Zoom, allowing you to add ILT (Instructor-Led Training) to a course. Also, Paradiso has a few types of games you can add to your course. A questionable feature for a business-oriented LMS, but it's there.

When a course is created, you need to enroll users in it, and that proves to be more difficult than you would think. The interface looks like a jumbled ball of insanity that's all over the place. It's buggy and often can't load properly. I suspect this is because of mere coding errors that usually occur due to a lack of proper testing. These errors can screw up your workflow and lead to unexpected delays in training delivery. For example, take a look at this disappearing toolbar:

It's safe to say that I didn't enjoy my experience with content management in Paradiso.
Reporting
There's a bunch of canned reports in the system and you can create custom ones. For a custom report, make a selection from the available User/Course data fields to determine what information is going to be displayed in the report:

All reports can be scheduled and sent to concerned managers automatically on a selected day of week/month. To visualize any report, you can make it graphical by adding one of three graph types:

The capabilities of Paradiso's reporting engine are great per se. However, thanks to the clunky, unintuitive Moodle interface (yet again), the process feels tiresome as you constantly have to adjust your established paradigm of what a UI should look like.
Branding, integrations, and security
Almost every little detail of Paradiso's look and feel can be adjusted, thanks to support from third-party plugins, Moodle themes, and CSS customization. Other little design features include changing colors and editing the background image that appears on the log-in screen. In addition, as I mentioned before, every additional tenant in your account (separate branch) can have its own design, so you can create a few instances of your platform for different branches of your company.
The platform can be integrated with a few third-party products like Salesforce, SugarCRM, WordPress, and Shopify, and it has integrations with the 6 most popular webinar services. There's a bunch of single sign-on methods supported like SAML, OAuth, and LDAP.
Security-wise, you're able to set a range of IP addresses to block and enable notifications about login failures so that you can track any unwanted activity, like attempted hacking of one of the learner accounts.
Learning experience and mobile device support
When I created a learner account and used it to sign in to my portal, I was in shock, because, suddenly, Paradiso turned out to have an onboarding tour. But, when I looked more closely, I realized that this very tour was supposed to be part of the admin dashboard experience. The hints and the areas they point at don't correspond to the learner interface at all: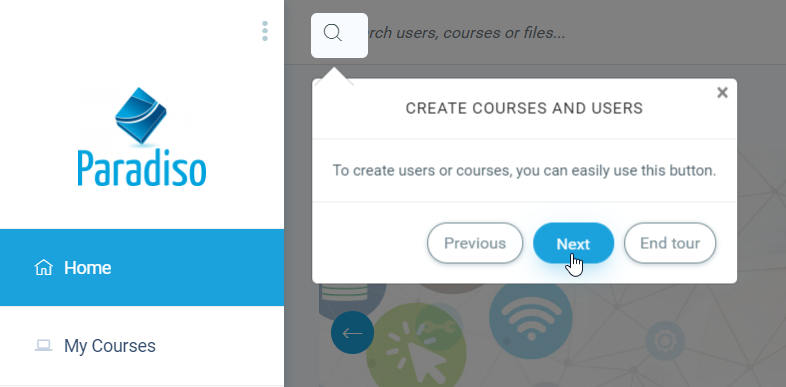 Bugs aside, the learner interface itself is very simple and shouldn't cause any difficulties for new users: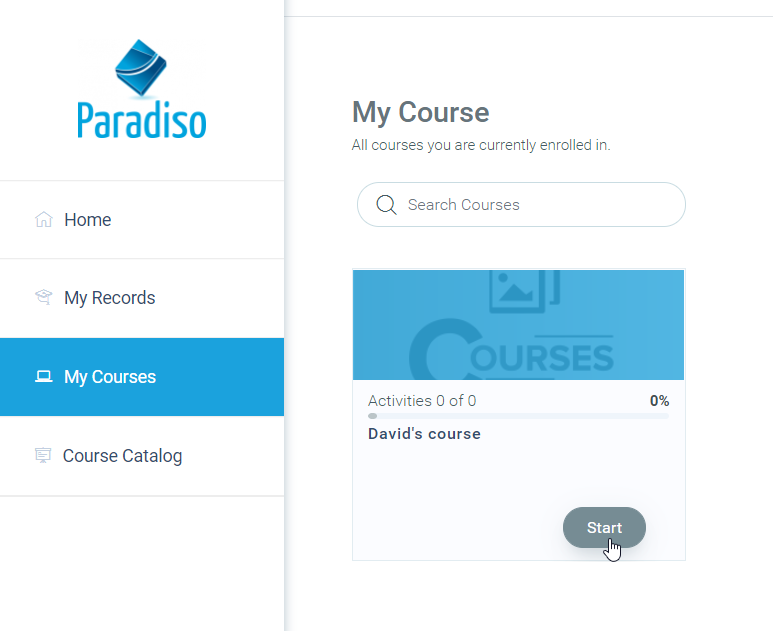 Along with learning courses, learners have access to Forums that admins can create inside of courses and direct messages, thereby providing for the social learning element. There's a gamification element in the form of points and badges. Being a learner, you can see yourself on the leaderboard and even see your levels upgrade, as if it was a role-playing game:

There is a mobile app available for Android and iOS, which provides access to most of the learner interface features that can be found on the desktop version: calendar, messages, notifications, and gamification bonuses. SCORM courses can be downloaded and viewed right in the app: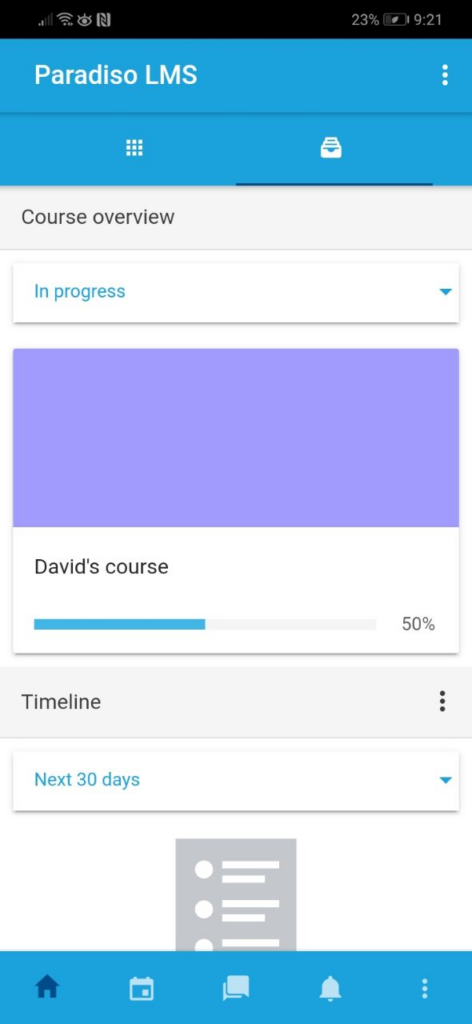 Learning in Paradiso is certainly more fun than administering it – I especially liked the experience and level up system that may sweeten the pot of a boring training course.
Pros and Cons
Pros
Flexible reporting engine with custom reports and report scheduling
Exposes a lot of parameters to the admin, allowing customization of the platform to a great extent
Nice mobile app
Skill and competency system that might be useful for business cases
Cons
Clunky User Interface
Bugs – mostly harmless, but annoying
Some pages load very slowly
Built-in authoring tools are a pain to use
LMS Pricing
Unfortunately, Paradiso doesn't provide any information about pricing on their website. If you'd like to learn about it, you'll have to send a request to their sales department. But, I would assume that, as with pretty much any other LMS on the market, the price depends on the number of actively learning users that your company needs on a monthly basis.
Business Use Cases
Ideal for:
Companies looking for an LMS that can be tweaked to a greater extent: if you're looking for a business-oriented LMS and are not afraid to get your hands dirty with customization and tailoring for your specific needs, this product might be the choice for you. Lots of advanced options and plug-ins allow for a customized experience like no other.
Suitable for:
E-commerce: An integration with Shopify allows you to use this platform as your personal marketplace for online learning. It has lots of functionality that won't be of much use to you, but it will be possible for you to securely collect payment for your services.
Academic: With the Moodle skeleton, this LMS will serve an academic institution just right. But, then, you can choose Moodle instead.
Won't work for:
Short-term training projects: it will take a lot of time to master this LMS if you're just getting started with online training. There are just too many buttons, menus, and options for you to make yourself comfortable with this product quickly.
Big enterprise: Without a clear way to set up a company hierarchy and poor performance rendering, it's very hard for a large business to use this LMS.
Summary
This was a thorough review of Paradiso LMS – a business-oriented learning platform with a Moodle backbone. It's hard to tell whether this project can be a success, since there are so many flaws, but it definitely has a nice feature set. Hence, if you're up to the task of harnessing its powers and fixing irritating bugs down the road, this might be a good choice.