If you're a company looking for a learning management system, chances are you've come across TalentLMS, one of the most popular platforms on the e-learning market. But its fame is not a guarantee that it is the best solution for you. It's important to factor in your content authoring, course selling, branding needs, and a lot more. There are many worthy TalentLMS alternatives that you might have overlooked. In this blog, I'll review some TalentLMS competitors and cover the main differences between the platforms so you can make an informed choice. 
To take a quick side-by-side view of all the platforms, check out this comparison chart. You'll also find detailed descriptions of each LMS below.
TalentLMS Alternatives: A Quick Comparison Chart
LMS
Type of solution
Key features
1. TalentLMS

A cost-effective LMS with a simplistic interface but providing a huge number of features, including e-commerce, Zapier integration, and xAPI and cmi5 support.

Basic course builder

Discussion forums

Great integration capabilities

e-Commerce

Ready-made content

2. iSpring Learn

A platform that boasts simplicity in terms of user and content management and learner experience with extensive functionality. It allows you to create and deliver training quickly and easily.

Intuitive learner interface

Online course builder

Integration with an award-winning authoring tool

Integration with Zoom

High-quality 24/7 tech support

3. Litmos

An online platform that has all the features one might want from an LMS and provides a library of prepackaged learning content.

A suite of course-building tools

Litmos Heroes content library

Social learning features

Integration with other services

E-commerce

4. Docebo

A platform that claims to be the only all-in-one learning management system designed to enable, upskill, and transform online learning for the modern enterprise.

Basic authoring capabilities

AI engine

Extensive content marketplace

Docebo Pages for website customization

Native integrations

5. Thinkific

A course selling platform that has all the necessary tools for creating, marketing, and selling eLearning content under one roof.

Drag-and-drop course builder

Website building tool

Set of marketing and selling tools

Reporting features
TalentLMS – A Quick Look
TalentLMS is a cost-effective LMS with a simplistic interface but providing a huge number of features, including e-commerce, Zapier integration, and xAPI and cmi5 support.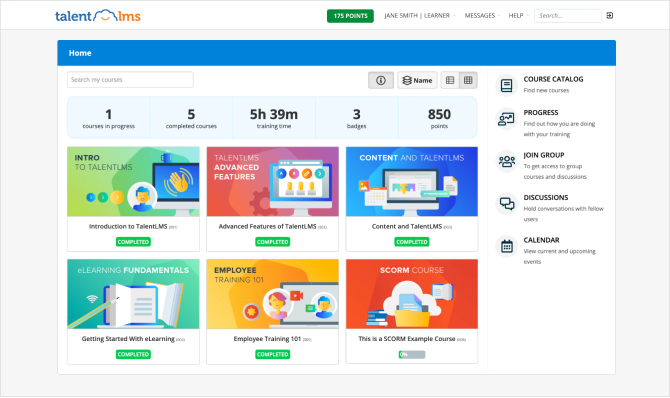 Key features
Basic course builder:

It allows you to assemble courses from various content types like video, audio, PPT presentations, PDF files, and SCORM/xAPY/cmi5 packages. You can also create simple quizzes and surveys. 

Discussion forums:

This is a great tool for fostering learner communities. Forums let learners and instructors get conversation going and stronger students help those who have lagged behind and have questions when the educator can't assist. 

Great integration capabilities:

The LMS can connect with 2,000+ apps via Zapier and other web services. For example, you can host web-conferences right from your platform via Zoom, post notifications to the Slack channel whenever a new course has been added, or track learning results from inside BambooHR. 

e-Commerce:

If you want to sell courses, TalentLMS provides you with all the necessary tools to do this. It has integrations with PayPal and Stripe for processing payments and allows you to offer special deals and conduct promotions.

Ready-made content:

TalentLMS joined forces with course providers like Vado, BIGGER BRAINS, and BIZ LIBRARY to offer you an extensive choice of ready-to-go e-learning courses on different topics. 
Pricing
There's a free plan limited to 5 users and 10 courses. The cheapest plan for up to 40 users costs $69/month. 
My verdict
TalentLMS is best suited for organizations that need a cost-effective LMS for continuous employee training and short-term training projects. It's also a good option for those looking for a platform to sell learning content with.
TalentLMS vs. iSpring Learn
iSpring Learn is a platform that boasts simplicity in terms of user and content management and learner experience with extensive functionality. It allows you to create and deliver training quickly and easily.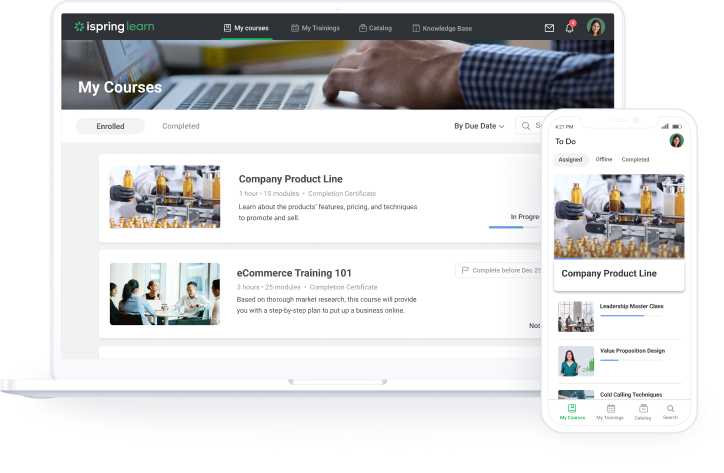 Key features
Intuitive learner interface:

The admin interface is straightforward, and the vendor provides video tutorials on the platform. So you don't need to hire a tech person for administering the LMS – anyone from your team can manage it. 

Online course builder:

You can put together courses easily with images, quotes, videos, interactions, and knowledge checks. The vendor claims is even easier to use than Word and I can confirm that this is so. 

Integration with an award-winning authoring tool:

iSpring Learn is integrated with the powerful iSpring Suite authoring toolkit that enables you to create interactive slide-based courses, quizzes, dialogue simulations, and training videos. The most pleasant thing is that the authoring tool is provided free of charge, whereas it will cost you $770 (per author/year) if you buy it as a standalone. 

Integration with Zoom:

The LMS allows you to connect to Zoom and host ILT events online. You can also schedule your virtual training sessions in the LMS calendar and track learner attendance. 

High-quality 24/7 tech support:

The iSpring team is very attentive to their customers and is ready to help day and night. The vendor states that 83% of all cases are resolved within 2 hours.
Pricing
iSpring offers two types of subscription – Start and Business, with Business coming with more advanced features. The price depends on the subscription you choose and the number of learners who enter the platform during a month. For example, the plan for 100 learners/month (Start subscription) costs $2.87 per learner.
My verdict
iSpring Learn is a good fit for small and medium-sized businesses looking to create e-learning content fast and deliver it to employees effortlessly. It is also a great solution for blended learning adopters – they will take advantage of a single planning and reporting center for ILT and e-learning activities.
TalentLMS vs. Litmos
Litmos is an online platform that has all the features one might want from an LMS and provides a library of prepackaged learning content.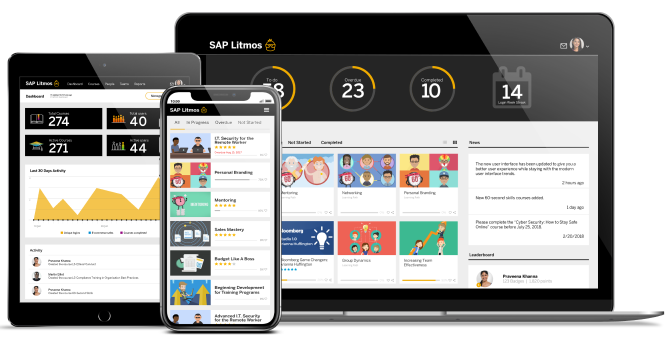 Key features
A suite of course-building tools:

You can create courses by putting together different types of content like video, audio, and PPT slides, as well as using a built-in Quiz Editor and a Survey Editor to make tests and surveys, create text pages to deliver on-demand information, and build user checklists. 

Litmos Heroes content library:

You have instant access to a wide range of professionally developed video-based courses on various topics, but the subscription must be purchased separately. 

Social learning features:

Learners can communicate via direct messages or discussion forums where they can leave their comments. Learners can also get achievements on course completion and share them on Facebook, LinkedIn, and Twitter.

Integration with other services:

The LMS is integrated with several webinar platforms (Zoom, Webex, GoToTraining) and some other services like Dropbox, DocuSign, Zendesk, BambooHR, MailChimp, and LinkedIn.

E-commerce:

Litmos has integrations with PayPal and Stripe, so you can create your own course catalog and sell courses online. However, the primary focus of this platform is on corporate training.
Pricing
Pricing plans are available on request.
My verdict
Litmos could be a good choice for companies looking for a combination of off-the-shelf content with their own custom training and integration of their trainings with HR systems and CRMs. 
TalentLMS vs. Docebo
Docebo is a platform that claims to be the only all-in-one learning management system designed to enable, upskill, and transform online learning for the modern enterprise.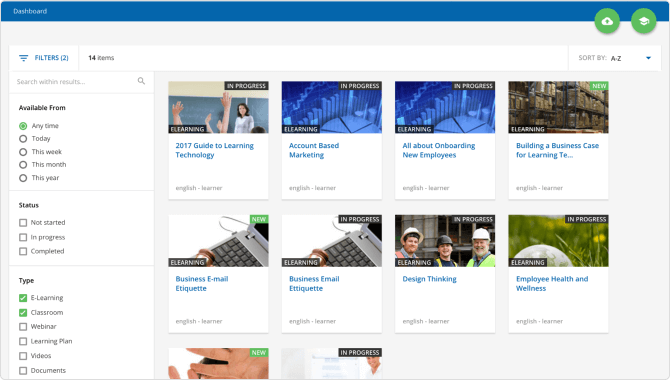 Key features
Basic authoring capabilities:

In addition to uploading video files and SCORM/AICC/xAPI packages, Docebo allows you to create HTML pages that consist of text and media. There's also a built-in quiz editor that supports about 8 question types.

AI engine:

All the content you import to the LMS is analyzed by AI and tagged with keywords to make it easier for learners to find the materials they need. 

Content marketplace:

You get access to top-shelf e-learning content from the industry's premier course providers.  

Docebo Pages:

Docebo has a handy tool that lets you customize the interface of the learning experience for different audiences. 

Native integrations:

The LMS supports 35+ integrations and connectors, including CRM, e-commerce, HRIS, content authoring, and SSO. It also connects to the Citrix suite – GoToMeeting, GoToTraining, and GoToWebinar – so training managers can host webinars and virtual classroom sessions.
Pricing
Pricing is not listed on the Docebo website. You need to contact their sales team for details.
My verdict
Docebo is a solid LMS for workplace training, packed with lots of features. Its only disadvantage is that it is quite complicated to use, but if it's not your first learning platform, Docebo might be a great choice. 
TalentLMS vs. Thinkific
Thinkific is quite different from the platforms I've reviewed above. It is not a corporate LMS that is typically used for training employees and channel partners. It's a course selling platform that has all the necessary tools for creating, marketing, and selling eLearning content under one roof.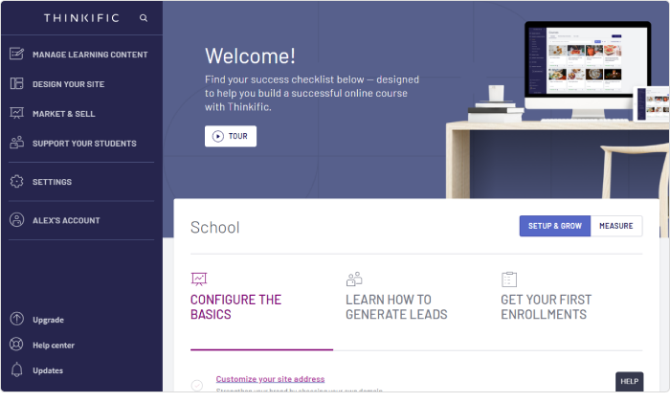 Key features
Drag-and-drop course builder:

You can assemble courses from various content types: videos, audio, images, PDFs, etc. The platform also has a native quiz builder, which is great for making your courses interactive and measuring the effectiveness of your content.

Website building tool:

Thinkific allows you to create your own marketplace for selling courses. You can adjust offered themes to match your brand style or connect your courses to an existing site for a seamless brand experience.

Set of marketing and selling tools:

You can use email campaign integrations like ActiveCampaign and ConvertKit to promote your courses, spur your buyers to action with coupons, freebies, and discounts, and choose the pricing and payment options that are most suited for you.

Reporting features:

You can keep track of the selling process. Group and cohort reporting and detailed segmentation can help you monitor and optimize your training business.
Pricing
Starts at $36 per month with access to the basic options. 
My verdict
Thinkific is a perfect platform for course creators looking for a low-tech way to build and sell online courses while still maintaining their brand.
To Sum Up
These are four solid TalentLMS alternatives you might like. iSpring Learn is designed mostly with corporate training in mind (though it can also be used for academic eLearning), Thinkific is designed exclusively for course selling purposes, while TalentLMS itself and the other competitors I mentioned in this post are good for both. I hope this blog will help you pick an LMS that is suitable for your business needs.