When you need to play a SCORM package, using just your browser is not enough. It requires you to use a SCORM player that can both display your content and show you how it communicates with the SCORM API. That will help you make sure that your module not only can be played in an LMS but also that it properly reports completion status.
Let's take a look at some SCORM players that are popular in the e-learning community:
1. SCORM Cloud
Since its initial launch in 2009, SCORM Cloud has gradually become the de-facto standard for SCORM testing in the e-learning world. Some folks use it to test SCORM packages and dispatch them to multiple LMSs. Meanwhile, other authors use it as an LMS and send invites to their users straight from the SCORM Cloud interface.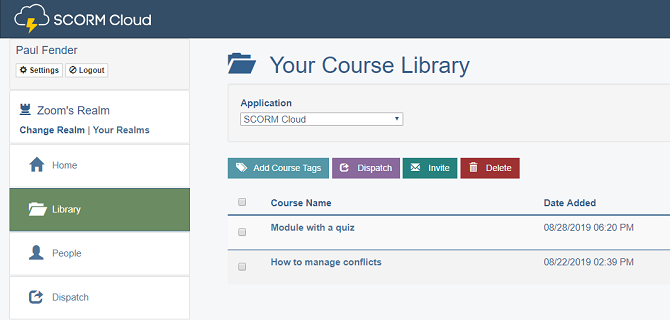 How it works
Using SCORM Cloud is easy: just sign up for a free account, and you get your own mini LMS to test SCORM files. It also works with AICC, xAPI and cmi5 packages.
After you upload a module, you can launch it in a popup window, test it, and then see your stats in the course sandbox.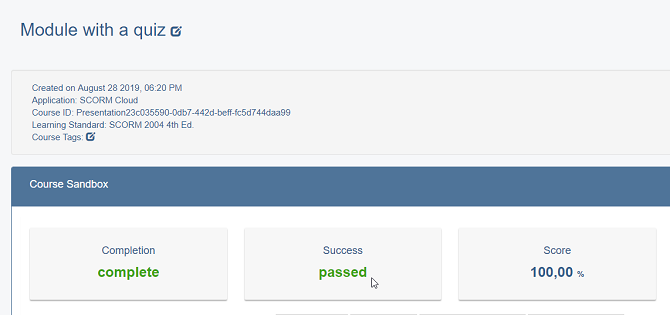 If you're a developer or someone who wants to know how SCORM actually works, check out the Debug Logs. They're detailed logs of the communications between your module and SCORM Cloud. It's a useful feature that lets you debug SCORM content and understand the inner workings of the standard.
Additional features
Invitations.

You can invite learners via email to let them take your modules and see their stats on the Reportage screen.

Dispatches.

With this option, you can dispatch one e-learning module hosted on SCORM Cloud to several LMSs at the same time.

WordPress plugin.

This feature

will allow you to embed SCORM courses in your WordPress blog and track them using the designated plugin by Rustici Software.
Pricing
The trial version includes 100 MB of storage for your content and is free forever. It also allows up to 10 course registrations a month for those who want to use SCORM Cloud as an LMS and invite other people to take courses hosted on the service.

Paid options start from the $75/month "Little" plan that will provide you with unlimited storage and 50 course registrations a month. The most expensive plan, unequivocally called "Even Biggerer," will also get you unlimited storage and 60,000 course registrations per month.
Pros
Has a forever-free trial plan that is ideal for SCORM testing purposes

Cloud-based (fast and reliable, can be used on any OS)

Supports SCORM 1.2/2004, AICC, xAPI, cmi5

Vendor is known for great customer support
Cons
Free storage is limited to 100 MB

Interface may be a bit too complicated for casual users

Paid plans can get expensive with more registrations
2. SCORM Preview Ninja
SCORM Preview Ninja is a free web-based testing service that's as simple as it can get with such a sophisticated concept as SCORM. CourseSuite claims that it supports both SCORM 1.2 and 2004, however I had no luck with the latter version of the standard – the product either failed to display such modules, or didn't capture the stats for them.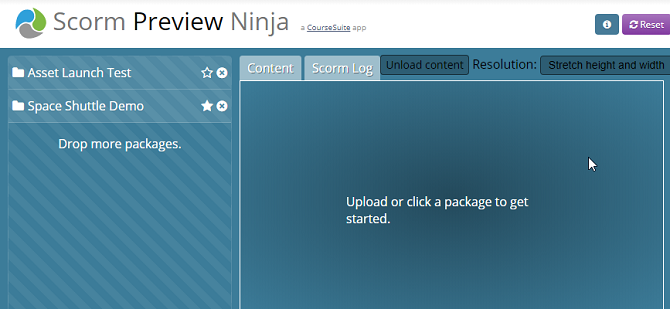 How it works
Open the product page on the CourseSuite website and click on Launch App. Drag a SCORM file from your computer to the SCORM Previewer screen. The course will be uploaded to the service and have its manifest file tested for SCORM compliance. If the manifest is sound, the service will display the content in the window on the right while a detailed SCORM log will show up in the corresponding tab.
The maximum file size you can upload is 2 Gb, but the files you upload automatically get deleted after a few days.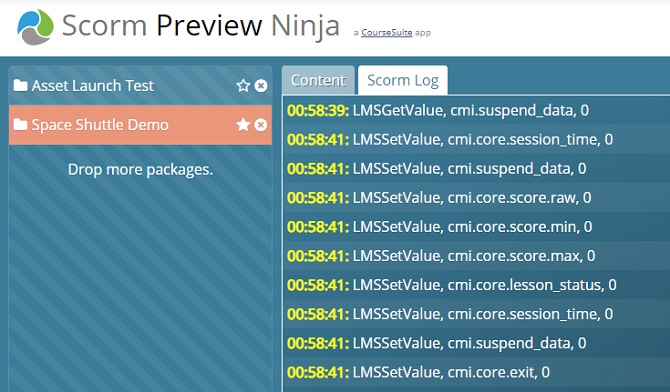 Additional features
None
Pricing
100% free
Pros
Free

Simple Interface

Web-based: can be used on any OS

Doesn't require signing in

Has basic SCORM logging functionality

The limitation on max upload size is 2 Gb
Cons
Works properly only with SCORM 1.2

Uploaded files are automatically deleted after a few days

The SCORM log is too simple for more experienced users
3. SCORM 1.2 player
This app by RELOAD was released back in 2005. It's an application written in Java that features a built in SCORM 1.2 player, a local Apache server that can run your content, and a CMI Datamodel browser. Fancy terms aside, even after +10 years since the last update, this application can still be used to test SCORM 1.2 packages without having to upload them anywhere, right from your hard drive.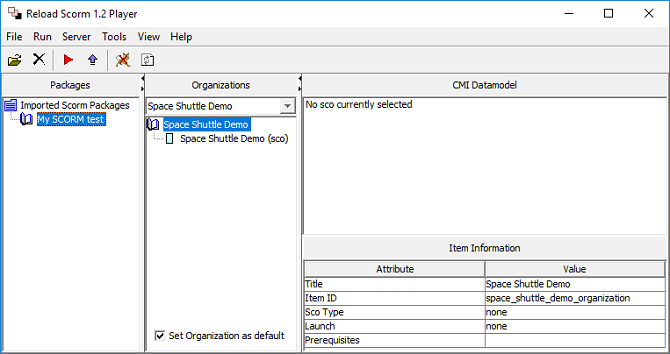 How it works
Download and install the application. Run the Java file to get the SCORM player started, and import your SCORM 1.2 package. Run the built-in Apache server and view the SCORM module in your web browser. Then close the browser tab and check the status of the attempt in the CMI Datamodel window.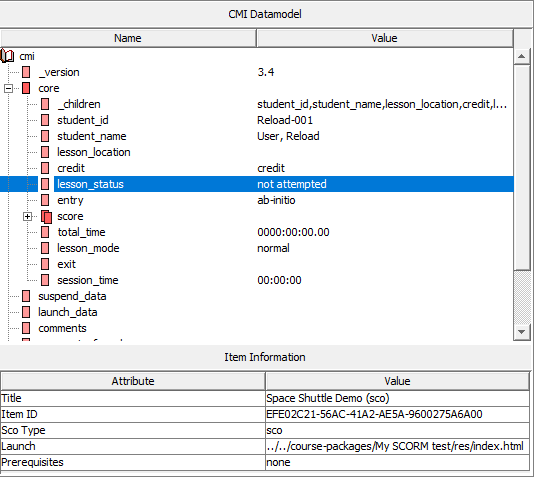 Additional features
Multi-SCO and Organizations. This one is pretty good for testing multi-SCO modules and working with organizations in your SCOs.
Pricing
100% Free
Pros
Free

Runs locally

Allows for testing of multi-SCO packages

No SCORM file size limits
Cons
Supports only SCORM 1.2

Works only on Windows

Hasn't been updated in a long time
Final Thoughts
A SCORM player is a niche product that can be helpful if you're looking for a way to view e-learning outside an LMS. Too bad there's virtually no competition – SCORM Cloud is way ahead of other similar products in every possible aspect.
SCORM Cloud can easily be called the best choice for testing SCORM, because it's the most convenient and the most advanced solution on the list.